R250 OL Allen picks UGA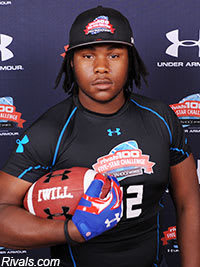 "It was just comfortable and it felt right," said the 6-foot-4, 285-pound Allen. "It felt right for me and it has everything that I needed and wanted in a school. I visited in June.
"At the camp down there it was a challenge for me," he said. "There was no special treatment for me and they were testing me to see if I could be a Dawg."
Allen has a strong connection with the coaching staff in Athens.
"Coach Ball and coach Friend are my main guys down there," Allen said. "The conversations are basically about random stuff like how our days are going and it seems like they are really interested in me. They're encouraging me to get better at all times regardless of whether I'm going to a different school or not. I can talk to them about anything."
While Allen has committed to Georgia he wants to make sure that he is making the right choice.
"I want to take my officials to make sure Georgia is the right school but at the same time I don't want it to be something where schools don't want me to come anymore," he said. "I've had legitimate interest in my top five, every single one of them and I want to see which ones actually wanted me during my recruitment.
How easy will it be for one of these schools to flip Allen? Not very, he says.
"It's going to take a lot because I've seen a lot at Georgia," he said. "I want to see which schools are really honestly looking for me to join their program and improve. I want to be in a program where nothing is promised and one where I can come in and work for everything I get."
Allen will either solidify his commitment or choose another school at a post-season all-star game.

[rl]