R250 DB knows two official visits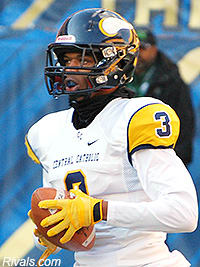 The recruiting process for
Damar Hamlin
has been progressing slowly. About a month ago the Rivals250 defensive back from Pittsburgh (Pa.) Central Catholic announced a top ten, many of which he has already visited multiple times.
"I haven't been talking to many schools lately and I haven't been able to take any far visits yet," said the 6-foot-1, 179-pound Hamlin. "Everything is going really well with Pittsburgh. Everything coach Narduzzi is doing has caught my eye. It's the same thing with Ohio State. I'll be there for Friday Night Lights. Everything is the same with Penn State too. I'm just waiting for the season to start. I talked to coach Lyght from Notre Dame recently. We were just touching bases."
Two of the furthest schools from Pittsburgh are already guaranteed official visits.
"UCLA and Miami will get official visits," he said. "If it's possible I want to get to all of my top ten, not the ones that I've already visited. Visits to
Tennessee
and
Maryland
could happen. The other ones will probably be official visits.
"I like the coaches and the stadium at Tennessee," Hamlin said. "I haven't been down there yet but I like the coaches a lot.
"The coaches at Maryland are saying I should come down and give them a shot," he said. "I'd like to see what they got."
Hamlin added that people should not expect more cuts to his list any time soon.