Quinn Ewers unlikely to start trend among high-profile QB prospects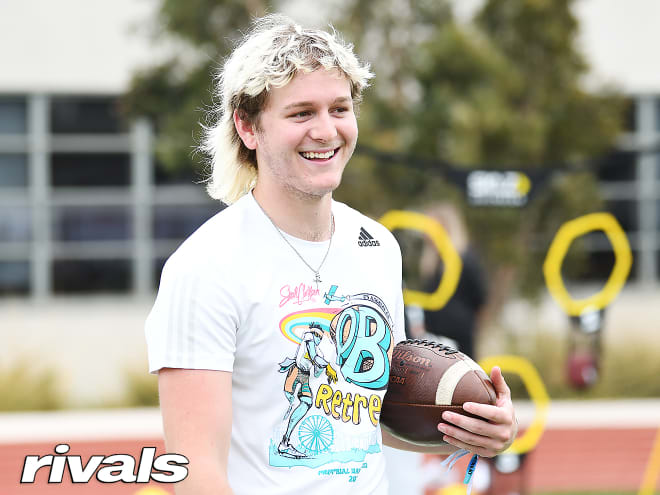 When Pete Thamel's story broke on Yahoo Sports that No. 1 overall prospect Quinn Ewers was considering not playing his senior season at Southlake (Texas) Carroll to enroll early at Ohio State - and potentially earn a big NIL payday - I was immediately intrigued.
Would other elite quarterbacks in the 2022 class make similar moves? Even if it was not for the reported big dollar values, or even if it was for that kind of money, was it something others were thinking about in their own careers? Was it something that was happening behind the scenes and I was just unaware?
So I reached out and talked to a bunch of them. The resounding response was: No way.
"I would never," one top quarterback said. "Seems kind of silly to me. I want to enjoy the most of my high school experience as long as I can."
I'm not naming the quarterbacks I traded messages with for this story as that anonymity gives them more freedom to discuss what they're really thinking.
And what all of them are really thinking is that college - and NIL money - is coming soon enough and that there's something priceless about being with your boys on Friday nights in your hometowns that a few paychecks cannot match.
"I owe it to my teammates and my high school to play four years there," another top QB said. "NIL is a privilege but playing four years of high school are memories."
Of course, while these quarterbacks are some of the best in the country, Ewers has reportedly been presented with at least one major deal with projections of about a million dollars in a year and cash and equity in the company. Once at Ohio State, it's almost a certainty more would come immediately.
A five-star prospect with incredible arm talent, a hairstyle that is genuine and marketable in this NIL age and awesome potential with the Buckeyes and beyond, Ewers finds himself in a unique position.
The choice is now his: Stay at Southlake Carroll and play your senior season but turn down potentially massive money or leave all that behind for the next step in your football journey and become a college football player - and paid - pretty quickly while leaving the hometown hero status behind.
"After this year, I'm never going to get back to being another high school kid playing on Fridays under the lights," one star quarterback said. "All the business and money will come later."
All these comments and opinions are understandable. There are songs written about Glory Days and being in high school and the lure and romanticism surrounding all that. For quarterbacks playing at this level, that's magnified a hundred-fold.
But Ewers is unique in this situation as well. He's surrounded by reporters at events. There are questions all the time. Everybody is trying to get a piece so can you blame him if there might be a sense that he's done with it, he's fulfilled his duties on the high school level, and he's ready for something more?
By the end, Trevor Lawrence felt almost too high-profile to be playing high school football. The same with Jadeveon Clowney. Those guys were just different and played college-ready football in high school. The same might be said for Ewers, plus there is a financial incentive to leave early as well. Also, he has the ability to be Ohio State's starting quarterback immediately.
"I'm in no rush to make money off my NIL," another top quarterback said. "I want to enjoy my senior year. More of a marathon, not a sprint for me."
These elite quarterbacks all say they'd stay in high school. That might be the case. But Ewers - with his signature bleach-blond mullet and the gift of his right arm - is his own man. And he has his own decision to make now.