ACC, Big Ten and SEC schools in Rivals 100 OL's top four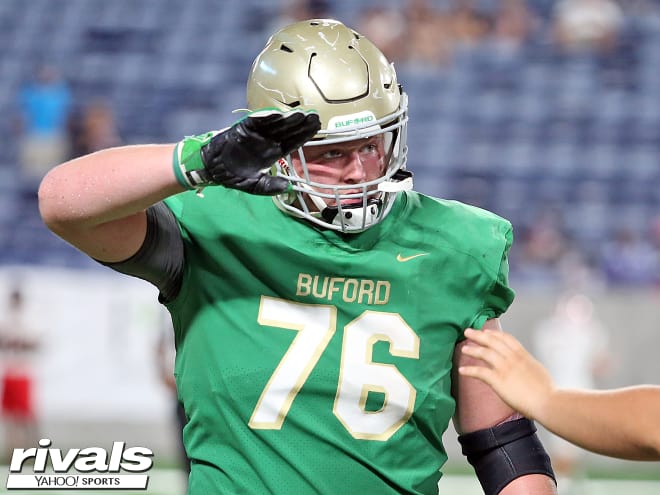 It seems like every weekend that 2019 Rivals 100 offensive lineman Harry Miller is on the road somewhere. He was at Michigan last week. He has taken in games at Clemson, Georgia and Ohio State already this season too.
The 6-foot-4, 310 pound junior offensive lineman out of Buford (Ga.) has a team meeting every Saturday morning, but after that, he tries to hit the road and see what it is like on game-day at as many places as he can.
He feels these visits will play a role in his commitment.
"To know what a school is really like, you have to be there," said Miller. "You have to actually see it, smell it, taste it to know what it's like, so each visit I go on is very important for me.
"I am able to get a real feel for the school. I am able to see what it is like. I am able to take a lot more in and these visits I am taking now will help me make the right decision when I commit."
That commitment is likely to happen before Miller begins his senior year in August 18. Maybe in the spring, but at the latest, the summer of next year is what he is thinking right now.
Those four schools he has visited already this season have started to pull away just a bit from the other 15-plus schools who have offered the four star.
"Yeah, you could say that Clemson, Georgia, Michigan and Ohio State are my top schools. I have embraced the recruiting process, gotten to know coaches at each of those schools, I have learned about them and each of them stands out to me."
Miller is fresh off a trip to Ann Arbor. It was his second visit to Michigan and he got a little wet this time. The rain that came late in the game Saturday did not put any type of damper on his visit though.
The Wolverines have a lot that Miller likes.
"I had a poncho and I still had a great time at Michigan," said Miller. "It is just a great school with great fans and I got wet, but I had a great time up there.
"What they offer academically is great and they are usually a top 30 school there. The coaching staff reminds me a lot of what it is like for me at Buford. There is a lot of history there and a lot of tradition. People talk about so many legacies and historical players and stuff there. It is great."
Michigan had a big game against Michigan State when Miller was there this past weekend and their other huge rival they play each year is Ohio State.
Miller sees some similarities between the Buckeyes and Wolverines.
"Some of the same things, like tradition, history and fans stand out at both Michigan and Ohio State. I love how involved the fans are there and the school really has a lot to offer.
"It is connected to a hospital, so their medical program is great and they have great business schools there too. Coach Urban Meyer is a great leader, he is a great coach and he has that program playing at a high level. It is a winning program with history and academics."
Staying a little close to home, Miller has his eye on the reigning national champions and the home-state school.
You hear it so many times when talking to recruits about Clemson — the culture. It is no different with Miller.
"Besides have an insane football program and facilities, Clemson has the absolute most genuine and sincere people around. There is not a lot or turnover there on that staff, all of them are so caring, some have Clemson ties and they are just great people.
"When I am there, I see a lot of people that are highly invested in the school and the players. It is definitely a good feel when I am there."
Clemson is only a little over an hour from the Miller home and Georgia is a little closer. The fact that it is inside the borders is something that means a lot to this national recruit.
"There is an emotional tie to Georgia because it really is the school that represents my home state," said Miller. "Having the opportunity to stay home and play for the home-state school would be great.
"They are on the come-up too. They have really exploded this year and they are playing great. They are getting the recruits, they are winning and coach [Sam] Pittman is a great offensive line coach too."
More offers are likely to come for Miller and there is one in particular that if they decide to offer, they immediately would move into his top group. It is a school located across the country.
"Stanford is a school I am very interested in. I have heard some from them and I have sent all of my info out to them. I would love to get an offer from them.
"They are always in the top 25 in football and they are a top three school academically. If they decided to offer, it would only make things harder for me."
For now, Miller has a top four. It is ACC vs. Big Ten vs. SEC. He plans to continue to take visits this season after he skips a week due to homecoming this weekend, then make a decision likely mid way through 2018.
"I see myself being committed before my senior year," said Miller. "I am not sure when yet, but probably the spring or summer next year.
"I am getting out looking for the right culture for me. Location and depth chart are at the bottom of things for me. I will go anywhere and I want to work for playing time. I am going to look for the right culture and the best academics situation for me when making my decision."