QBs shine at adidas satellite camp; more takeaways
KENNESAW, Ga. – More than 1,500 participants turned out for Wednesday's adidas 3 Stripe Camp at Kennesaw State to for their chance to impress in front of several top college programs, including Nebraska, N.C. State, Georgia Tech, Indiana, Louisville and Miami. With so many players and coaches on hand, there were plenty of notable storylines, including new offers and standout showings. Here's a breakdown of the five things I liked most from the event.

PLENTY OF QBS LOOK WORTHY OF POWER FIVE OFFERS
It's been a common theme over the past few months to hear both college coaches and recruiting analysts lament the lack of quarterback talent in the Class of 2019. But on Wednesday, there were several 2019 quarterbacks who have yet to get a Power Five offer that impressed in front of the gathered coaching staffs.
The group was led by three-star Milton, Ga. quarterback Jordan Yates, who boasts 20-plus offers from Group of Five schools but is still waiting for his Power Five breakthrough. Yates clocked one of the fastest 40-yard dash times at the event, running a hand-timed 4.45. He was also impressive throwing the ball and showed good zip on his passes. Tulane, Troy and UNLV are among Yates favorites, with programs like Indiana, Georgia Tech, North Carolina, Memphis and several others among those close to pulling the trigger on an offer.
Also impressive was three-star Noblesville, Ind. quarterback Grant Gremel. After camping well at Duke earlier in the week, Gremel made the trip to Atlanta and it was worthwhile as he left the event with an offer from FAU. Gremel's athleticism is underrated and on Wednesday he also showed a good arm while delivering accurate passes on a consistent basis. The Owls coaches in attendance clearly saw enough from Gremel to offer and it shouldn't take other schools long to join his list as well.
Class of 2019 Clinton, Miss. quarterback Hunter Hulsey also had a very good day. To date, Hulsey only has one offer courtesy of Kent State, but flashed the talent worth of several more. Hulsey is from the same high school as former five-star running back Cam Akers (who played quarterback in his prep days), so last season he was stepping in with some big shoes to fill. By the time his senior season is in the books, Hulsey could have several schools regretting not jumping into the mix for his services.
SCANDANAVIAN STUDS SPOTTED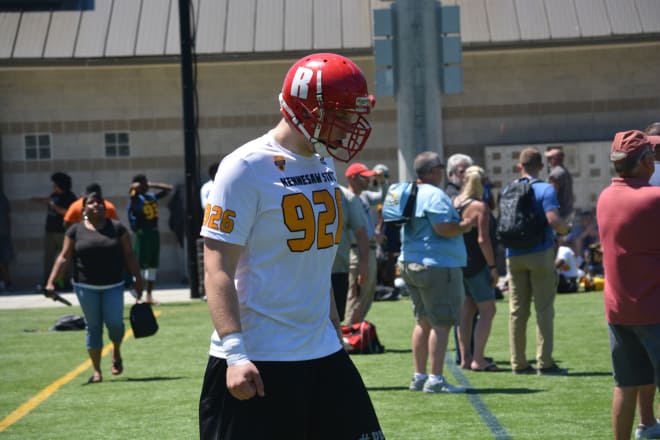 Finland native and Class of 2019 offensive lineman Martin Veinberg made headlines earlier this week when he netted his first offer from Florida. On Wednesday, it was Veinberg and a contingent of European-based prospects that had coaches buzzing once again as the 6-foot-9 prospect impressed in both drills and one-on-ones. Despite being relatively new to the game, Veinberg has great feet and terrific athleticism and is likely only at the start of catching the eye of college coaches.

Sweden native Anton Oskarsson also garnered quite a bit of attention, adding an offer from Eastern Michigan. Oskarsson picked up an offer from UMass earlier this month as well. While it was hard to grab names from all of the European prospects, Veinberg and Oskarsson also won't be only name from abroad for recruiting fans to learn in the coming weeks.
YOUNG MEMPHIS TALENT CONTINUES TO SHINE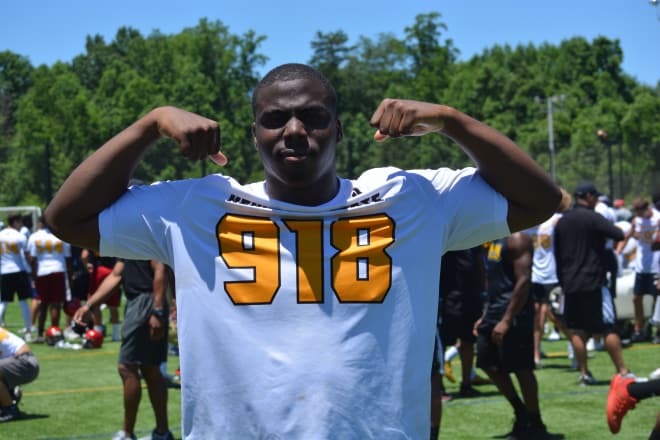 Memphis (Tenn.) Freedom Prep is loaded with talented young prospects and they were on display once again at Wednesday's event. Led by Class of 2020 four-star offensive lineman Chris Morris, the Memphis natives shined once again. Class of 2021 defensive end Renard Gwynn recently added offers from Baylor and Texas A&M and had coaches buzzing with his performance during one-on-ones. Several staffs added to Morris' expansive offer list as well, while Class of 2022 quarterback Tevin Carter looked very sharp during the afternoon session as well.
YOUNGER BROTHERS SHOWING SKILLS
Part of being in the recruiting game for a number of years means several family members going through the process. On Wednesday at least two younger brothers of former elite prospects impressed in front of the coaches in attendance.

The group was led by 2020 three-star defensive back Tajiri Smith, the younger brother of 2018 Rivals250 Georgia signee Christopher Smith. The younger Smith has an early offer from Boston College but will surely collect more as the process moves along.
Also impressing was Class of 2019 Baldwin, Fla. defensive back Tyler Toliver, the younger brother of former five-star and LSU cornerback Kevin Toliver II. Toliver was impressive in drills and has the positional versatility to play both cornerback or safety at the next level. He's more of a late bloomer than his older brother, but the younger Toliver could end up being quite the steal for an FBS program in the future.
PROSPECT PRAISES CONCEPT OF SATELLITE 'MEGA-CAMP'
Things have changed quite a bit over the last few years since the satellite camp craze took over the college football offseason. Now, events are limited, which creates "mega-camp" environments so prospects can get in front of dozens of schools all in one sanctioned event.

At least one prospect I talked to on Wednesday, three-star wide receiver Isaiah Washington, said satellite camps provide a unique opportunity to connect with coaches.
"For me, I get a chance to come here and see coaches that have offered me and get a chance to talk to them and work with them on the field all in one place."
Washington had offers from N.C. State and Rutgers coming into the event and has interest in both schools despite not yet being able to make it to campus. He said Wednesday's event gave him a chance to have an extended face-to-face conversation with both.