QB Frazer lands first offer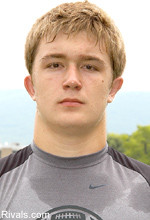 Quarterback
Zach Frazer
out of Mechanicsburg, Pa. has received his first offer of the recruiting season from Georgia Tech.
The 6-foot-4, 217-pounder has also received a lot of interest from schools across the country. Among the schools showing the most interest are Notre Dame, Penn State, Michigan, Miami, Virginia, Pittsburgh, Ohio State, Iowa, Stanford and Purdue.
Frazer is also hoping to see more interest from Penn State in the future.
This season Frazer helped Mechanicsburg to a 9-3 record and a berth in the finals. He went on to complete 285 passes on 441 attempts for 3,684 yards and 27 touchdowns and nine interceptions. He also added 12 rushing touchdowns to his totals.
On the season he was named Player of the Year for AAA and first team all-state.
Frazer's season was a historic one as he now owns the state record for most passing yards in a season.
"I thought we did excellent this year, we had a great senior class and they stepped up, but I stepped up too," said Frazer. "I came into the year and worked hard and I believe I got what I deserved."
So what is Frazer looking for out of a school?
"Definitely an academic program, but also (high school coach) Rich Lichtel and I have a good relationship and I'm looking to have a family-type relationship with my coaches in college," he said. "I'd also like to play early so playing time will be a factor too."
What schools are in his top five?
"I'm narrowing it down right now, but Michigan, Georgia Tech, Purdue, Notre Dame and Penn State.
"I love Notre Dame's tradition and campus, while I love Purdue's offense. I love Penn State's coaching staff. Every school has certain stronger points, but when I'm looking at a school, I'm thinking where do I want to end up and live for the next four or five years."
What factors will play into his decision?
"Location doesn't factor in, I'll go to California if necessary," Frazer said. "But it'll definitely be a family decision and I'm going to talk with them about it."
This spring and summer Frazer will be attending a lot of junior days and is looking at going to the Nike Camp at Penn State.
Frazer also has plans to attend summer camps at Florida and Notre Dame.