QB Dominoes: How Holstein's commitment impacts others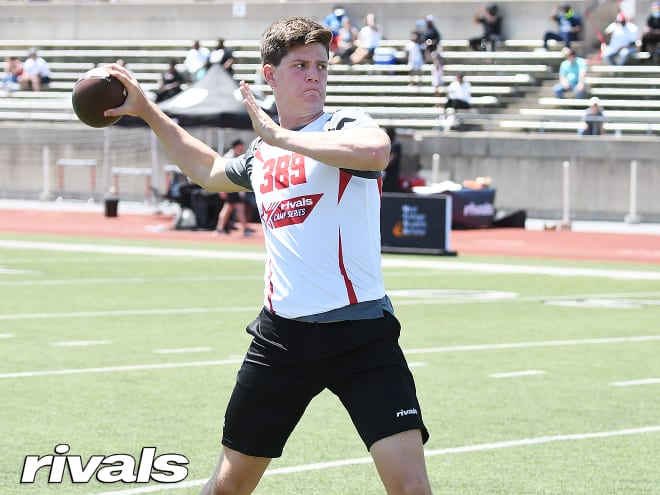 A big piece of the quarterback puzzle came off the board Tuesday when four-star Eli Holstein committed to Alabama.
The Zachary, La., standout, who had a huge junior season both through the air and on the ground, had been leaning to the Crimson Tide for some time although Florida made it marginally interesting toward the end along with LSU and others.
But after multiple visits to Tuscaloosa, it seemed like it was only a matter of time before Holstein made his decision and then came Tuesday.
Below, we take a look at the quarterbacks Holstein's decision can have a domino effect on starting with the No. 1 player in the country.
ARCH MANNING
The five-star quarterback from New Orleans (La.) Isidore Newman has been basically down to Alabama, Georgia and Texas with those three official visits planned for June. We're still trying to figure out if Manning will take his trip to Tuscaloosa but it would not be surprising if his main focus turns to just the Longhorns and Bulldogs now.
It might have already. One line of thinking is that Alabama was happy to take Holstein's commitment not only because he's incredibly talented and fits the Crimson Tide offense but also because the coaching staff felt like it was trailing in Manning's recruitment.
Holstein's decision could clear things up even more. Alabama gets a talented four-star who has dual-threat capabilities and wins lots of games, and now Manning could focus on the two teams that he's largely been focused on anyway.
Some believe Georgia has an edge because Athens gives the five-star the college experience he's looking for plus a shot at national titles. Some believe Texas is where Manning wants to be because of the offensive system and his relationship with position coach AJ Milwee and coach Steve Sarkisian.
THE 2024 QUARTERBACKS
Holstein's commitment to Alabama and Manning's pending decision between Georgia and Texas will have a lasting impact on the top of the 2024 quarterback board as well.
Ohio State has its guy in Dylan Raiola from Chandler, Ariz., so that means five-star Jadyn Davis has Georgia, North Carolina, Florida State, Penn State, Tennessee and others in the mix. The most interesting one to watch here could be five-star Julian Sayin from Carlsbad, Calif.
There has been some chatter that where Manning goes, Sayin will go to the other place. Manning to Georgia means Sayin could lean Texas and vice versa. It's a smart, tactical move because what's the sense in sitting behind Manning and all that comes with it?
That domino effect will be interesting to watch as Texas and Georgia try to manage through their 2024 quarterback board. But CJ Carr is intriguing as well because former Michigan coach Lloyd Carr's grandson isn't a stone-cold lock to the Wolverines as Notre Dame is battling there, too.
Class of 2023 QB Dante Moore's decision – Notre Dame and LSU seem to lead although Texas A&M is getting a visit and Michigan impressed him this past weekend – could drive the top of the 2024 class elsewhere too, especially if he ends up in South Bend.
Holstein was the first piece of the puzzle to come off. Much more is to come with the decisions of Manning and Moore, maybe even making a bigger impact down the line.