Prospects that earned their stripes at Rivals 3 Stripe Camp in Chicago
GLEN ELLYN, Ill. - The 2018 Rivals 3 Stripe Camp Series presented by adidas rolled into the Chicago area on Sunday, with some of the Midwest's top prospects turning out to compete in the last regional stop of this year's tour. With so much talent on hand, there were plenty impressive performances, but only a select few can win position MVPs or earn a much-coveted invite to the Rivals100 Five-Star Challenge presented by adidas. We run through the players who won awards and earned their stripes at Sunday's event.
RELATED: Updates from Chicago | Full Rivals Camps Series schedule
QUARTERBACK MVP
Brown is committed to Miami of Ohio, but holds a number of FBS offers from Illinois and surrounding states. Although he's listed in the Rivals.com database as an athlete, he consistently threw the sharpest passes through cold and windy conditions and was particularly strong with zinging passes into tight windows out to the sidelines. Other quarterbacks at the camp may have had the more traditional look for a strong-armed passer, but Brown's throws were always tight, cut through the wind and found their target better than anyone else's.
RUNNING BACK MVP
Williams has been recruited as a running back and wide receiver and his ability as a pass-catcher was on full display and pushed him to MVP status at Sunday's event. He also checked-in at 5-foot-10, 201 pounds and almost looks more like a running back physically. He first turned heads with his quickness in the open-field-tackle simulation drills, but was dominant in one-on-one reps as a receiver against the camp's linebackers. He has lined up a number of official visits for next month and looks to be a very promising offensive weapon.
WIDE RECEIVER/TIGHT END MVP
Lee didn't do Rivals.com analysts any favors choosing a linebacker MVP with how many reps he won against them in one-on-ones. Even more impressive about Lee's performance was that the tight end group seemed to outplay the wide receiver group, and he led the charge. Receivers typically win this award, but Lee was just too much for defenders to handle with his combination of length and his ability to separate. Lee also did well to meet the ball with his hands and was able to make a few very impressive catches away from his body.

OFFENSIVE LINE MVP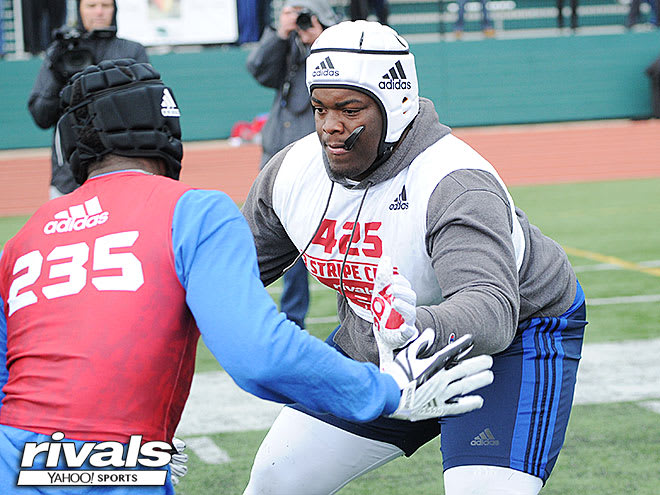 The hulking LSU commit took his time to take part in the action during one-on-ones but once he jumped in he made his presence felt, dominating while regularly tossing defenders to the turf. Bradford worked mostly at tackle and is expected to play right tackle in college but he could easily project to guard with his skillset. Bradford's natural strength and technique show why the Tigers reached all the way into Michigan to recruit him despite an abundance of talent in their own backyard. In addition to winning MVP honors at his position, Bradford also earned an invitation to the Five-Star Challenge.
DEFENSIVE LINE MVP
The 2020 defensive tackle already has a number of top offers, but competed like he was playing for his first on Sunday. Warren won reps against offensive linemen all afternoon with a full complement of pass-rush moves, which was particularly impressive considering his size. He looked particularly vicious in an early matchup against fellow 2020 prospect Tyler Elsbury, beating him on the first rep with a push-pull combination and again on the next rep by dipping under his outside shoulder and running clean into the backfield.
LINEBACKER MVP
Last year McCormack earned his way into the Rivals 3 Stripe Camp with an impressive performance at the Rivals adizero Combine in St. Louis. This year, McCormack was on the radar and didn't waste his opportunity to impress. He turned in a very impressive performance from start to finish, showing good instincts during the open field tackling drill and later backing it up with impressive coverage skills down the field. McCormack walked away with multiple interceptions and pass deflections and did it all fresh off a track meet. Thus far, he holds only an offer from South Dakota State but on Sunday he surely looked the part of an FBS-level player.
DEFENSIVE BACK MVP
A class of 2020 prospect who has already caught the attention of several FBS programs, Seldon had our full attention after a very impressive performance on Sunday. He was right in the hip pocket of wide receivers on nearly every route and also showed an ability to press at the line despite weighing less than most of the wide receivers he face during one-on-ones. Despite being an underclassman, Seldon is already very polished technically and has the competitive nature you look for in a lockdown cornerback.
GATORADE AWARD
The Gatorade award is given out to a player that displays hustle and competitive spirit throughout the camp and on Sunday nobody embodied those principals more than Thurman, who worked out at both linebacker and defensive end. He took rep after rep and showed no signs of tiring and his willingness to battle the camp's best showed just how hungry he is to earn his first scholarship offer.
ADDITIONAL FIVE-STAR INVITES
Listed in the Rivals.com database as an athlete, Barnett elected to workout at defensive back and impressed with his length and size. Despite checking in at just about 200 pounds, Barnett showed that he has no problem running with smaller wide receivers and was also good at spotting the ball in the air and putting himself in position to make a play. The longtime Michigan State commit will have a chance to showcase his skills against elite talent again next month after earning an invitation to the Five-Star Challenge.