Prospects that earned their stripes at Rivals 3 Stripe Camp in Atlanta
AUSTELL, Ga. - The 2018 Rivals 3 Stripe Camp Series presented by adidas rolled into Atlanta on Sunday, with just under 200 of the best college football prospects in the Southeast turning out to compete. With so much talent on hand, there were plenty impressive performances, but only a select few can win position MVPs or earn a much-coveted invite to the Rivals100 Five-Star Challenge presented by adidas. We run through the players who won awards and earned their stripes at Sunday's event.
MORE RCS ATLANTA: Simmons' takeaways | Updates | Full RCS schedule
QUARTERBACK MVP
In what was not an ideal day for quarterbacks to be throwing the ball around, Vandagriff made many strong throws that led him to be the Quarterback MVP. The freshman still may have three-plus years of high school left, but he is a very sharp young man. Vandagriff showed a live arm, his mechanics were some of the best we've seen and his consistency really stood out from start to finish. With his being a 2021 prospect, it is very early in his recruitment, but you can bet he will have offers much sooner than later.
RUNNING BACK MVP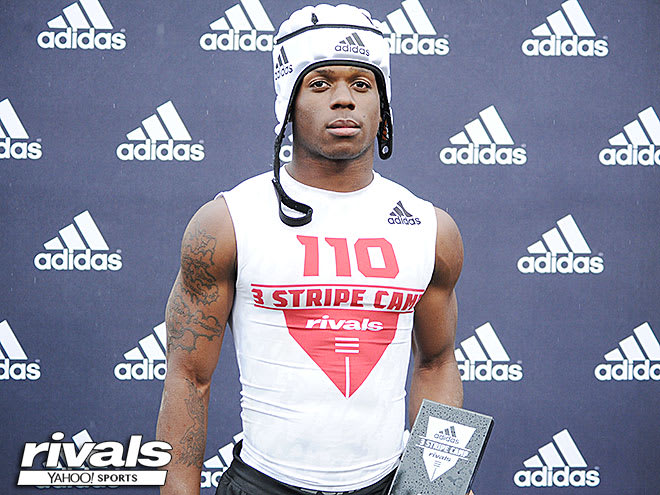 There were numerous good running backs participating, but Marks really separated himself toward the end of the day. It all started in the cat and mouse drill when running backs coach Priest Holmes kept saying, "he put him in a phone booth," talking about what Marks was doing to the defensive backs. He was so quick and shifty with the ability to start and stop very well. Marks also flashed good hands receiving the ball out of the backfield. Miami and Michigan have recently offered, joining programs such as Alabama, Auburn and Florida on Marks' offer list.
WIDE RECEIVER/TIGHT END MVP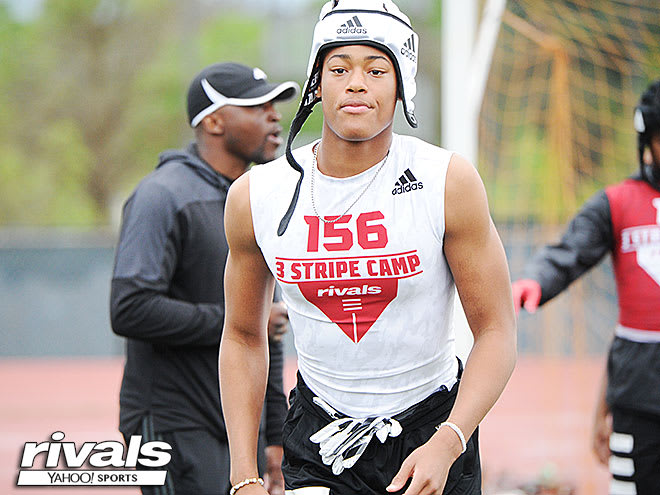 This was a battle. Not only between the receivers, but a trio of tight ends made their case too. In the end, Randolph, who was offered by Florida State and Penn State a few days ago, took home the award. The 6-foot-7, 225 pound tight end used his size to beat defenders and he was very fluid for his size. He still has so much room to develop physically and it is easy to see why his stock is up at a recruit in the 2019 class.
OFFENSIVE LINE MVP
Amari Kight made things a little interesting and a handful of others would have made strong runs for this award at other 3 Stripe Camp events, but Webb took home the Offensive Line MVP. When he was working at center, his future position, he was about as dominant as any lineman could be. He did lose one rep, but he smiled and congratulated his opponent on the victory, then went back to taking care of business. This is expected to be an SEC battle between Alabama, Auburn, Georgia and Tennessee. Webb was selected to return for the second year in a row to the Rivals 100 Five-Star Challenge presented by adidas.
DEFENSIVE LINE MVP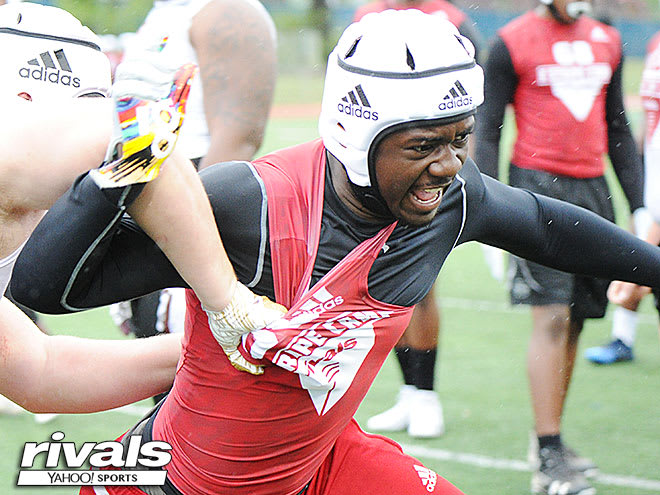 McLendon looked leaner than he did a year ago at this same event and even with his added strength he looked a step faster coming off the edge. His size and length make him an intriguing prospect but when you combine that with his athleticism it's easy to see why he's so highly regarded by schools around the country. In addition to winning the defensive line MVP award, McLendon also earned an invitation to the Five-Star Challenge for the second-straight year. Florida State, Georgia and LSU are among the schools battling for McLendon.
LINEBACKER MVP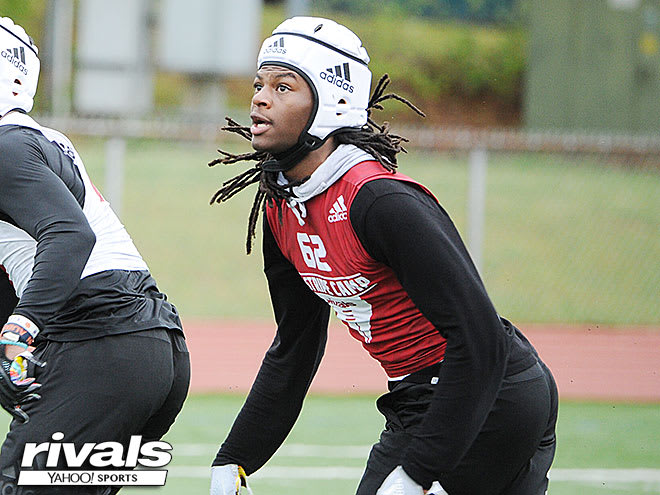 A one-time safety who converted to linebacker last fall, Hopper has really made strides at his new position over the past nine months and he showed that on Sunday. During one sequence in one-on-ones, he recorded four consecutive interceptions, showing that his coverage abilities from his days as a defensive back haven't left him. He was also very good in the open-field tackling drill, where he showed a nice ability to read and react to offensive players. In addition to winning MVP honors, Hopper also earned an invitation to the Five-Star Challenge. Florida, Miami and several others are in the mix for Hopper.
DEFENSIVE BACK MVP
There's never a shortage of quality defensive backs at the Atlanta stop of the tour and once again there were plenty of players to stand out at the position. But it was Bass who turned in the best showing on Sunday. The 2020 standout has yet to pick up his first offer, but looked like a future Power Five player while showing good speed and excellent technique in coverage.
GATORADE AWARD WINNER
The Gatorade Award goes to a prospect who is under the radar but impresses the event's coaches with his competitive spirit and hustle. On Sunday no player epitomized that more than Winston as he made several plays in coverage and caught the eye of both the coaches and the Rivals.com analysts. Winston is a bit undersized but he didn't back down from a challenge at any point and brought the type of energy that was needed on cold, rainy day.
ADDITIONAL FIVE-STAR INVITES
The one-time eighth grade phenom has grown into quite the polished prospect and he had a terrific showing on Sunday despite less than ideal conditions due to inclement weather. He showed great touch on deep balls down the field as well as excellent velocity when he really needed to fit the ball into tight windows. Bailey probably could have easily walked away with the MVP award at his position and will be making a return trip to the Five-Star Challenge for his efforts. Michigan, Tennessee and several others are in the mix for Bailey.
In many camps, Jones would have had a real chance to walk away as the Offensive Line MVP, but it was a loaded position. He worked primarily at guard and he was strong, tough to move and he was as impressive as we have seen him. Jones is fresh off a visit to Florida and he is eyeing the Gators, Auburn, Clemson, South Carolina and a few others as he closes in on a decision before his senior year.
Kight was very impressive. He is a true offensive tackle and his reach really was impressive as he would lock his arms out and the defensive linemen had a tough time disengaging. Kight moved well, took a lot of reps and earned his invite. Alabama, Auburn and Georgia definitely have his attention in the recruiting process.
The day got off to a very good start for Perry, a Georgia commit, when he showed great quickness and reaction in the cat and mouse drill. He is a gifted athlete who covers a lot of ground and he looked fluid in coverage. Perry did get turned the wrong direction a time or two in one-on-ones, but overall, the four-star prospect had a strong day. He has real upside once he is able to turn all of his focus to defensive back.

As soon as Gilbert walked in the building, the 6-foot-6, 250-pound 2020 tight end created a buzz. When he got out on the field, he showed that natural athleticism and the ability to make plays down the field. It is freakish how he moves for someone his size. Gilbert is still very raw in a lot of areas, but he is scary talented with a very high ceiling. The offers are in and he has many options with Georgia, Miami, Tennessee and USC being some of the programs he is interested in.
Murphy checked in at 6-foot-5 and 257 pounds with an impressive 82-inch wingspan and as the day moved along he showed that he was more than just physical specimen. Murphy's length served him well during one-on-ones as he used it to knock offensive linemen off balance before blowing by them. He was in the discussion for the MVP award at his position and will be headed the Five-Star Challenge for his efforts.