Pros and cons of the NCAA's new early signing period
For recruiting fans, National Signing Day in early February is the biggest day of the year, Christmas for college football fans.
Let's do it twice a year now.
On Monday, the Collegiate Commissioners Association, which is a committee of league commissioners, approved an early signing period for football that allows prospects to sign with Division I programs from Dec. 20-22.
2018 recruits will be the first class of prospects to experience the December signing period, though they can still wait until the traditional signing day in February.
Here are some pros and cons to consider.
MORE: Farrell in-depth on early signing period | Power 5 commits of the last week
PROS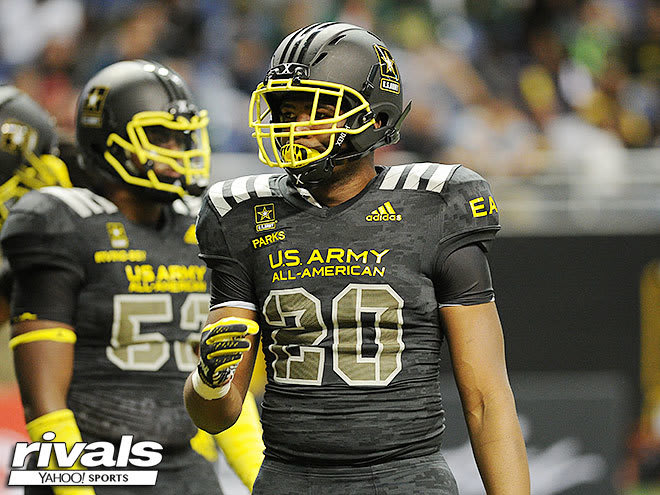 Kids can have less pressure: Recruits who are certain of their future destinations will have all the pressure taken off of them by signing early. The phone calls from coaches will stop late in the process. Having to act friendly when coaches get in contact will be no more. Coaches won't be showing up to schools of completely committed players trying to sway them since they'll already be signed. It will just clear up a lot of those loose ends.
There is much more clarification: If a prospect gets a letter that he can sign in the early period, then that recruit knows he's wanted. If he does not receive one, that sends a message as well. One complication in this scenario is that if a player decides to wait and not sign in the early period then coaches could move on to others and get their players locked up. According to Rivals.com National Recruiting Director Mike Farrell, "the whole Jarez Parks thing wouldn't fly." Surprises on signing day – either during the early period or in February – would be limited.
It helps the middling Power Five schools: The days of lower-level Power Five coaches recruiting their tails off and trying to lock up kids early only to have them pilfered late in the process – sometimes right up to signing day – would be more limited. Prospects who want to sign with those programs early would be locked in, which would reward coaches who put in the work in the beginning stages. "The big dogs come in late and just steal them," Farrell said.
CONS
There will be pressure on kids to sign: An early signing period will inevitably move up the recruiting process even further and consequentially put even more pressure on undecided prospects. Some will not have the opportunity to take their official visits because of their football schedule. Others want to wait until January to take trips when things slow down, but that will no longer be possible for prospects who want to sign early.
Coaches get fired, especially assistant coaches: There are so many changes to coaching staffs – firings, hirings or especially assistants moving to other positions – that recruits could be left out to dry. A prospect who had developed an incredible bond with an assistant coach throughout the recruiting process could be ripped away from that coach if he moves on to another school with no way of getting out of a letter of intent. It could prolong some decisions, but it could force some recruits to make an early decision and just hope the assistant coach that recruited them doesn't leave.
It will push up early offers: "It's going to speed the process up even more by a few months," Farrell said. There is less time on the calendar and things will inevitably be pushed up even more – say hello to more offers to middle school students and unproven recruits just to get in the game with those players – and that is definitely a concern to an early signing period. Coaches will not wait to avoid being "late," which means things will get sped up even more.
THE VERDICT
"It's a good thing," Farrell said. "It's good for college football recruiting because it evens the playing field a little bit. If I'm a recruit, though, I don't really like this all that much.

"It's intended to give kids who have been committed for so long and know where they want to go, it relieves the pressure. That's probably 60 to 70 percent of the kids. The focus is on the 25-30 percent of the kids down the stretch who are committed and want to take other visits and do all that stuff. For the kid who's committed to Notre Dame or Michigan and Florida State and just wants to get this over with and has no interest in other schools, this is good for him. For the guys who want to play both sides of it – who are committed but want to play it out and wait until signing day and do the whole hat thing – for them, it's going to be a lot more pressure."