Prime 21: Top performers
ARLINGTON, Texas -- The annual Prime 21 camp lured talent from all over the country to the Dallas Metroplex, including a handful of local 2020 prospects and, of course, some of the premier underclassmen. Rivals.com's Texas/Louisiana analyst Sam Spiegelman was on hand for the action. Here's a breakdown of 10 notable recruits on hand who shined on the big stage.
MORE PRIME 21: Shedeur Sanders | Garrett Nussmeier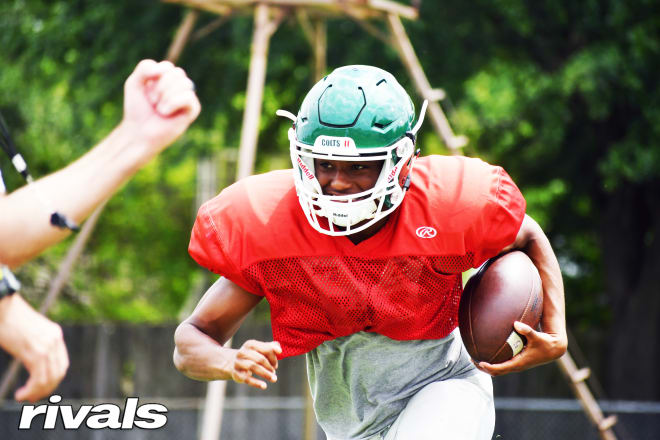 JAHARI ROGERS
The recent Florida commitment was a late addition to the Prime 21 roster, but made his presence felt rather quickly. Rogers is a Rivals250 athlete who's projected to play cornerback in Gainesville and shined there. Rogers looked natural in the secondary, tightly shadowing receivers up and down the field and disrupting the passing lanes with his long arms.
Rogers moves very smoothly and can close ground quickly. He did some of his best work in the end zone and punched his ticket to the Under Armour All-America Game. Of course, Rogers is still making that transition to cornerback and has a few kinks to work out.

GARRETT NUSSMEIER
Nussmeier was arguably the best quarterback in attendance. He excelled with ball placement and has impeccable anticipation. Nussmeier was able to hit receivers in stride and throw downfield with superb accuracy. He's super smooth and calm in the pocket and has a good balance of throws with zip and touch. He also has extraordinary deep-ball accuracy. Nussmeier recently made a nationwide campus tour featuring stops at LSU, North Carolina, South Carolina, Penn State, TCU and Michigan State, which helped gain some clarity on his decision moving forward.

MALIK NABERS
Having seen Nabers a handful of times this summer, he continues to impress as one of the better red-zone receivers in the region. He's extremely sure-handed and has fantastic footwork, making a few toe-tap grabs during the camp. He's a mismatch on 50-50 balls.
Still, speed and separation from defensive backs is where Nabers needs to improve to take his game to the next level. Arkansas, Tennessee and Mississippi State are among the early SEC offers for the Louisiana native.

CLAYTON SMITH
As an outside linebacker, it's easy to get exposed in these camp settings. Not Smith, who was fantastic in coverage, utilizing his length (6-foot-4, 215 pounds) and freakish wingspan to put the clamps on running backs out of the backfield.
He was surprisingly agile for the most part, but the four-star was caught being stiff on his breaks at times. Smith camped at LSU and Texas this summer and recently stopped in Arkansas. He's already plotting a return to The Forty Acres.

DEMATRIUS DAVIS JR.
There were plenty of positives to rave about with Davis. He has fantastic accuracy. He's a smart decision-maker and he's patient in the pocket, even if his receivers are unable to get open. Davis has a knack for looking off defensive backs, remaining poised and not forcing throws.
The four-star 2021 passer recently visited Texas A&M and LSU and made stops at Nebraska and Florida State in the spring, but is still about a year out from making any big decisions.

JIMMY WYRICK
Wyrick is a small defensive back that packs a big game. He was an early four-star in the 2021 rankings and lived up to that with his performance. He has great hips and breaks well on the ball. He extends his arms and his body to jump routes and forced a few break-ups in coverage.
His quickness stands out for sure. However, as a smaller corner Wyrick got exposed in some 50-50 ball scenarios. Georgia, Missouri, Georgia Tech and Arkansas highlight some of Wyrick's early offers, but a big junior campaign should open the door for more attention.

BRYSON GREEN
Green is a physically imposing wide receiver that's filled out well and played accordingly. He had fantastic footwork and was a high-end route-runner capable of getting enough separation against some of the better defensive backs in attendance.
He also has sure hands and had the ability to make catches away from his body pretty routinely. Texas, Auburn, Baylor, Nebraska, Washington and North Carolina are some early offers for the 2021 receiver whose stock is definitely on the rise.

ARMANI WINFIELD
Long story short: Winfield is a star in the making. Entering his sophomore season, he already has the measurables of a college receiver (6-foot-2, 170 pounds) with a frame that can be filled out accordingly.
He's a proven vertical threat and a monster on 50-50 balls. He's an advanced route-runner capable of gaining serious separation downfield. Texas, Texas A&M, Oklahoma, LSU and Alabama are the schools currently standing out to Winfield, who's going to be a name to remember in the class of 2022.

KALEB HIGGINS
Higgins enjoyed a big summer, earning an offer from Texas A&M after camping in the Station. He brought that same aggressiveness and ball-hawking nature to Prime 21 camp. Higgins was physically impressive and long (6-foot-1, 170 pounds) and gave receivers fits with tight coverage.
He's extremely instinctual and his aggressive play dictated coverage. Of course, being too handsy is an area Higgins will need to keep in the back of his mind.

BILLY BOWMAN JR.
Bowman was the only prospect that comes to mind who showed out on both sides of the ball at Prime 21. He played in the slot and was prolific -- a true vertical threat who tracks the ball well in the air and is dangerous after the catch.
However, the Rivals100 athlete might be better playing defensive back at the next level. As a nickel, he took good drop-backs in coverage, was really instinctual and nearly jumped a route and housed it during the 7-on-7 session. He also had a few drops in the process. Texas and Alabama are schools to watch for the four-star.