Preston Wilson details his decision to commit to Cowboys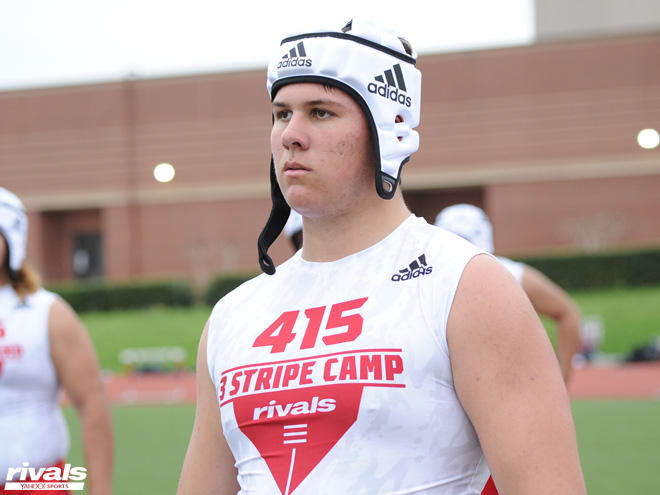 Oklahoma State continued its surge recruiting this week with another commitment along the offensive line in Argyle, Texas, prospect Preston Wilson.
His decision came after an unofficial visit with his family as his brother was participating in a youth football camp. After getting a good look at the campus and spending some time with head coach Mike Gundy and offensive line coach Josh Henson, he felt comfortable making a decision for his next few years in part because of the feeling that he had that his future coaches would be there as well.
"There's a lot of things I liked," he said. "I love the Cowboy Culture, the opportunity to play for Coach Gundy, Coach Henson. They definitely have a lot of things going for them over at Oklahoma State and I know that when I go there that they'll be there while I'm there.
"Coach Gundy isn't going anywhere – he just turned down Tennessee last year and he's a winning coach, so I know that he's not going to get replaced anytime soon. They always play in big bowl games, compete for Big 12 championships, and they're just overall a winning program."
Wilson saw his recruitment explode this spring after top performances at multiple camps, including the Dallas event of the Rivals 3 Stripe Camps presented by adidas. As an offensive tackle at Argyle, he's very effective at the high school level, but he's shown during the camp season that he's capable and comfortable playing anywhere on the line.
That's a good thing for the Cowboys, who like his toughness, but don't see him built as a traditional offensive tackle recruit.
"They've told me that I'm a versatile lineman, but they see me as a center right now," he said. "They think that I have the feet of a tackle and the body of a guard or center so they're going to start with teaching me that and take it from there. I've been training, taking center snaps and doing 1v1 stuff at 4th & Inches Sports Performance and it's been a big help."
In fact, the toughness that he's seen from the Cowboys offensive line in recent seasons is another major reason he was drawn to committing. Now he's anxious to be a part of that unit and play with the same sort of personality.
"I watched their offensive line a lot last year and they were nasty," he said. "They are so good at finishing their blocks, making blocks downfield, cutting down linebackers and they were just dirty. They're willing to do whatever it takes to keep their quarterback and running backs safe and I feel like every year they have one of the top O-Lines in the country."
Wilson also took official visits to Arizona State and Texas Tech this spring but said that he doesn't expect them or any of the other teams like Baylor or North Texas to continue to seriously recruit him. He did say that he is hoping to take his official visit to Oklahoma State this fall but could very well end up taking it after the season.
Wilson said that he and several of the other commitments to the Cowboys have begun a group snapchat message and they're starting to become more familiar with each other. He also said that he knows of at least one other imminent commitment, but he's not willing to give any hints as to who it may be.
Otherwise, he said that he hopes to be back on campus this summer to get to know the guys that are also already on the team in addition to spending more time with Henson. Hard to argue with that when the rest of his family is in on the decision as well. Between their seal of approval and his own, Wilson is happy with his decision.
"My family knows that I'll be taken care of," he said. "With Coach Henson and Coach Gundy, they believe that they're good people on and off the field. They believe that the way that I was recruited is the way that I'll be treated and they're not going to change who they are now that the recruiting process is over.
"I definitely fit in with the town and I got a buddy [Michael Badejo] that is transferring in from SMU on the defensive line up there. I have a friend that is going to go there and things started adding up and I just thought that this is where I belong."