Preseason Farrell 50: Nos. 26-30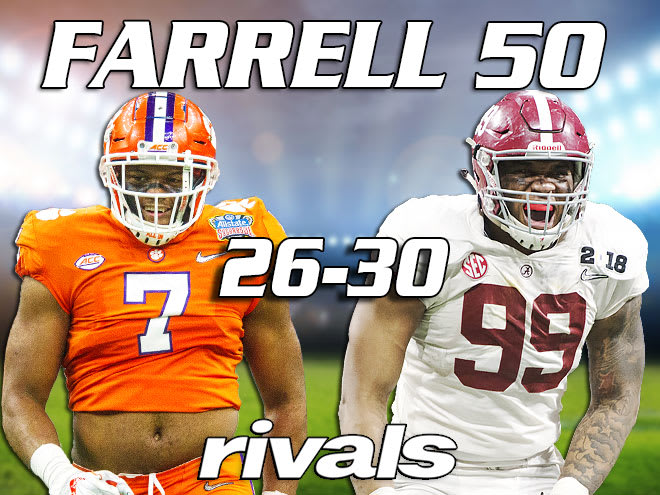 Mark Pszonak contributed to this report.
With the college football season nearly upon us, it's time for another installment of the Farrell 50, the top 50 college football players in the country. However, as usual here at Rivals.com, we take a quick look at how each ranked out of high school and if they are exceeding or simply living up to expectations. Today continue with Nos. 26-30 led by one of Clemson's feared defensive linemen.
MORE FARRELL 50: Nos. 31-35 | 36-40 | 41 - 45 | 46-50
The skinny: Davis committed to Alabama prior to his junior season, but then took an official visit to Mississippi State in January. Drama then ensued when he supposedly flipped to the Bulldogs, but later claimed his Twitter account was hacked. At the end he did decide to stick with the Tide. After seeing minimal playing time in 2016, Davis excelled in 2017 with 69 tackles, 10 tackles for a loss, 8.5 sacks and one fumble recovery. Expectations are even higher for him in Tuscaloosa for him this fall.
Farrell's take: Davis was a monster defensive tackle and the rare 6-foot-7 defensive interior lineman who could consistently play low and be effective out of high school. He had an amazing frame to build on and played with power and surprising athleticism. If he continues to develop, he will be a first-rounder and could shoot up this list.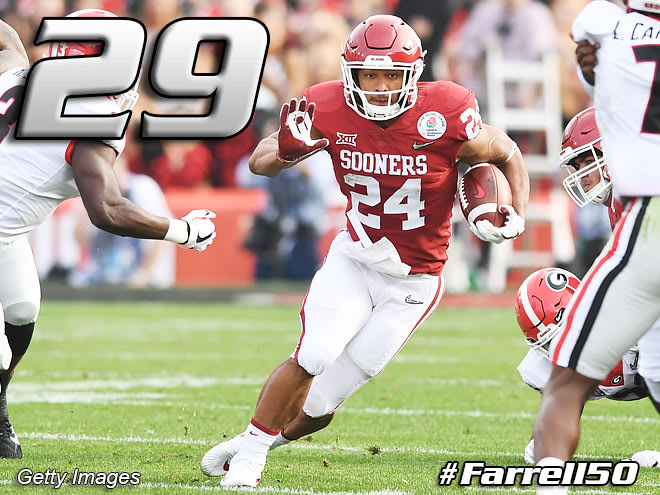 The skinny: Anderson initially committed to Texas A&M during the summer prior to his junior season, but after re-opening his process the Sooners immediately became a serious threat. A three-day visit to Norman during an Oklahoma summer camp sealed the deal for Anderson and resulted in his early June commitment.

Anderson received minimal playing time as a true freshman and then missed the 2016 due to a neck injury sustained during summer camp. He initially split carries last season with Trey Sermon and Abdul Adams, but quickly became the lead back, finishing with 1,161 yards and 13 touchdowns on the ground, plus 281 yards and five touchdowns through the air. Look for an even bigger workload this fall with Baker Mayfield now in the NFL.
Farrell's take: Anderson was a four-star prospect and well thought-of coming out of high school. He had a very good senior season and was a leader on a winning team, although we questioned his quickness and burst, which led to a drop late in the rankings. We liked the way he could catch the ball and he had good vision and was elusive, but that lack of speed kept him out of our Rivals100. After overcoming a few different injuries, he broke out last season despite a crowded backfield.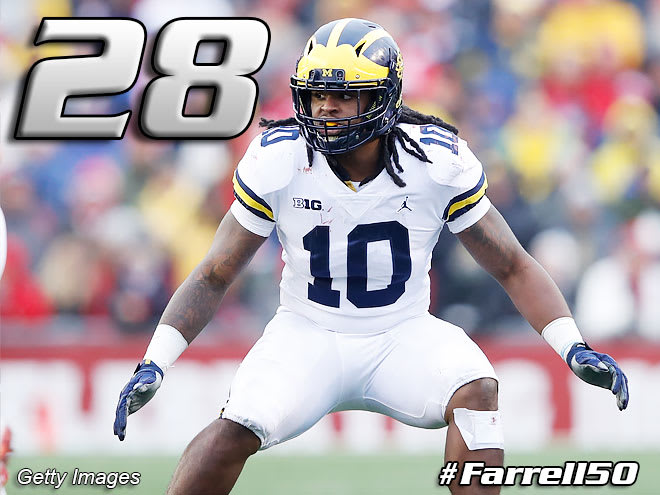 The skinny: With his father being a Florida State legacy, most people assumed the younger Bush was also heading to Tallahassee. However, after taking official visits to Florida State, Michigan and Auburn, Bush committed to the Wolverines, who were considered a serious threat from the start. After only receiving spot duty in 2016, Bush excelled last season with 95 tackles, 10 tackles for a loss and 5.5 sacks. Now one of the veterans and leaders of the Wolverines defense, even more is expected out of him this fall.
Farrell's take: We had Bush ranked in the Rivals250 and as a top 10 inside linebacker, but I never expected him to be as dominant as he has been this early in his career. He's a much bigger hitter at the college level than I expected, and his lack of length – something we worried about – hasn't hurt him at all. He explodes to the football, arrives with a thump and has been a huge key for Michigan's defense. Could he be this year's Roquan Smith?


The skinny: Claiming that Washington was his dream school, Adams committed to the Huskies during the summer prior to his junior season. Even with the coaching change from Steve Sarkisian to Chris Petersen, and some pressure from Oregon, Adams never truly wavered from his commitment.

Adams has developed into not only one of the team leaders for the Huskies, but also one of the top offensive linemen in the country. With Adams, Myles Gaskin and Jake Browning all returning, the Huskies should have a high octane offense yet again.
Farrell's take: A high three-star out of high school, I never got to see Adams in person because he was from Washington and couldn't get out to camps nor was he invited to an all-star game. But on film he was tall, angular with a great frame to fill out and a long reach he used very effectively. He was more finesse than he was power back then but he uses a nice combination of both now.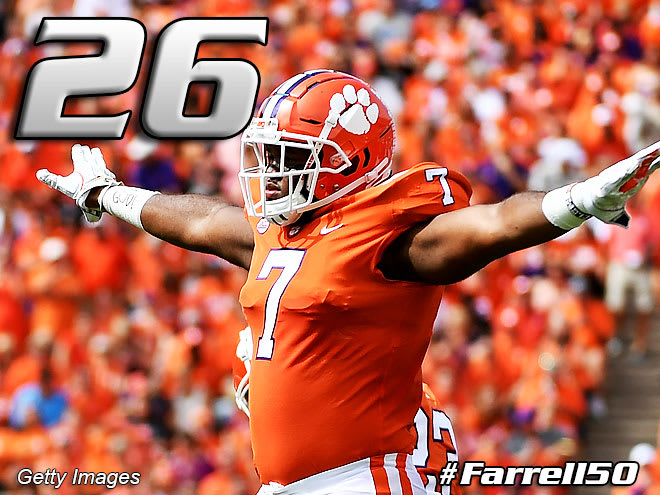 The skinny: Bryant trimmed his list down to a top 10 and then took several visits before Clemson and Notre Dame emerged as his two leaders. He took an additional visit to both schools before committing to the Tigers during the summer before his senior year. After a foot injury slowed Bryant's progress during his first two seasons, Bryant began to flourish in 2017 with 50 tackles, 15.5 tackles for a loss, 8.5 sacks and two forced fumbles.
Farrell's take: This past season was a breakout year for Bryant. He was an interesting recruit out of high school because he made the adjustment from a huge linebacker to a defensive end. As a result, I was worried a bit that his ranking was too high, which is the opposite of what you'd normally think, because the athleticism to play in space as a linebacker would help any defensive end. Bottom line for me is that I wasn't convinced he could be an elite pass rusher with the get off and pass rushing moves I saw. He's was up and down his first two seasons, but this past year he was amazing and is certainly helped by the additional talent on the Clemson defensive line.