Potential traps await some of nations best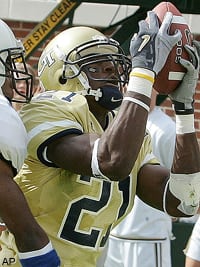 Click
Here
to view this Link.You see it every year in college football, major upsets or heavily favored teams struggling against opponents they should have no trouble with.
Usually the cause for such a result is mental or emotional, which is easy to understand when you're talking about 18-to-22-year olds. College coaches understand that one of their toughest tasks is to have their team ready to play every week, and that's easier said than done.
Sometimes, these games can be predicted. Fans do it all the time, fretting over an opponent that will be a heavy underdog because of where the game falls on the schedule. These are commonly referred to as "trap" games, and Rivals.com perused the master schedule for 2005 in an effort to identify some matchups to watch this fall.
We're not making any guarantees, but keep an eye on these 10 games this season because you might see an upset, or at the very least a game that turns out to be far more interesting than one might expect.
Northern Illinois at Michigan: Saturday, Sept. 3
No one expects the Wolverines to stumble in Week 1, especially against one of Illinois' directional schools, but season openers are always a concern and the Huskies, who finished 9-3 a year ago, have pulled their share of surprises in the last few years.
Michigan will be replacing several key performers on defense, and Northern Illinois, one of the favorites in the underrated MAC this year, will bring one of the nation's top running attacks -- featuring backs Garrett Wolfe and A.J. Harris -- to the Big House.
Additionally, the Wolverines might be looking ahead to a Week 2 showdown against Notre Dame, which spoiled any Michigan hopes of a national title in 2004. We're not picking a Huskies win, but the 18-point spread seems a little high.
Miami (Ohio) at Ohio State: Saturday, Sept. 3
Our thinking here is pretty similar to the game above: Talented MAC team on the road to play a good Big Ten team with some questions to answer and a big game on the schedule the following week. And make no mistake; This will be like the Super Bowl for the RedHawks, whose roster will be filled with players who grew up dreaming of playing for the Buckeyes.
The Buckeyes, meanwhile, have some issues at quarterback and running back and one of the biggest games of the year looming the following week, a rare night game in the Horseshoe against No. 2 Texas. Will Ohio State be focused on Miami, which won eight games in 2004, returns 16 starters and has been installed as a 14.5-point underdog?
Even if they aren't, the defense should be good enough to deliver a win, but once again, don't be surprised if this one's close.
Pittsburgh at Ohio: Saturday, Sept. 10
Another MAC team makes the list, this time the Bobcats, who will have former Nebraska coach Frank Solich leading the charge this season. Pittsburgh has the better talent and will be an overwhelming favorite, especially when considering that Ohio won just four games a year ago.
But the Panthers have to travel to Athens just one week removed from facing Notre Dame in what many are calling a program-defining game. Additionally, they know that a trip to Nebraska is on the slate the following week. Anyone else smell a letdown?
Illinois at Iowa: Saturday, Oct. 1
It would be easy to just pencil in a "W" for the Hawkeyes in this one, but further examination reveals it might be wise to hold off. Iowa is among the Big Ten favorites this year, but to win the title it will have to conquer Michigan, Ohio State and Purdue. Well, it just so happens that the Hawkeyes' home tilt with the Fighting Illini is sandwiched between crucial trips to Columbus and West Lafayette.
With a few breaks, new Illinois coach Ron Zook could bring his team into the game at 3-1 and feeling pretty good about itself, while it would be easy for Iowa, which has just four starters back on defense, to come out flat regardless of what happens against the Buckeyes a week earlier.
Oregon at Stanford: Saturday, Oct. 1
Expectations are high for the Ducks this season and a 3-0 start is a good possibility. But a monumental home tilt with national power Southern Cal is on the schedule in Week 4 in a game the home folks have been talking about for months. Two weeks later, Oregon travels to Pac-10 contender Arizona State for another crucial conference matchup.
Oh yeah, the Ducks play at Stanford in between those games. If that's as much excitement as Oregon's players can muster for the Cardinal, an upset is a good possibility. New Stanford coach Walt Harris has a talented quarterback in Trent Edwards, and with just two winnable games on the schedule prior to Oregon's visit, the Cardinal should be 2-0, healthy and rested.
Alabama at Ole Miss: Saturday, Oct. 15
Another team with high expectations this season is Alabama. The Crimson Tide believes it's a contender in the SEC West, and it could be with a favorable schedule to work with. But one game that stands out as a potential land mine is a trip to Ole Miss, which is rebuilding under first-year coach Ed Orgeron.
The trip to Oxford falls between home games with highly rated Florida and Tennessee, and there's also a bye week, which can be good for getting recharged or lead to complacency, to contend with follwing the matchup with the Gators. Alabama's margin for error isn't what the other top SEC teams enjoy, so it can't afford to hit the road looking past any opponent.
Georgia Tech at Duke: Saturday, Oct. 15
In recent years, the Blue Devils have been looked past more often than Nick Lachey walking through Los Angeles with wife Jessica Simpson. Clemson did it last year and got burned, as could the Yellow Jackets, who lost 41-17 at Duke in 2003, this season if they're not careful.
Many think this will be Chan Gailey's best Georgia Tech team, but the trip to Durham will be sandwiched between a critical home game with N.C. State and a road game at Miami. Duke is improving under Ted Roof, a Georgia Tech alumnus ironically, and will probably spring an upset or two this year. This game qualifies as a strong possibility.
Kansas at Colorado: Saturday, Oct. 22
When it comes to the Big 12 North, prognosticators are having trouble agreeing on anything other than the fact that mediocrity will plague the division again this season. Colorado is one team that many are high on, but the Buffs face a brutal schedule, including matchups with Miami (Fla.), Oklahoma State, Texas A&M and Texas in consecutive weeks, with only the game against the Aggies at home.
Following that murderous stretch is a home tilt with Kansas, which will feature one of the better defenses in the conference this fall. If Colorado thinks it will enjoy an easy win against the Jayhawks, it could be in for a rude awakening, even in Boulder.
UCLA at Arizona: Saturday, Nov. 12
Coach Karl Dorrell has the Bruins headed in the right direction, and with a favorable schedule early in the season, UCLA could head to Tucson sitting at 7-1 with only a loss to Oklahoma on its record. But a home game with highly regarded Arizona State follows the Arizona game and then the annual rivalry game with USC closes the regular season.
If the Bruins have a nice national ranking and get caught up in the hype of those closing games, they could be bitten by the Wildcats, who should be much improved this fall with more talent in the program. You also can bet that Arizona coach Mike Stoops will call brother Bob at OU for some helpful hints on how to attack the Bruins.
Miami at Wake Forest: Thursday, Nov. 17
The Hurricanes are known for their confidence and the Demon Deacons are known for their ability to hang in there against any opponent. When these two teams meet in a Thursday night ESPN clash, Miami will be coming off a tough trip to Virginia Tech and staring at a critical season finale against talented Virginia the following week.
Wake, meanwhile, rarely gets blown out, and a chance to play the Hurricanes at home in front of a national television audience will have the Deacons focused and sky high. The question is will Miami share that focus and energy level? The Hurricanes didn't in a road game at North Carolina last fall, and they paid the price.