Pollard to decide next month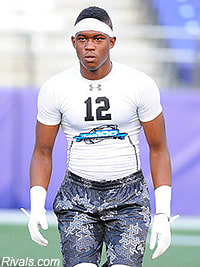 CJ Pollard
is weeks away from making his college decision but first the four-star defensive back is trying to schedule some big unofficial visits.
The Gardena (Calif.) Serra standout wants to visit Michigan, Notre Dame and Oregon in the next few weeks before he announces his college commitment at The Opening.
"You still don't know what they have out there to offer you if you're from Notre Dame, if you're from Michigan or Oregon," Pollard said. "They have things that are good for you too that maybe you don't know about if you don't go out there and check."
USC remains the frontrunner though for Pollard, who said he plans to narrow his list to three schools and then make his pledge in July.
The Trojans will receive an unofficial visit soon from Pollard since he still wants to check out some things on campus.
"I just really want to get over there and I really want to still see what they have to offer," Pollard said. "I feel like I have not seen everything yet because I don't go there. I have to see everything.
"I'm going to go to the camp, the Rising Stars Camp, and stay in constant communication with the coaches and really understand what they have to offer."
Pollard's father, Marvin, played for the Trojans and it has to be a factor that his family still lives in California. The four-star is considering others but USC has to be considered on top.
"I'm just going to take it all into consideration with the family being from L.A. but that's not going to rule out any other schools just because they're from L.A. and they're a good school," Pollard said.