Philly DB Tyreek Chappell commits to Texas A&M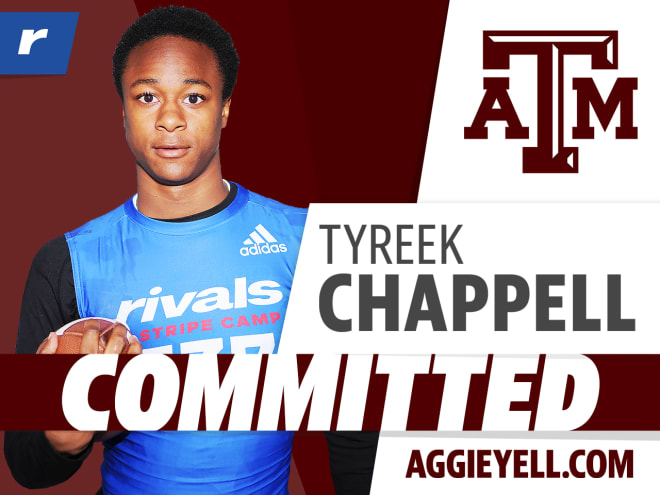 Texas A&M is getting in on the fireworks of July 4th with a commitment of their own. Tyreek Chappell, a defensive back out of Philadelphia (Pa.) Northeast, announced his commitment to the Aggies over teams like Tennessee and Michigan.
IN HIS OWN WORDS...
"I picked the Aggies because I have a great relationship with coach Elijah, coach Rushing, and coach Jimbo," Chappell said. "Coach Elijah has genuine love for me and my family and I respect him. One of the other major reasons I picked Texas A&M was because they have my major. I also really like the depth chart.
"The coaches gave me a whole plan on how they're going to use me," he said. "It's clear they're invested in me and they really wanted me. That made them really stand out. A lot of coaches don't do that.
"I definitely fit in because my high school runs a 4-2-5 too," said Chappell. "I know I'll have an opportunity to play because of my technique. My high school runs the same formations, coverages, and everything. They want me to play all over the secondary.
"I was supposed to visit on March 28th," he said. "The facilities and the dorms were really impressive on the virtual visits. I learned about the brand and how they are getting ready to help with that."
RIVALS' REACTION...
Chappell is a versatile defensive back with the length and and instincts to give quarterbacks real problems. Texas A&M is going to be able to use his versatility to plug multiple holes in their defense but it may take a year or two for him to get physically ready to consistently contribute in College Station. After signing Fadil Diggs, Josh Moten, Isaiah Raikes, and Muhsin Muhammad from the East Coast in the 2020 recruiting cycle, Texas A&M now has commitments from East Coast prospects Jahzion Harris, Kaci Seegars, and Chappell.