Peach State DB Quindarious Monday Reveals his Leader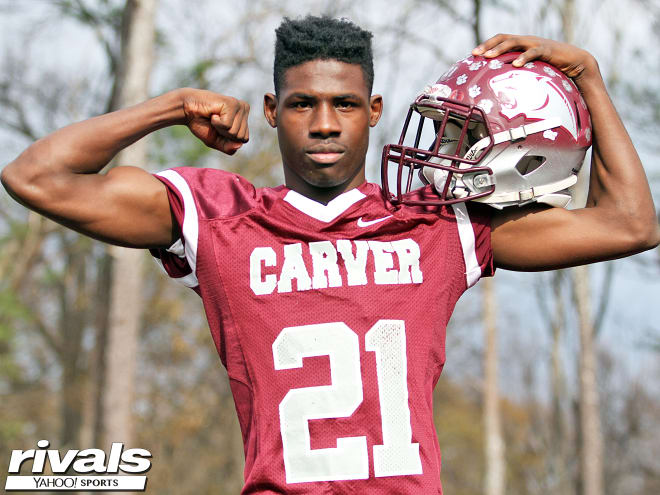 THE LATEST: Offers continue to roll in for 2018 safety Quindarious Monday. The 6-foot-3, 180 pound junior out of Atlanta (Ga.) Carver holds over a dozen offers and he is a wanted man by many SEC schools.
Alabama, Auburn, Florida, Georgia, Kentucky and Tennessee have all offered out of the SEC. Michigan is his most recent offer. Before the Wolverines, it was Florida State. He is quickly becoming a household name in the south.
Most offers had come from schools in his region until Jim Harbaugh offered last week. That offer caught his attention.
"I love coach Harbaugh," said Monday. "He has coached in the NFL, he has a lot of experience and he has great knowledge of the game of football.
"Michigan is definitely one of the schools I am interested in."
Monday has a list of schools that he has his eye on and they are Auburn, Florida, Florida State, Georgia, Georgia Tech, Michigan and Tennessee.
One out of that group is on top — Auburn.
IN HIS OWN WORDS: "Right now, Auburn is my top school," said Monday. "I lean their way right now because they show me the most love and I have really connected with the coaches there.
"I am talking to T-Will (linebackers coach Travis Williams) or new defensive backs coach [Greg] Brown every day right now. I like both them a lot.
"I have visited Auburn four times already and I like the feel I have there. I like their campus and I love how they are recruiting me too. They are coming after me hard, like they want me bad and that means a lot to me."
RIVALS REACTION: Monday gets very excited when talking Auburn and he is not shy about the amount of love he has for the Tigers right now. With that said, he is nowhere near a decision at this time. He said commitment has not even crossed his mind once yet and he does not plan to choose his school until after his senior season. He would like to play somewhere close to home because he wants his family to be able to attend most, if not all of his games. The next visit he has scheduled at this time is to Tennessee on March 4.