Pasches star is rising in Northwest Ohio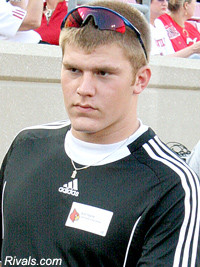 Findlay (Ohio) Liberty Benton head coach Tim Nichols has called on star senior
Brett Pasche
to take on extra duties this fall and the 6-2, 210-pound prospect has responded, leading his team to a 4-1 record thus far this season.
"Last year we had him as a receiver and a MIKE linebacker, now this year he has to do the quarterback duties also," Coach Nichols said. "I think the first week or so he learned it was going to be a pretty good task for him, and then probably the last three weeks he's settled down and gotten a little bit better. The last three weeks he has really carried us both offensively and defensively."
Pasche has become an offensive weapon in Coach Nichols' arsenal, but he made his name originally on defense. It remains to be seen, however, which side of the football Pasche will translate to best at the college level.
"I don't know if someone would look at him as a quarterback or not, but he's got a great arm and he's smart," Coach Nichols said. "I think the linebacking thing is great for him and the thing is he's only going to be 17 when he graduates, so he's a young kid who will get somewhere and just keep maturing."
Division 2 prorgams like Ashland, Findlay and Hillsdale have all offered scholarships, but Pasche is receiving Division 1 attention as well and has made several unofficial visits for games and camps in recent months. Earlier this month he took in Louisville's home opener against Indiana State.
"I don't know how he ended up [visiting Louisville], but I know he did bounce around quite a bit this summer," Coach Nichols said. "He went up and watched Toledo and Ohio State. I know he went to Cincinnati also and he went to a few of the MAC's."
Pasche has also been impressive on the academic side of the equation and recently notched a 30 on his ACT.