Pac-12 Signing Day breakdown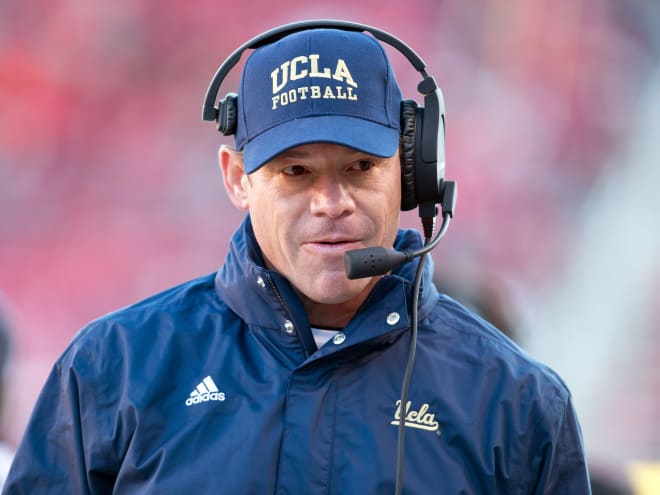 The Pac-12 had a solid showing – not excellent and not poor – on National Signing Day as USC surged to eighth nationally with a strong finish and UCLA landed the state's top-rated player. We break down some of the biggest storylines from the Pac-12 Conference:
Biggest victory: UCLA lands five-star LB Mique Juarez
Juarez was the top-rated prospect in California this recruiting cycle because of his athleticism and ability to play inside or outside linebacker. The comparisons to Myles Jack are not far off at all.
It was especially big then that UCLA landed his signature because the Bruins had to fend off SEC powers Alabama and Ole Miss, and closer to Signing Day BYU made a legitimate run at the Torrance (Calif.) North two-way star.
Juarez, a former USC commit, has the physical readiness to step into UCLA's defense from Day 1 and be an impact player. He was absolutely the biggest fish in the Bruins' recruiting class and Juarez definitely made it stressful since it was really unclear even on Signing Day where he would end up.
Biggest loss: Caleb Kelly picks Oklahoma over Notre Dame, Oregon
For the Pac-12, this was not a significant loss because Kelly really was really torn between Oklahoma and Notre Dame leading up to Signing Day, even though Oregon did play a factor.
In a post-signing day interview with SoonerScoop.com, Kelly admits that he was even leaning toward Notre Dame close to the end but that he "couldn't say no" to Oklahoma assistant coach Mike Stoops.

Best storyline: USC surges late with out-of-state prospects
Leading up to National Signing Day, there were all kinds of questions about how USC would finish because it didn't seem particularly clear – save for two or three recruits – how the Trojans would round out their class.
They finished with a tremendous haul, mainly out-of-region players, that boosted USC to No. 1 in the Pac-12 team recruiting rankings.
Florida prospects Jamel Cook and Keyshawn Young surprised by picking the Trojans. Four-star offensive lineman E.J. Price out of Georgia is headed to SoCal. Five-star Jack Jones picked USC over Texas A&M and Alabama. Four-star defensive end Connor Murphy chose the Trojans over Michigan. Maybe the biggest shock of all came when Oregon running back pledge Vavae Malepeai flipped from the Ducks.
All in all, it was a tremendous day for USC and it answered all the questions leading up to Signing Day.
Biggest surprise: Big Ten becomes a big winner in Pac-12 territory
Michigan coach Jim Harbaugh did some serious damage in the West, landing three prospects in the California top 20 led by four-star tight end Devin Asiasi, who has all the physical ability to become a star tight end in Ann Arbor.
That was a big one, too, because Asiasi was also serious about UCLA and USC but the family felt the four-star could thrive in Harbaugh's system and that played a factor late in the thinking.
The Wolverines also landed four-star cornerback David Long, a former Stanford pledge out of Los Angeles Loyola, and four-star receiver Dylan Crawford, who spurned plenty of Pac-12 schools to head to the Big Ten.
Michigan wasn't the only school to tap top talent. Nebraska signed four-star Lamar Jackson, the top-rated safety in the country. That's important because he has the size and playmaking ability to make an immediate impact in Lincoln.
Biggest disappointment: Washington State
Finishing second-to-last in the Pac-12 team rankings is not where Washington State wanted to find itself, especially after such a fantastic 9-4 season in which the Cougars defeated Miami, UCLA, Arizona State, Arizona and Oregon.
There is absolutely no question coach Mike Leach has reinvigorated the Washington State program, but it was the only team in the conference to not land any four-star recruits (every other team had at least two).
Most drama leading up to Signing Day: USC
USC fans can put down the antacid because everything worked out swimmingly. But there was a lot of tension. With Juarez looking good across town to UCLA, that made it even worse for the USC supporters when USC lost out on Asiasi and four-star DT Boss Tagaloa (UCLA).
But the Trojans won big on others such as five-star cornerback Jack Jones and that entire out-of-state haul was a little surprising.
Biggest Signing Day surprise: Asiasi sticks with Michigan
Let's call this one the biggest surprise on Signing Day eve because that's when the decision was finalized that Asiasi would be picking Michigan.
There was a lot of chatter around Asiasi joining Tagaloa at UCLA, which made sense. The family loved the idea of Asiasi playing with star quarterback Josh Rosen in Westwood. USC was also a long-time family favorite and Asiasi definitely had dreams of playing for the Trojans.
But after sitting down and taking a look at which program would fit his style and abilities best, Michigan came out on top. The four-star loved what coach Jim Harbaugh did with tight ends. It's just hard to turn down such a prestigious program when you're a top priority.
My pick for 2016 Pac-12 Freshman of the Year: Tyler Vaughns, USC
A couple factors are playing a role here. Vaughns is a fantastic talent who catches everything thrown his way, he's effortless in his routes and so smooth he can separate from cornerbacks.
Plus, the five-star receiver will be surrounded by incredible talent in USC's receiving corps so that could open up a lot of possibilities as well. Essentially, Vaughns could be matched against the third- or fourth-best corner on the opposing team, which means he could have a field day in the right situations.