Orangebloods: Inside the Strong situation, what's next
Ten thoughts on tumultuous times at Texas, from Orangebloods publisher Geoff Ketchum.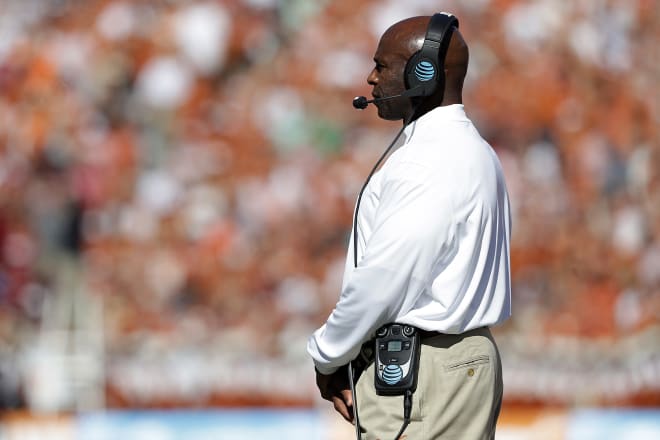 No. 1. Decision made, but plan of action still appears up in the air
While the decision to remove Charlie Strong has been made, the execution of it remains to be made, so I thought I would open this week's column with a collection of thoughts on where things stand going into what could be a fascinating Monday on the 40 Acres.
... I'm sure there's a method to the madness of the Texas admin's thinking and I'm going to withhold lobbing too much criticism its way until we see how things unfold this week, but if the plan is to wait until after Friday's game to make an announcement, I'm going to say right now that it's a mistake. By waiting to make an announcement the entire world knows is coming, you're simply going out of your way to create one of the most uncomfortable weeks in the history of the football program. From the Monday press conference to the week of nation-wide discussion to the vibe that will exist in the stadium on Friday, you're just inviting disaster by waiting. Hell, if the Monday press conference is as uncomfortable as it has a chance to be, the Texas football program is going to be a major nationwide talking point for all the wrong reasons.
... Charlie knows. He's a big boy. Let him go with his head held high as possible and without a black cloud hovering all over Senior's Day.
... A high-level source echoed the statement made by Mike Perrin on Sunday night, suggesting that the focus is suddenly just on beating TCU this week after telling me earlier in the day a Sunday night announcement was possible. Translation: Whatever the decisions are, it looks like the UT admin is getting on the same page and attempting some message discipline.
... There was a mini-meltdown on Sunday over the report that Anwar Richardson made about the Tom Herman side of things going into this week and I think a lot of people lost seeing the forest through the trees. Here's how I read the update and how I think everyone should have received it.
a. It's clear the Herman camp is attempting to get Texas to show its cards as quickly as possible and in general we're watching a game of "I'll show you mine if you show me yours first" take place. It wants to send the message that it won't be able to wait around forever so that it actually won't have to sit around and wait forever.
b. What we're really talking about here is a 7-10 day window where things will likely go down and Herman's people want as much info as possible at the front end of the window.
c. Part of the messaging from today probably had to deal with the fact that there simply hasn't been as much communication between the sides for the last 4-5 days.
d. I spoke with one Texas source about this on Sunday night and he indicated that Texas wouldn't have any discussions with Herman's camp until after the TCU game and I personally read that as discussions will pick up at any moment and that source probably didn't want to reveal that. Stay tuned. This is going to get worked out.
e. Herman is going to have options and that leverage is likely going to be flexed. Be prepared for that.
... It's been days since anyone mentioned the ol' red-flag in any kind of worrisome context.
... This is still a Texas admin that would rather not break the bank in hiring a new coach and I think it's going to have to come to grips with the cost of doing business really quickly. It doesn't want to have to pay six million for a coach, let alone more than that, but it has limited leverage at this point, especially with Herman. Until a No. 2 candidate presents itself, this is a little like the recruitment of Sterlin Gilbert in that the school needs to understand that its tap-dancing shoes should be on standby.
... Don't worry about Texas players threatening to transfer. The bottom line with this subject is that good players almost never sit out a year if they don't have to. All of the hurt feelings being expressed will mostly be soothed over in due time. In the meantime, the kids have a right to vent.
... The sooner a decision is announced and a hire is made, the better. Recruiting is in no man's land and the current staff has barely been pushing the buttons in this area for a while now. My expectations are that a hire will be in place by the end of the first week in December. Of course, if the hire isn't Herman, this becomes much trickier.
... Push comes to shove, I think the Longhorns get Tom Herman.
No. 2. Go get paid, D'Onta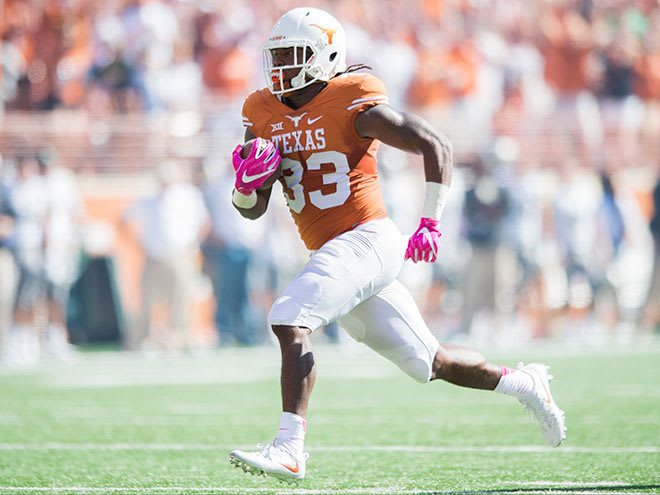 With the Longhorns holding a 14-10 lead going into the fourth quarter on Saturday, UT's Heisman candidate D'Onta Foreman was sitting on 29 carries
Two minutes and 32 seconds later, the Longhorns held a 21-10 lead and Foreman was sitting at 34 carries and it seemed obvious what it looked like for Foreman in the final quarter.
That was a tongue-in-cheek comment at the time, as 40 carries appeared to be a mortal lock, but not even I thought he'd carry the ball 21 times in the fourth quarter.
That's right … 21 carries in a single quarter.
While the game hung in the balance, I have to admit to worrying about Foreman's health by the time he was in the 45-carry range. That type of workload is so overwhelming that it's impossible to know what will happen to a young man's body as it's happening because you just don't see running backs carry two games of heavy workloads rolled into one single 60-minutes-and-change block of work. One Orangebloods poster remarked that it was the equivalent of asking a pitcher to throw 200 pitches in a single game.
As extreme as that sounds, yeah … kind of.
Knowing that running backs have short shelf-lives as professionals, I wondered as it was happening if a game like this can have an impact on a player, especially when the player might be asked to carry the ball 30+ times again in six days. Probably not, I think, but I can't say that I know.
What I do know is that Foreman has left a piece of his athletic soul on the field this season for the Longhorns and when this season ends, it's time to go get paid for these kinds of physical sacrifices. With stock that can't possibly increased by coming back for his senior season, the decision is an easy one and if you eliminate the selfishness of wanting to see him play again in a Texas uniform, almost everyone has to agree.
I'm sure Foreman will anguish over the decision, but when push comes to shove, the obvious decision will become obvious and it's okay.
Go get paid, young man, you've earned it.
No. 3. With a little time for reflection
In the modern era of the Texas football program, the Longhorns have never lost to a more wretched outfit than they did on Saturday in Lawrence.
As someone who sat on the 50-yard line for a 50-7 loss to Baylor in 1989, stood on the sidelines for 66-3 in 1997 and viewed way too many blowouts against OU in the 2000s, I feel like I have some perspectives on the worst losses in Texas history. Hell, I have the 1991 Cotton Bowl on VHS if anyone wants to borrow it.
At times it's impossible to split the hairs on the worst of the worst. For instance, if someone sat in the stands on that frigid New Year's Day when the Hurricanes humiliated Stan Thomas and the Longhorns and wants to tell me that the experience was worse than the Baylor loss from the year before … fair enough.
Clearly, on some level choosing the worst is a matter of perspective.
What I can tell you is that all of those teams from Baylor in 1989 to Miami in 1991 to UCLA in 1997 to any of those Oklahoma teams that drop-kicked Mack Brown's Longhorns upside the head all had a bevy of future NFL players on the roster.
Kansas? Yeah, not so much. You'd be hard-pressed to name five teams in the last 25 years that the Longhorns have played that are worse than the 2016 Jayhawks, a team I'm not convinced would win the Texas Class 6A state title.
Frankly, I haven't completely wrapped myself around the fact that the Longhorns let a team that hadn't won a game against FBS competition in more than two years end its ugly streak against them, but it's clear the 2016 Longhorns have a special kind of skill-set for losing games - the kind of skill-set that made the kind of stealing defeat from the jaws of victory that occurred yesterday possible in the first place.
How did we go from the Notre Dame win to this in less than three months?
No. 4. Scattershooting on the Longhorns
… I was on the field when Baylor fans stormed the field after beating John Mackovic's lame-duck Longhorns in 1997 and I thought Saturday reminded me a lot of that game. For starters, the score that day was 23-21. The Longhorns had an all-American running back that day as well, as Ricky Williams rushed for 241 yards and a pair of touchdowns. Also, just like yesterday, the Bears entered that game with a single win under their belt and winless in conference play. More than anything, the obvious frustration from the Texas players as opposing fans embarrassed them by tearing down the goalpost was basically a mirror of that day.
Don't tell me history doesn't repeat itself because it basically happened yesterday.
… The crazy thing about that Baylor loss in 1997 is that it represented the third game in five weeks that an opposing team tore down the goalpost after the game. Texas dropped to 3-5 that day that the Baylor fans rushed the field.
… It's hard to comprehend just how bad Shane Buechele was on Saturday. There have been times when he's simply lived right with a dropped interception or two throughout the season, but we've never seen the youngster flat out fall apart and that's exactly what happened in Lawrence. Take away that Jacorey Warrick touchdown and we're talking about 3.6 yards per attempt for the day with three horrible interceptions.
… This team really needed Kirk Johnson this season from a depth standpoint. It's clear there's not a backup option the coaching staff trusts.
… Right at the moment it looked like Armanti Foreman had emerged as a true No. 1 receiver for the offense, he has basically been phased out of the offense in the last two weeks.
… Caleb Bluiett had twice as many catches on Saturday as Armanti Foreman and Devin Duvernay.
No. 5: Buy or sell
BUY or SELL: Major Applewhite is back as the OC under Herman?
(Buy) I've heard mixed signals on this, but one high-level source told me this week that if there were issues with Applewhite not being able to coach at the school, he wouldn't have been allowed to finish the 2013 season. The Board of Regents reportedly had this discussion back in 2013 and one person told the issue has been put to bed.
BUY or SELL: If Herman had taken over the job at the end of 2015, Texas is at least a 9 win team this season.
(Buy) Yeah, against this schedule, I'd say so.
BUY or SELL: Top 10 recruiting class if Herman is A) the coach and B) brought in quickly?
(Sell) I'm not sure that's going to happen in 2016, but I could see a Top 20-level class in 2017 and a top five class in 2018.
BUY or SELL: We will have to go through the Korn-Ferry BS again?
(Sell) When I asked that question to a high-level source this week, the source said, "God, I hope not."
BUY or SELL: If Sonny Cumbie was hired instead of Sterlin Gilbert, Strong would still have a job?
(Sell) There's no reason to think that would be the case as far as I'm concerned.
BUY or SELL: Herman assimilates a murderers row staff including Tim Brewster?
(Buy) Word on the street is that Brewster could be in play on a Herman staff.
BUY or SELL: The much discussed red flag is so serious or troublesome that Coach Herman will not be hired?
(Sell) Until I know of a plan B, I'm going to assume plan A's red-flag isn't something that can't be worked out.
BUY or SELL: Given that Mack Brown was not breathing down his neck these last two years, Applewhite had the opportunity to prove himself as a quality offensive coordinator and he delivered the goods by any standard.
(Buy) He'd be an asset on a Herman staff in Austin.
BUY or SELL: Charlie Strong is the worst head coach in the Big 12?
(Sell) Kliff Kingsbury. Enough said.
BUY or SELL: If in fact Herman is hired, Jerrod Heard has a legit chance to be starting quarterback game 1 of 2017?
(Buy) I don't know that I would go so far as to say he would definitely be the starter, but I think they'd have to consider giving him a look there for depth purposes.
No. 6: College football randomness
… If I had a vote that mattered …
1. Alabama

2. Michigan
3. Ohio State
4. Wisconsin
5. Washington
6. Clemson
7. Oklahoma
8. Penn State
9. Colorado
10. USC
… Big 12 Power Poll
1. Oklahoma
2. Oklahoma State
3. West Virginia
4. Kansas State
5. TCU
6. Texas
7. Baylor
8. Texas Tech
9. Iowa State
10. Kansas
… Eleven games into the season and the two Oklahoma schools have been revealed as the class of the Big 12, with Bedlam poised to decide the entire season and the Texas schools combining to add up to absolutely nothing of significance.
… Dede Westbrook probably deserves to be the Big 12 Player of the Year. Apologies to D'Onta Foreman.
… Ohio State is Ohio State this year in name only.
… West Virginia is exactly the team we thought it was.
… I've been waiting for Colorado to fall apart all season, but that's pretty damn good little team they've got there in Boulder.
… If college football was like college basketball, USC would be the No. 3 seed that no one wants on their side of the bracket.
… Any LSU fans out there that still want Ed Orgeron?
... Western Michigan might be 9-2 right now if it played in the Big 12. Maybe better.
No. 7: Dak Boy Is Good!
Nine is so fine.
It took the Dallas Cowboys a couple of quarters to get things revving, but once they did, there wasn't much the Baltimore Ravens could do in keeping America's Team from extending its winning streak to nine games.
For all of the great teams the Cowboys have had over the last 56 years, this is the first time the franchise has won nine in a row.
Dandy Don's teams never did it. Roger's teams never did. Troy's teams never did it. Tony's teams never did it.
Just Dak's, which means that the dream season just continues to roll on. So, with all due respect to Joe Flacco, you've been weighed ... you've been measured … and you've been found wanting.
No. 8: Eternal randomness of the spotty sports mind
… I lost my fantasy football season this year when I decided to draft Julio Jones at the last minute instead of selecting David Johnson, as I had planned for a full two weeks before the draft.
… How in the hell did the Chiefs lose at home to Tampa Bay?
… Is A.J. Green done for the season? RIP to my "other" fantasy team.
… The NFL games this weekend kind of sucked.
… My favorite Joel Embiid Tweet of the Weekend:
… So Under Armour is down $600 million due to Steph Curry's low-selling Curry3s? Is that bad?
… The top of the Western Conference in the NBA is must-see TV on a nightly basis.
No. 9: This and that
… Saw The Arrival this week and thought it deserved a rare A grade from me on my personal rankings scale. I found myself touched emotionally in a way that I wasn't expecting. It was quite beautiful.
… Kanye West is turning into the kind of heel that would have made him a perfect heel for Vince McMahon.
… I need an hour to sit down and enjoy the new A Tribe Called Quest album. That it hasn't happened yet makes me sad.
… Anyone on Orangebloods actually seen Hamilton on Broadway?
… I literally don't have any idea what's going to happen in the final three episodes of Westworld.
No. 10: And finally ...
Everyone take your meds for the next couple of weeks just in case they are needed.