One-stop shopping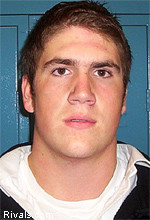 Don't worry about being careful when it comes to ranking the top 15 players in the state of Minnesota.
That's because the top player honors belong to St. Paul (Minn.) Cretin-Derham Hall offensive lineman
Matt Carufel
, and the four-star Rivals100 selection headlines another very talented group of players in the
Rivals.com preseason Minnesota Top 15
.
Carufel, who is 6-foot-5 and 280 pounds, comes from the traditional powerhouse at Derham Hall. Year after year, the school has produced blue-chip prospects and Carufel is next in line, but he got to the front of the line by becoming one heck of a football player.
"He's a no-brainer pick as the top prospect in this class," Rivals.com Midwest recruiting analyst Tim O'Halloran said. "A great mix of size and skills, Carufel has the prototypical look of a high level offensive line prospect at the next level with plenty of upside. He's something special and all the teams chasing after him prove it."
Behind Carufel at No. 2 in the state is Fairmont, Minn., defensive tackle
Kyle Sheehan
, a Purdue commitment. The 6-foot-5, 260-pounder committed right after signing day for last year's class in February, ending his recruitment before it could even get started.
"He might consider a career after football in law enforcement, because on the football field Sheehan patrols his area as well as anyone," O'Halloran said. "Great size and foot speed, excellent first step and Sheehan is always around the ball."
"Royston could wind up playing either receiver or corner at the next level," O'Halloran said. "He has great hips and wiggle, very fluid player here.
"Hoey is primed to land several more offers this summer and early fall. He has the frame to add additional size and bulk at the next level. McMichael is a great looking player. He has great skills and athletic ability, can remain as a tight end at the next level with his hands and overall speed."