On the road with Chad Simmons: RBs, Popeyes, graves, LSU, 2,446 miles
I hit the road last week after the Rivals 3 Stripe Camp presented by adidas in Nashville came to an end to see talent in Louisiana. I made a quick stop in Mississippi on the way and saw spring scrimmages in Louisiana, Mississippi and Georgia before heading home. It was a great 2,446 miles and are here are five takeaways.

MORE SIMMONS: How Tennessee landed Ramel Keyton
RUNNING BACK TALENT IN THE BOOT STATE
Three of the top 20 prospects in the 2019 class in Louisiana are running backs. I spent time with all three last week. I saw one practice, one play in a spring game and spoke with another.

Tyrion Davis was just getting back on the field and the star out of Southern Lab is committed to LSU. He is eyeing other schools though. He knows he will take an official visit to Clemson. He was wearing Georgia gloves and the Bulldogs are on his radar too. He will be tough to pull away, but he is eyeing numerous schools.
John Emery had many eyes on him as you will read below. He is likely going to cut his list down from eight to four or five in the near future. The Destrehan four-star visited Georgia over the weekend. He hopes to visit Mississippi State again soon. Of course LSU is very much involved being the in-state school. Many schools are still fighting for Emery.
When Tyreese Jackson was in Houston to compete at the Rivals 3 Stripe Camp, Kansas was in the lead. Things have changed over the last month. Virginia is now on top for the No. 20 prospect in the state. The Cavaliers have had coaches at New Iberia a couple of times this spring.
It does not stop there. The top two backs in Louisiana for 2020 are Ashaad Clayton of Warren Easton and Kyle Edwards of Destrehan. Yes, you read that right — Edwards plays in the same backfield as Emery.
Kentucky offered Edwards the day I was at his school last week and he has an offer from Utah. Clayton added an offer from Arkansas recently and Auburn, Georgia, LSU and Texas are some of the others that have offered.
POPEYES ALL OVER
It all started in 1972. The first Popeyes Chicken was opened in Arabi (La.), a city outside of New Orleans. There is no doubt, Popeyes in the chicken choice of that state.

Everywhere you look, you see a Popeyes billboard or a Popeyes open for business. It is my personal No. 1 choice. You cannot go wrong with the spicy chicken, dirty rice or red beans in rice. The chicken is great and when on the road, going through the drive-thru five or six times is not difficult.
There is a new rival in town though.
Like Popeyes, Raising Cane's was originated in Louisiana (Baton Rouge). The chain got going in 1996 and has spread quickly in New Orleans. It is all about chicken fingers, slaw, fries and their special sauce. Their homemade lemonade stands out as well.
I took advice from prospects on their favorite spots and learned that basically, there is a lot of really good chicken in Louisiana. My vote still goes to Popeyes.

COACHES WITH CAMERAS
You'd think coaches see enough of the football prospects on film, at spring practices, in camps and in games, but a lot of coaches were walking around the practice fields in Louisiana with hand-held cameras last week.

Before getting to Louisiana, I made a stop at Horn Lake in Mississippi to watch numerous prospects get after it Monday afternoon. Florida was there with cameras locked on Rivals 100 Nakobe Dean, a top Gator target.
Toward the end of the week, I dipped into Pascagoula (Miss.) to see 2020 four-star defensive tackle McKinnley Jackson and Alabama was following him around every time he got a rep with the camera focused on him.
I was at Destrehan (La.) for its spring game against Covington in the middle of the week and coaches from Alabama, LSU and USC had cameras on 2019 four-star running back John Emery. He only played a handful of snaps due to a tight hamstring, but any time he was in the huddle, the camera was on and watching his every move. Florida, Georgia and some other schools were there as well, but they did not have cameras.
What I saw was coaches filming prospects' every move. They take that film back to the appropriate coordinators and head coaches so all can see who they are recruiting. Recruiting never stops and yes, these coaches are out socializing with each other at practices and spring games, but they are also doing a job. Evaluations never end.
BURIED ON TOP OF A SWAMP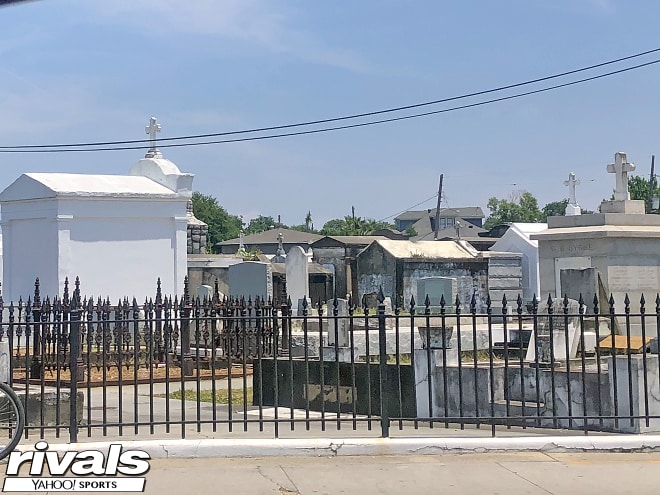 One of the top tourist attractions around New Orleans are the cemeteries. It is referred to by some as the "Cities of the Dead" because of the graves being above ground. It is really a sight to see.

It makes me think about the movie Double Jeopardy each time I drive through New Orleans. There is something about the graves being above ground that just makes that eerie, but it is easy to see why it is such an attraction.
It is really beautiful the way the cemeteries are set up with the elaborate stones and mausoleums. It is something you want to take a look at when in New Orleans if you haven't already. I was heading to Warren Easton High School in the middle of the week and Greenwood Cemetery was one I passed. It is beautiful. A clock tower stands at the gates, everything looks perfect and it is something that definitely stood out to me.

A LOT OF LSU CHATTER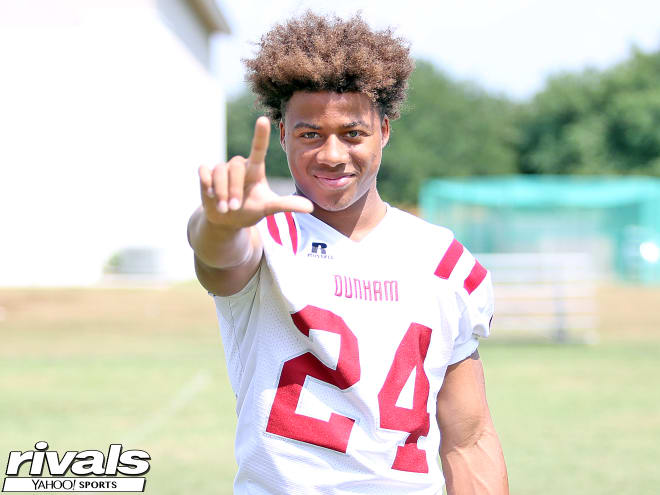 Ed Orgeron and the LSU Tigers have 10 commitments, but only four are from in-state prospects. Look for that to change. I spent time with a lot of the top LSU targets and talking with them and high school coaches all over Louisiana, it sounds as if the Tigers will add many from the Boot to their commitment list.

If LSU plays well this season, it appears to be in a good spot for Derek Stingley, Ishmael Sopsher, Devonta Lee, Trey Palmer, Ray Parker and Donte Starks. Those are two five-stars and four four-stars in their home state. There is even some chatter I heard when on the road that a couple have already made up their minds.
Stingley looks to be the closest to making a decision and a few plan to hold out all the way until National Signing Day in February. Some talked about the season and how they will watch how LSU performs in the SEC, so other schools will continue to work hard to convince them leaving Louisiana is better than staying. For now though, it looks like if LSU plays well in the fall, it could do a great job with the top in-state talent.