Ole Miss, UGA still in mix for OG Tuitt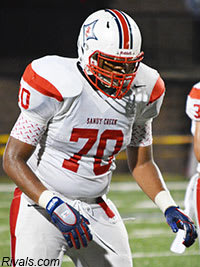 Class of 2016 Tyrone (Ga.) Sandy Creek offensive guard
Chandler Tuitt
is used to shying away from the spotlight, so it's not a surprise that there hasn't been a ton of news to come about his recruitment. But with his spring football wrapped up, Tuitt is starting to open up a little bit about where things stand.
"This summer I'm really going to pay attention to schools a lot," the three-star said. "I want to go visit, go to all the camps and stuff to see what I like and who I like."
"Any school that's on my offer list I want to see," he said. ". I'm just looking for a school that means family, has a good football program, and just feels right."
Ole Miss was one of the first schools to offer Tuitt and the Rebels have been working on building a pipeline to Sandy Creek over the past few classed. Tuitt said his former teammates and a family connection to Mississippi have helped keep the Rebels in the picture.
"Ole Miss is almost like a family school, too, because I have family that live there," he said. "I have (Class of 2015 Ole Miss signee and Sandy Creek graduate) Eric Swinney going there, I got a few people at Ole Miss. It's a good school. I got teammates going there and they're liking it, I'm pretty sure it should be good for me."
Tuitt's grandparents lives in Mississippi and he added it would be nice to have her be able to watch his college games in person.
"They live in Mississippi so it wouldn't be too far of a trip for them," he said.
While Ole Miss might not be far for them, Georgia isn't far for Tuitt's Atlanta-area family and an offer from the Dawgs this spring caught his eye.
"It's been going good since they offered," Tuitt said. "I started talking to them more. It's good to talk to Georgia. I haven't really seen Georgia - I haven't seen Georgia like I want to, yet. I'm going to visit there, too, and go see how they are."
Tuitt said he's also hoping at least one more SEC program adds to his offer list soon.
"
LSU
is a good school," he said. "I like their games; their home games are really fun. LSU is a good school. All the schools that offered me right now, I really like."
Tuitt said he's not sure when he might be ready to make a decision, but hopes to announce a commitment by the end of the summer.