OLB Jefferson lands his second offer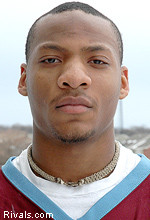 Kankakee (Ill.) junior outside linebacker/athlete prospect
Dustin Jefferson
(6-foot-1, 210 pounds) has added his second scholarship offer during the May evaluation period late last week, when Northern Illinois University extended Jefferson his second overall offer.
"The coaches from Northern Illinois University made an in school visit last Wednesday according to my Dad (Kankakee head coach Ira Jefferson)," Jefferson said. "NIU then called my Dad at school and told him that the Huskies were offering me a scholarship."
Jefferson talked about his latest offer from the NIU Huskies.
"I really don't know that much about the college, but I do know that the football program has had a lot of success recently. The coaches at NIU really stress academics first, and that's good. I've talked with the coaches from NIU and they seem like really good coaches. I'm happy about getting an offer from NIU."
Jefferson has also continued to draw several college coaches into Kankakee High School.
"According to my Dad NIU, Iowa, Illinois, Ohio State, Boston College, Michigan State, Purdue, Wisconsin and Wyoming have all made in school visits. Several more schools are also planning to make visits over the next few weeks."
Jefferson performed at last Saturday's Michigan Nike Camp like a seasoned pro.
"It definitely was an advantage to have been involved in the Nike Camp last year. I felt much more comfortable this year and I also knew what to expect this time around. Overall I felt I did pretty well, especially in the one on one drills."
Jefferson is also looking at hitting the summer camp road hard.
"I'm planning to go to full camps at Iowa and Illinois this summer. I'm also hoping to head out and do a handful of one day camps."
Does Jefferson have any early favorites?
"I would say that Iowa and Illinois are two schools that I'm looking pretty hard at right now. I'm still keeping my options open for now but those two schools are my early favorites."