Okwuegbunam solid despite pressure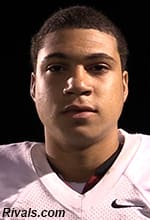 "We are 9-0 and start our playoffs this week," Okwuegbunam said. "I don't know what my stats are for sure. I am doing pretty well. I am playing defensive end and wide receiver this year. We don't have a formation in our offense that uses a true tight end so I am playing wide receiver."
While Okwuegbunam is playing wide receiver in high school his position in college is really regarded more as a tight end, but will be as a hybrid tight end. Okwuegbunam says that what makes him a good hybrid target is that he has good size and great speed.
"I am being looked at to play the hybrid spot at the next level in college. I think that I have good size and speed at the position that makes me a good target. I have run a 4.5/40 before."