Oklahoma State looking to make it a battle for Kamryn Farrar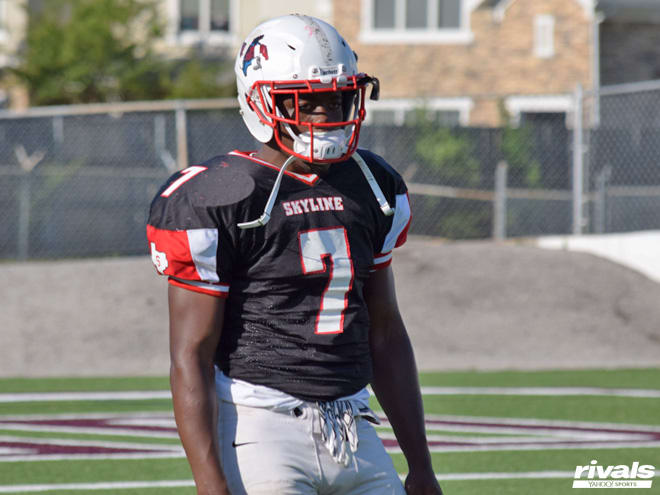 DALLAS, Tex. -- When Kamryn Farrar committed to Colorado in March, the Buffaloes staff was happy to land one of Texas' most athletic 2019 linebackers but their work isn't done yet.
With some changes this spring at Dallas-Skyline, most notably a new head coach, Farrar is has been asked to make some changes of his own, and is geared up to play a new role in the defense come fall. He thinks that sliding to more of an inside position on defense will get him even more opportunity to stand out as a defensive playmaker.
"Spring has been good, I'm actually playing a new position at 'mike' right now," he said. "It's still something I'm getting used to, but I like it - I get to run to the ball and make plays."
That's good and bad for Colorado, who would like to see him to continue progressing as a prospect, but probably would prefer to not have to stave off others to keep him in the Buffs class. Farrar said that one team in particular - Oklahoma State - has made him more and more of a priority over the past few weeks, and he's had a reasonable interest in hearing the Cowboys out.
"I've been listening to them," he said. "I like Oklahoma State. I think it's going to be a fight down the stretch because I like their tradition and how they always have good players on the defensive side of the ball."
IN HIS WORDS
On Colorado
"I have a real nice relationship with Coach (ShaDon) Brown," he said. "We talk almost every day. If we don't, it's usually just because he's busy, but we have a great relationship. Things with them have grown a lot since they offered me and I committed, so I like it a lot."
On what he expects from a tentative official visit set for early-June
"I'm looking forward to hanging around with the team and getting to know them," he said. "I'm trying to eat some food out there. That's one of the big things I'm looking forward to going up there for."
More on Oklahoma State
"Oklahoma State has been recruiting me hard," he said. "They've been about the only other school that's come through and constantly communicating with me and watching me practice … They tell me that they like how I play the linebacker spot - or even nickel - they like my cover skills."
RIVALS REACTION
According to his coach, several teams have begun keeping a serious eye on Farrar, but it seems clear that the only one besides the Buffaloes that is making a significant move with him is Oklahoma State for the time being. While he's not the biggest linebacker on the block, he's instinctive and knows how to disrupt, especially in coverage. In the meantime, it will be interesting to see how the relationship continues to grow between he and Oklahoma State.