Oklahoma's big day continues with Florida-based running back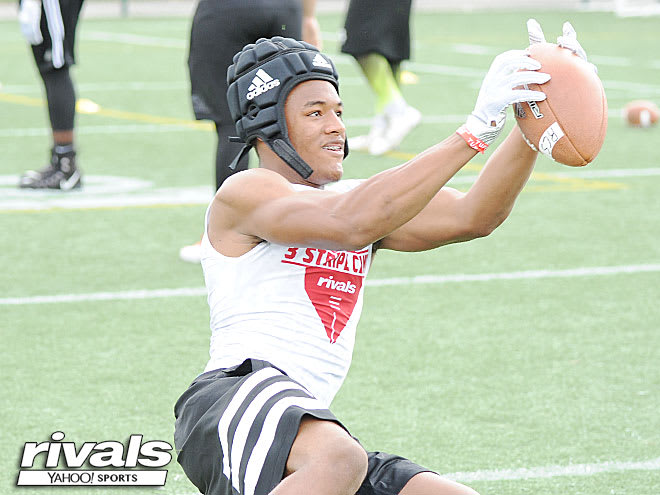 Oklahoma's big day on the recruiting trail started in Texas, as OU landed a trio of Lone Star State athletes to start their Friday run. The Sooners' feast has since spread to Florida, however, as Deerfield Beach (Fla.) running back Jaylan Knighton announced his commitment to Lincoln Riley's program on Friday evening. Below, Rivals.com breaks down Knighton's commitment and outlines how it helps Oklahoma and hurts the schools that missed out.
HOW IT HELPS OKLAHOMA:
Oklahoma's hot streak is the real story here, as the Sooners had a massive Friday that included commitments from two five-star prospects. OU reaching into Florida for a 2020 prospect is a significant side plot, however. Riley has kept an eye on Florida since taking over at OU and has aspirations of landing a handful of players from the state this cycle. Getting Knighton in the fold is a nice start, as he attends a powerful high school and his name is becoming a well-known one around the region. Hanging on to an out-of-state pledge for more than a year can be tricky, but the fact that Knighton has already been on campus will help in that regard.
Knighton is just a junior and needs to add size, but his speed and acceleration were obvious during this year's Rivals Three Strip Camp stop in Miami. There's a reason he holds offers from a long list of traditional powers, after all. Knighton is a Rivals250-type player that will likely find himself in that range when the 2020 rankings expand.
HOW IT HURTS OTHERS:
Schools such as Miami, LSU, Auburn and Alabama have offered Knighton, and it's never pleasing for programs such as those to see a sought-after prospect leave the region to go halfway across the country. So while it's unclear how hard those schools were currently pushing for a pledge, seeing Knighton off the board at this early juncture isn't ideal. Southeast-based schools won't give up in their pursuit of Knighton, but seeing him make a commitment to a Big 12 program has to be a bit of shock to the system.
If this commitment sticks for the long haul, it will be a massive win for Oklahoma and a significant blow to a number of schools in the state of Florida and beyond.