Oklahoma pulls off last-minute stunner, lands four-star WR Anthony Evans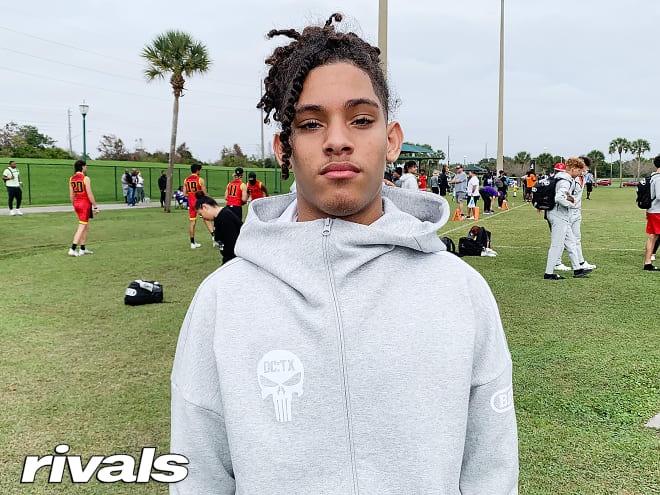 Despite all of the momentum as recent as this afternoon being in favor of Georgia for Converse (Texas) Judson four-star wide receiver Anthony Evans, Oklahoma came from behind on Friday to secure a commitment from one of the fastest offensive playmakers in the country.
Evans said that he had his decision made almost a month ago after his summer visit swing, as Oklahoma was the school he planned on going to. However, after the resignation of wide receivers coach Cale Gundy, his recruitment did a 180.
"What really affected me was Gundy, it affected the whole situation," Evans said. "I had talked to him every day up to the point. That was just shocking to me and killed the whole momentum of me going to Oklahoma."
That unfortunate occurrence led Evans towards seemingly making a final decision on Georgia this week, as the Bulldogs made him feel like home on his official visit and had a path for him to play early in Athens.
"It was very stressful, I asked God to give me some signs," he said. "I was stuck between OU and Georgia."
However, a last-second change of heart on Friday morning led Evans towards picking Oklahoma as the Sooners add a huge piece to their offensive class with a receiver with elite track speed.
For Evans, he sees his commitment as just another spot in what will be one of the nation's top classes in 2023.
"Oklahoma is gonna have a top five class, that's what I know (we're) about to get," he said. "I just feel (we) can't go wrong."
At 6-foot-1, 168 pounds, Evans is the No. 174 ranked prospect in the country for the class of 2023, according to Rivals. He is the No. 28 ranked wide receiver in the country and the No. 32 ranked recruit from the state of Texas.
COMMITMENT ANALYSIS
As mentioned many times before, Evans has game-changing speed with a lightning-fast 10.27 100-meter time and a 21.10 200-meter time, the latter of which earned him a bronze medal in all of 6A in Texas this past track season.
His straight-line speed allows him to blow past defenders, and he pairs it with a nice twitch that allows him to create some separation off his breaks. In the Big 12 and SEC, these are traits that typically translate well and are something that Oklahoma will be able to use early in his career in Norman.
If I had to point out one area for improvement, I would like to see development in his route tree in his senior season. His route-running isn't at the level of some other highly recruited receivers in the country, but if he can add that to his game, he has a high chance of being a high NFL draft pick with his already developed intangibles.
This is a developing story.