Ohio State's top 10 WR commits of the Rivals era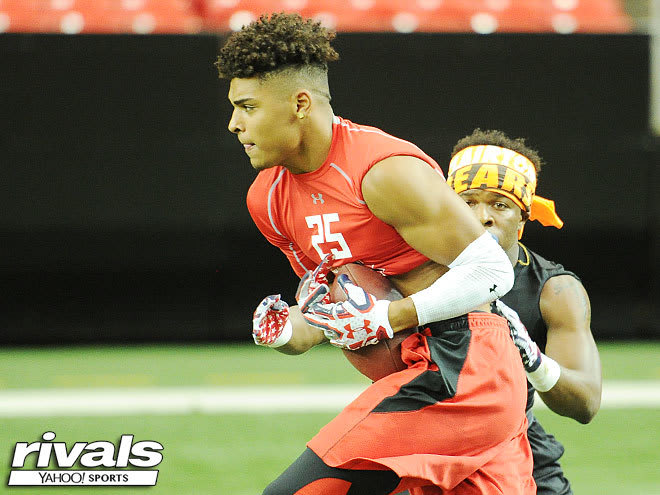 RELATED: Buckeyes land two of nation's top wideouts
With the recent commitment of wide receivers Trevon Grimes and Tyjon Lindsey, the Ohio State Buckeyes landed one of the most dynamic one-two punches in Rivals.com history based on current ranking. In fact, Grimes and Lindsey are two of the top three highest rated receivers for Ohio State in Rivals.com history.
Here's the top 10.
Mark Pszonak contributed to this report

The skinny: While Grimes trimmed his list down to Ohio State, Alabama, Florida, Florida State, Georgia and Miami earlier this summer, the Buckeyes had been seen as the heavy favorite for quite some time. As the process dragged out some people began to have doubts regarding his destination, but on August 22 he committed to Ohio State.
Farrell's take: Grimes performance at our Miami Rivals Camp Series event this past spring reminded me of the talented receivers I saw in the great 2008 receiver class. He showed off speed and gained separation, he made everything look effortless and he combined size and strength to fight for any balls up for grabs. Grimes was fighting injuries this summer, but with a boost of added speed in college he could be very special.
The skinny: Posey committed to the Buckeyes almost a year prior to his own National Signing Day and stayed firm with his word throughout. After seeing minimal action as a true freshman, Posey became a major part of the Buckeyes' offense in 2009 and 2010. He was set for a big final season in Columbus until an NCAA suspension due to accepting both cash and tattoos from a tattoo parlor and also too much money for a summer job, which cut his season down to only three games. Posey was selected in the third round of the 2012 NFL Draft by Houston, where he played for three seasons before being traded to the New York Jets prior to the 2015 season. However, he was waived before the season started. He is currently in Denver's camp fighting for a roster spot.
Farrell's take: Posey was part of the amazing 2008 five-star wide receiver class along with guys like Julio Jones, A.J. Green and Michael Floyd. He was smooth, effortless and had hands of glue. He was also one of the nicest kids I've dealt with over the years and I was surprised he got mixed up in the Ohio State issues at the end of his career. He never fully reached his potential in college or the NFL, but he's certainly not a bust either. If he played with Terrelle Pryor that 2011 season could have been special.
The skinny: Lindsey had been very active with visits in recent months. While he publicly trimmed his list to Ohio State, Nebraska, Alabama, Auburn, Georgia, Michigan, Oregon, Tennessee and USC, this had been down to the Buckeyes and Cornhuskers for a while now. Tate Martell's commitment to Ohio State and a very positive trip to Columbus for their Friday Night Lights Camp was what put the Buckeyes over the top at the end.
Farrell's take: Lindsey is a dynamic talent who will be hard to handle out of the slot. I remember the first time I saw him in person how slippery he was and he reminded me of another guy on this list, Curtis Samuel, with his explosive take-off and ability to cut on a dime. He also has strong hands and his chemistry with Martell could be special for the Buckeyes.
The skinny: Samuel's process came down to whether playing close to home was a priority for him. Once he realized that it wasn't, he committed to Ohio State over Rutgers right before the start of his senior season. Samuel, who was used more as a running back during his true freshman season and then a receiver in 2015, should see playing time at both positions this fall in a similar role to the one Percy Harvin inhabited at Florida. Look for the Buckeyes to make it more of a priority to get the ball in Samuel's hands this season.
Farrell's take: Samuel was a kid coming from a school not known for producing big-time talent who was simply too explosive to ignore. He was a blur in camp settings, which lived up to his film, and Samuel has one of the best highlight videos you'll see from the last few years. He followed Wayne Morgan at Erasmus two years after he was over-hyped, so there was some skepticism surrounding Samuel, but he showed he was the real deal throughout the process.
The skinny: After taking official visits to Ohio State, USC, Michigan State and Tennessee, Small trimmed his list to the Buckeyes and Trojans before committing to the in-state Buckeyes in late January. Small had a productive, yet unspectacular, playing career with the Buckeyes. After going undrafted in 2010, he bounced around from Minnesota to Indianapolis to Washington but was never able to make an active roster. In 2014 he was sentenced to four years in prison on felony drug and gun charges resulting from an arrest in July 2013.
Farrell's take: A Glenville product under Ted Ginn Sr., Small was part of a big class from that school in 2006 and very few panned out at all. Though Small was small he was super quick, but he never developed in college for numerous reasons. I remember watching him at the NIKE Camp at Virginia Tech way back in the day and he was outstanding, but for some reason he didn't fit into the Buckeyes college offense.
The skinny: Given that he's the son of Ohio State legend Chris Carter, it was not a surprise when Duron committed to the Buckeyes. He played one season in Columbus, totaling 13 receptions for 176 yards and one touchdown before grade issues sent him to Coffeyville Community College. Two years later Carter committed to Alabama, but he never played for the Crimson Tide. He then made a quick pit stop at Florida Atlantic. Finally deciding to enter the 2013 NFL Draft, he was not selected and had failed attempts with Minnesota and Indianapolis. He has had better success in the CFL with Montreal, which he hopes will lead him to another attempt in the NFL.
Farrell's take: Carter was a highly-rated four-star coming out of high school and then downgraded to a three star once he hit JUCO as it appeared we over-shot on his talent and ability the first time around. It's a bit surprising that he never panned out being the son of Chris Carter and being coached up by his dad, but sometimes the apple falls far from the tree.
The skinny: Victor, who seemed to be favoring Florida for a good portion of his recruiting process, ended up taking official visits to Ohio State, Tennessee and West Virginia before committing to the Buckeyes in mid-January. Victor has been a pleasant surprise for the Buckeyes this summer and has positioned himself to possibly avoid a redshirt and earn some playing time.
Farrell's take: My man Rob Cassidy was the guy who championed Victor more than anyone, as I liked him enough but felt he was a bit thin and worried he wouldn't fill out. He was a tall, lanky guy who could make some acrobatic catches, and he's on his way to living up to his lofty ranking. Nate Craig-Myers, Sam Bruce and Elijah Stove were all ranked ahead of him in the state so it will be fun to see who has the best career.
The skinny: The Ohio State coaching staff made Mack a recruiting priority early on and it paid off with a commitment from the Indiana wide receiver in early June. At the time of his commitment he was also considering Michigan, Tennessee and Notre Dame. While the current receiving corps is deep at Ohio State, Mack has done enough to likely avoid a redshirt and see playing time this fall.
Farrell's Take: Mack was a dynamic receiver at the U.S. Army Bowl who made some amazing catches – and dropped some easy ones. His body control is off the charts, he can make one-handed catches with ease but his focus and concentration needed some work, which is why he was at the end of the Rivals100.
The skinny: Dixon took official visits to Ohio State, Alabama, Arkansas and North Carolina State before committing to the Buckeyes in mid-December. Dixon's time in Ohio State to this point has been marred by injuries. Plagued by a micro-fracture beneath his knee cap since high school, he only played in two games and caught one pass to this point. Finally healthy, eyes will be on Dixon this fall to see if he is finally able to contribute on the field.
Farrell's take: I loved Dixon coming out of high school despite a lack of great size. He was a polished route runner, he had great hands and very good speed. I would say it was his hands that stood out the most to me overall, and it's a shame he's had injuries hold him back. I thought he'd be the next big-time offensive threat from Florida to find success at Ohio State and that could still happen, but time is running out.
The skinny: Fields committed to Ohio State almost a year prior to his own National Signing Day and stayed firm with his word throughout his process. After a redshirt season in 2009, Fields played in 41 games during the next four seasons, including 11 starts. He finished his career with 31 receptions for 384 yards and seven touchdowns. Fields went undrafted in 2014 and had a failed attempt with Washington as a free agent. He is currently out of football.
Farrell's take: It was hard to keep Fields out of the end zone in high school and with solid size and good strength we felt he would be an impact guy in college in the red zone as well. He had a knack for getting open behind the defense. He showed a bit of that at the end of his career with six scores in his final season, but it wasn't enough to live up to his lofty ranking.