Offers adding up for Memphis standout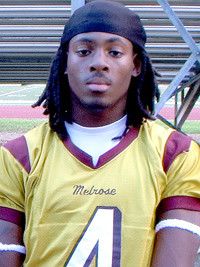 Memphis (Tenn.) Melrose athlete
Tino Thomas
is a prospect that has a lot of the things that a coach is looking for when he hits the recruiting trail. Does he come from a tradition rich program? Memphis Melrose is one of the most talented teams in a Memphis city dense with athletes. Does he have an athletic pedigree? Thomas is the brother to Miami running back and former Melrose star Graig Cooper. Can he play? Thomas can play - at safety, cornerback or running back.
With all of those questions answered, Thomas is now picking up the offers that were sure to follow. Early on, Thomas picked up a verbal offer from Duke. Now he has added written offers to join the Blue Devils with recent offers from Arkansas and Kentucky and possibly more on the way.
"I picked up offers from Arkansas and Kentucky and Virginia said that they're going to offer and I'm looking for one from Memphis in a couple of weeks," Thomas said on Monday.
The first offer came from Arkansas and was a big moment for the 2011 prospect.
"I was like 'whoa'," he said of his reaction to the offer. "I was very excited. I was shocked and excited at the same time. It was a nice feeling. I was like, 'man, that's a big offer'. Arkansas, that's a pretty good school."
The versatile Thomas could play a number of positions on the next level and at this point no one has pushed him in one direction or the other. However, it looks like if Thomas has his way, he will end up in the defensive backfield.
"They asked me what position I wanted to play in college and I told them defensive back," he said. "Some schools want me at running back and some schools want me at defesnsive back. I really want to play defensive back at the next level."
Thomas' list of schools that have shown serious interest along with the five that have either offered or considered offering include LSU, Oregon, Michigan, Kansas State, Vanderbilt, Nebraska, UCLA, Stanford, Kansas and Miami. Thomas has plenty of favorites, nationwide.
"Actually I have two schools that I grew up really liking and I look forward to going to those two schools. They're Oregon and LSU. I basically like them because of their history, bowl games and the way they play. I just basically like winning."
With a brother at Miami, Thomas certainly has some Hurricane in him too.
"I always have love for Miami," he said. "My brother goes there and I've spent a lot of time down there so I've got a little relationship with them too. Their DB coach talks to me a lot."
Already, Thomas has attended a junior day at Memphis, which was on the same day as the junior day at Tennessee. He has also been invited to a junior day at Michigan but was unable to attend. Beyond that, Thomas plans on hitting up the NIKE Football Training Camps in Tuscaloosa and Baton Rouge as well as the Under Armour Combine and also the USC Rising Star Camp.