Oatis packs a punch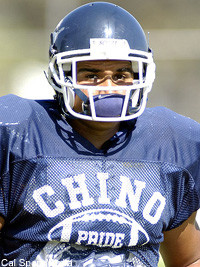 Four-star safety/running back
Shawn Oatis
(6-2, 205, 4.6) from Chino, Calif., is another safety prospect from SoCal who is having a monster senior season. Oatis has helped lead Chino to a 3-1 record. The thing that Rivals.com loves about Oatis is his competitive spirit.
"We should be undefeated," Oatis said. "Our team didn't show up to play."
"We will regroup," Oatis said. "And hopefully learn from this and get back on track."
Chino lost a heartbreaker 22-21 to Muiretta Valley. Chino had offensive and special team breakdowns and that looms huge in a one point loss.
Oatis is having a great senior season and he has enhanced his reputation as a big hitter. He has 25 tackles and one pick so far his senior season.
One thing that is very noticeable about Oatis is he's football fast. He gets to the ball in a hurry and he's a very intelligent football player.
On the recruiting trail Oatis has seen both of UCLA's home games.
"There was a big improvement and a big difference from the two games," Oatis said. "I'm feeling UCLA. If they continue to improve, I may end up in a UCLA uniform."
"After I take my two scheduled visits," Oatis said. "I will have a better idea of what I want to do. I don't feel that it is fair to say one team leads over another until I take my visits to Ohio State and Notre Dame"
"I am getting constant phone calls from the schools that I'm interested in," Oatis said. "They are Oregon, Oregon State, UCLA, Notre Dame, Ohio State, and BYU."
Rivals.com rates Oatis as the nation's number nine safety prospect for the class of 2005 and he is a member of the Rivals.com preseason California Top 100 team landing as the Golden State's number 22 prospect at any position.