Oatis close on decision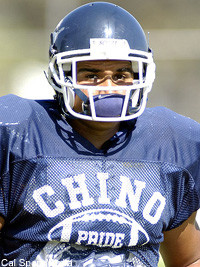 Chino (Calif.) safety
Shawn Oatis
took his third and final official visit to UCLA this past weekend after earlier visiting Ohio State and Notre Dame. The visit went very well for Oatis and he could be ready to pull the trigger by early next week.
"I had a great time and I'm definitely leaning to UCLA right now," Oatis said. "I should have my decision no later than Wednesday and right now, I just really feel UCLA is the best overall fit for me. It's not just that it's close to home but I'm very close with the coaches and the players on the team and I like the direction of the program.
"UCLA has a great tradition of safeties and watching Jarrad Page and Ben Emanuel out there, I think it would be fun to play in an attacking style of defense like that. Those guys are both studs and it was fun watching the defense dominating like they did on Saturday. They're young but they're getting better and I really think the team is going to be strong in a couple of years.
"I had been to UCLA before but the visit was an opportunity to see more of the academic side of things and hang out with the players on the team. Notre Dame and Ohio State are great schools too but the more I think about it, I just really think UCLA is the best fit for me right now and fits my personality the best."
Oatis, 6-2, 205 pounds is one of the premier safety prospects in the West region. He's a big, physical player who is excellent in run support and has good speed as well. He's a talented running back as well but will definitely play safety at the next level.