O-fer Irish: Who is to blame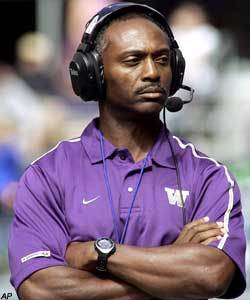 There's not a college football fan in the country that isn't aware that Notre Dame is 0-5 this season and hasn't come within two touchdowns of a victory. And with UCLA, Boston College and USC as the next three opponents, a 0-8 start certainly is a possibility. While we know the situation, the biggest question is this: How did things get this bad?
Notre Dame haters probably don't care. They don't care that the Irish went from back-to-back BCS bowls to an abysmal start in 2007. But Irish fans certainly want to know. And it comes down to a simple question: Is this
Tyrone Willingham
's fault or is this
Charlie Weis
' fault?
There is hard evidence against both. After all, Weis took Notre Dame to those BCS bowls with Willingham's players. On the other hand, he's also taken them to this horrible start with a two-deep littered with Willingham leftovers. If recruiting is the lifeblood of any program, then it was Willingham's efforts that let the program down.
But how can that be? After all, it was Willingham who recruited
Brady Quinn
,
Darius Walker
,
Jeff Samardzija
,
Tom Zbikowski
and many of the other standouts that were key to Notre Dame's success the past couple of years. But for every recruiting success story under Willingham, there are at least a couple of recruits who didn't pan out in the end.
Willingham left the cupboard bare at many key positions. The linebackers were a step too slow, the offensive line lacked any sort of depth and Notre Dame was too slow at key skill positions. Weis inherited a good quarterback, some leadership at certain positions and a few key playmakers. But what he didn't inherit was a deep football team.
In his first two full seasons, Weis has recruited well. In 2006 and '07, Notre Dame finished eighth in the Rivals.com team rankings nationally; so far in 2008, Weis has the Irish at No. 1. There is now a lot of talent on the Notre Dame roster, but it's young talent.
Some players recruited by Willingham were high-profile prospects who never lived up to their advanced billing. Five-star defensive end
Victor Abiamiri
was solid for Notre Dame, but he didn't dominate at the level of his lofty ranking. Defensive back
Ambrose Wooden
was highly coveted but never raised his game to the level needed. Linebacker
Anthony Vernaglia
and tailback
Junior Jabbie
are two other highly ranked players who have had a minimal impact in South Bend.
But for the most part, Willingham recruited at Notre Dame as if he were still at Stanford. From 2003 to 2005, Notre Dame finished outside of the national top 25 twice. The highest ranking for the Irish during that period was 12th in 2003, a class that was bolstered by the signing of five-star tight end Greg Olsen. Olsen spent a year at Notre Dame before transferring to Miami. In 2005, the year Weis took over late in the recruiting season, the Irish finished 40th in the nation in recruiting. That's simply unheard of.
Some of the more puzzling recruits signed during Willingham's tenure include linebacker Nick Borseti, cornerback
Leo Ferrine
, quarterback
Darrin Bragg
, linebacker
Abdel Banda
and cornerback
Tregg Duerson
. Notre Dame beat out the following programs for these recruits – Syracuse, Virginia, Indiana, Wake Forest, Rutgers, Utah and Duke. That's recruiting like you're at Stanford.
Notre Dame should consistently be signing four- and five-star players each year. In 2003 and '04, the Irish signed seven two-star players. In Weis' first two full recruiting years the Irish signed two such players, both of them kickers.
Ahh, but star rankings mean nothing, right? After all, there are teams currently in the top 10 that don't have any five-star guys and just a handful of four-star players. That might be true, but more often than not, the four- and five-star guys pan out a whole lot more often than the two-stars. A team may have a couple of two-star players who make an impact, but when you're Notre Dame and you should be recruiting the top prospects in the country, settling for two-star recruits is unthinkable.
The Notre Dame two-deep is made up of a lot of players from Weis' first two recruiting years. The quarterback is a true freshman, the most promising wide receivers are freshmen or sophomores and the two-deep on the offensive line is loaded with younger players. On defense, the story is the same, with some experienced leaders such as Zbikowski and a bunch of younger players providing depth.
Players get better the more they are able to compete with other top players. The younger prospects brought in by Weis, for the most part, haven't had the same advantage as players at Florida, USC, LSU, Ohio State and other major programs. Without a lot of superior upperclass talent, one can argue that players such as
Darrin Walls
,
Sam Young
,
George West
and
Jimmy Clausen
haven't had to beat out NFL-caliber talent to become starters. Don't underestimate this factor.
The facts are evident. This is one of the worst Notre Dame teams in recent memory and the talent level in South Bend is not what it used to be or should be. Some blame Charlie Weis because he's the guy on the sidelines, but look deeper. The depth problems left over from the Willingham era continue to rear their ugly head.
[rl]