NW, Duke stand out for OL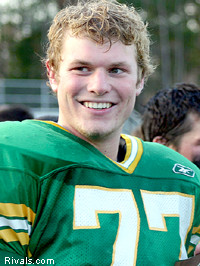 In the last few weeks offers have been coming in for offensive guard
Mark Spinney
out of Nashua (N.H.) Bishop Guertin. Who has the 6-foot-4, 265-pounder gotten scholarships from and does he have any favorites?
"I've received offers from Rutgers, Temple, Duke, Delaware, New Hampshire, Maine, Massachusetts and Northwestern," he said. "I wouldn't say I'm really favoring anyone at this point. I'm just trying to see what other schools will offer me.
"I did go to Northwestern a few weeks back. It was a good visit and I got to meet all the coaches there. I really liked Randy Walker, he was a nice guy. The campus right on the water was really beautiful and the facilities are nice too. I'm also looking at Duke. They are a great school and it's tough to overlook them because of the academics, although I know the program has struggled recently. I do think the coaches there are great guys that can get that program turned around."
With no outright favorites, what is Spinney looking for out of a school?
"I'm looking for a place with a competitive team and good academics," he explained. "I want to be able to see myself there if I'm not playing football. It would be nice to be closer to home, but that's not a big deal for me. I also want coaches that are straight forward."
The all-state prospect plans to make an early decision sometime late this summer or early fall.
"After I go to summer camps I'll probably start narrowing my list down," he said. "I want to have a final decision ready by the time the season comes around or very early in the year."