NSD 2018 Wrap-Up: Big Ten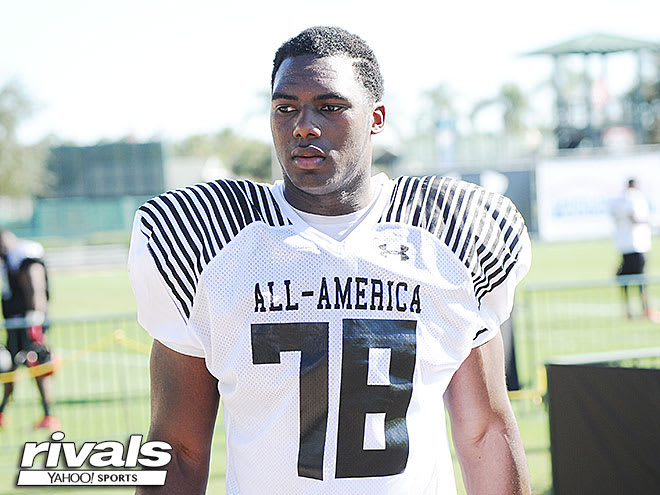 BIGGEST SURPRISE
This has to go to Nebraska, which was the only Big Ten program to go through a coaching change this off-season. The Cornhuskers emerged from the early signing period with the second-to-last ranked class in the Big Ten. A big reason for that was their low numbers – just 13 signed in the early period – but they had also lost several top recruits who had committed to Mike Riley.

In the final six weeks that concluded with National Signing Day, however, Nebraska added 11 more to the class, including four four-stars, and cruised into a third-place finish in the conference. Despite dealing with an early signing period, coaching UCF in the bowl game and being the only new head coach in the conference, Scott Frost pulled together a better class than all but two Big Ten programs.

BIGGEST DISAPPOINTMENT
The Wisconsin Badgers see low attrition and because of that, usually sign small classes due to few available spots within the 85 maximum scholarships. Only two of their last six classes have hit the 20 total signees mark, but 2018 was expected to be closer to a full class from a numbers standpoint.

Add in a program that has four straight double digit-win seasons and finished ranked in the top 10 nationally each of the last two seasons and expectations were for the Badgers to make a lot of noise on the recruiting trail. The reality, however, is that Wisconsin is currently in a tie for the eighth best recruiting class in the Big Ten and outside the top 30 nationally with no Rivals250 prospects among their 19 signees.
BIGGEST MISS
Maryland fans never felt seriously in the mix for five-star defensive end Eyabi Anoma down the stretch and that's part of the reason why he is a big miss. For his part, Anoma consistently listed the Terrapins as a top contender down the stretch before committing to Alabama in December. This was an in-state kid from Baltimore where Maryland usually has good success, and they need to be serious contenders for this type of prospect if they are going to compete with the Ohio States and Penn States in the Big Ten East.
BIGGEST STEAL
The original plan for the Biggest Miss category was to cite Ohio State losing five-star Cincinnati-area offensive tackle Jackson Carman, the No. 2 prospect at his position in this class, to Clemson. But, then the Buckeyes came back on National Signing Day and stole the No. 1 offensive tackle, Tampa's Nick Petit-Frere, from southeast schools. Offensive tackle recruiting has not gone as smoothly as Ohio State would have wanted the last few classes, but landing the No. 1 ranked prospect at the position at the 11th hour is a much-needed solution.

CONFERENCE BREAKDOWN
OHIO STATE - No. 1 in Big Ten, No. 2 nationally
The Good: Where to start? As good as the Buckeyes' 2017 class was – one in which they signed more five-stars than the Big Ten as a whole had ever signed in one class – this 2018 class would have actually ranked higher on the Rivals scale. Running back, wide receiver, offensive tackle, defensive line, linebacker and safety all get major infusions of talent.
The Bad: There is still going to be some "what if…" with this class because of the disappointment they experienced in the early signing period, losing out on prospects like Carman and watching long-time commitments Emory Jones and Jaiden Woodbey flip to other schools.

PENN STATE - No. 2 in Big Ten, No. 5 nationally
The Good: In the 17 years Rivals.com has ranked recruiting classes, this is the first time Penn State has had a class rank in the top five. Among the highlights was getting five-star Micah Parson to re-pledge after de-committing, and beating out Ohio State for four-star offensive tackle Rasheed Walker on National Signing Day.
The Bad: It is hard to fathom that this class once had the No. 2 ranked prospect in 2018, quarterback Justin Fields, committed for several months. The Nittany Lions like what they have in three-star signal caller Will Levis, but losing out on a talent like Fields when you had him in your grasp is still heartbreaking.

NEBRASKA - No. 3 in Big Ten, No. 21 nationally
The Good: Coaching changes always create holes in a roster because new schemes require a different type of athlete in certain positions. Most first-year coaches only get about 8-10 spots to address that depending on how the previous staff's class works out, but Frost got 19 of the 25 prospects in this class after he was hired.
The Bad: Frost was able to tap into recruiting territories in Florida and Georgia that his staff knew well from their time at UCF, but they only land four prospects from that all-important 500-mile radius. It will be hard to see the Cornhuskers consistently producing top 20 classes if they cannot establish strong home base from which to build from.

MICHIGAN - No. 4 in Big Ten, No. 24 nationally
The Good: It was obvious that height in the defensive backfield was a key focus for the Wolverines in 2018, and they certainly accomplished that objective. A total of five defensive backs were signed and all measure at least 6-foot-2, including four-star cornerback Myles Sims, who is the highest ranked prospect in the class.
The Bad: This class lacks a Rashan Gary or Jabrill Peppers – that headline prospect who gets the fans excited for the coming season. A year after signing the No. 4 class in the country, Michigan does not get a prospect ranked in the Rivals100 and falls outside the top 20 ranked classes in the country.

MICHIGAN STATE - No. 5 in Big Ten, No. 26 nationally
The Good: For the fifth time in the last eight classes, Michigan State signs the No. 1 ranked in-state prospect and he comes from the region's top talent-producing school at Detroit Cass Tech. Four-star cornerback Kalon Gervin had been committed to Notre Dame earlier in the process, but after de-committing and looking around, he ends up a Spartan.
The Bad: After signing double digit four-stars in the 2016 class, Michigan State has not signed double digit four-stars in the last two classes combined. With Big Ten East programs Ohio State and Penn State bringing in top five classes, the Spartans are going to need to get more difference-makers if they want to contend for more Big Ten titles.

MARYLAND - No. 6 in Big Ten, No. 29 nationally
The Good: This is not the highest-ranked class Maryland has ever signed, but it addresses several positions really well, particularly on the offensive line. The Terrapins signed a total of four offensive linemen in this class including three four-stars: TJ Bradley, Evan Gregory and Jaelyn Duncan.
The Bad: Maryland lost a late commitment from defensive back Noah Boykin, but was able to secure three-star athlete Ken Montgomery, who it projects to play cornerback. Running back did not get addressed and although neither of those positions need immediate help, it would have been nice to stock the cupboards.
IOWA - No. 7 in Big Ten (tie), No. 39 nationally (tie)
The Good: Iowa is re-establishing itself in Indianapolis, and it comes at a good time as the city is seeing an influx of talent. The Hawkeyes grab three of the top seven 2018 prospects in Indianapolis, including four-star cornerback Julius Brents who, along with four-star Dallas Craddieth and high three-star D.J. Johnson, makes up a very talented trio of defensive backs.
The Bad: Iowa continues to have trouble attracting top-flight wide receivers. In this class it will try to convert Tyrone Tracy and Samson Evans into slot receivers after they primarily played elsewhere in high school. Their only other addition at the position is Calvin Lockett, a 5.5 three-star from Florida.

WISCONSIN - No. 7 in Big Ten (tie), No. 39 nationally (tie)
The Good: Few schools lock down their home-state the way the Badgers do. Paul Chryst and staff landed all but one of the five prospects they offered and pursued in-state. Wisconsin is also developing a nice pipeline to southeast Michigan that has yielded consistent returns over the last few classes.
The Bad: Wisconsin has won 24 games over the last two seasons. They have finished ranked in the Top 10 each of those seasons. Yet, they're only able to pull one four-star in a 2018 class that ranks No. 39 nationally? Those are low returns after such strong on-field performances.
MINNESOTA - No. 9 in Big Ten, No. 42 nationally
The Good: P.J. Fleck had this class – all 25 players – locked up in the early signing period. That allowed his staff to put all of their focus on the 2019 and 2020 classes when they hit the road in January. Going into Florida's IMG Academy and pulling four-star offensive linemen Curtis Dunlap and Daniel Faalele was another highlight for this class.
The Bad: If there is a downfall to getting your class done early it is that a lot of higher rated prospects tend to wait until late in the process. Minnesota had 19 of their 25 eventual signees committed before August of last year. That may explain why the class ranked outside the top 40 in the country and in the second half of the Big Ten rankings.

INDIANA - No,. 10 in Big Ten, No. 44 nationally
The Good: Quarterback recruiting in the 2017 class was a struggle for Indiana, and the situation looked dire in 2018 as well until the Hoosiers landed four-star signal caller Michael Penix Jr. on the first day of the early signing period. Not only does Penix have four-star talent, but he also has a chip on his shoulder after the way things went down with Tennessee.
The Bad: Tom Allen was a high school coach in Indianapolis prior to his move to the college ranks, and when he took over the reigns in Bloomington it was expected to provide recruiting dividends in the city. The Hoosiers signed just two players from Indianapolis in this class, and they were the ninth and 10th ranked prospects in the area.

PURDUE - No. 11 in Big Ten, No. 49 nationally
The Good: Jeff Brohm addressed a lot of needs in his first, full class with Purdue, but the position they come away sitting best at is wide receiver. The Boilermakers top three rated prospects in the class are all wide receivers, including Army All-American Rondale Moore out of Kentucky.
The Bad: Purdue was the last Big Ten school to land a commitment in their 2018 class, not getting their first until June. The Boilermakers would exit June with 14 commitments, but a more effective early recruiting strategy, especially with spring official visits now in-play, will be needed for 2019.

ILLINOIS - No. 12 in Big Ten, No. 50 nationally
The Good: If the old adage of championship teams being built up front is correct, then Lovie Smith and Co. are starting to put together some pieces. Their top three prospects in 2018 – all of whom are rated four-stars – are either offensive or defensive linemen. Illinois also gets help at quarterback with two dual-threat additions.
The Bad: The Illini are having trouble attracting top in-state talent. In the final state rankings, they only get one of the top 20 ranked prospects in-state. Smith seems enamored with that "southern speed," but if you do not have a home base from which to build your classes with, it will be difficult to bring in consistent classes year in and year out.

RUTGERS - No. 13 in Big Ten, No. 57 nationally (tie)
The Good: Head coach Chris Ash set up new offensive coordinator John McNulty with two quarterbacks in this 2018 class – one a pro-style and one a dual-threat. Better yet, both are already on campus after enrolling early. Taking care of the most important position on the field is definitely a highlight of this class.
The Bad: After signing three of the top eight prospects in-state during his first, full class at Rutgers, Ash was unable to secure any of the top 17 prospects in the state for 2018. Maybe it is no coincidence, then, that Rutgers announced the hiring of assistant coach Nunzio Campanile on Signing Day. Campanile was previously the head coach of New Jersey prep power Bergen Catholic.

NORTHWESTERN - No. 14 in Big Ten, No. 59 nationally
The Good: Rivals250 defensive end Devin O'Rourke has all the tools to be a dominant pass rusher and run-stopper at the next level. He also showed a nice, healthy mean streak at the Under Armour All-American Game where he competed well against the top prospects in the country.
The Bad: This is the lowest ranked class in the Big Ten, and while part of that is due to the Wildcats signing the conference's smallest class at just 18 players, the other part is just two players have a Rivals Rating higher than 5.6. There are some decent pieces here, but few difference-makers.