NSD Sting Factor: Who got burned?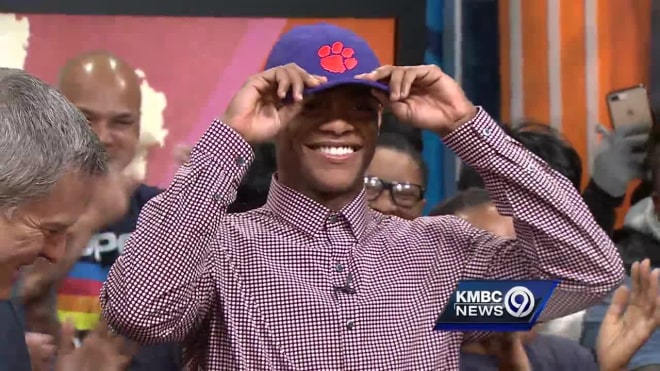 During the year we here at Rivals.com do a feature called "Sting Factor" whenever an important prospect backs off his commitment or commits to one school in a tight race. We take reaction from the local, regional and national level to measure just how much of an impact losing a commit can have on a school's class. Now that Signing Day has come and gone, we take a look at 10 prospects whose signing stung for particular opposing programs who missed out on landing prime targets.
RELATED: Farrell Awards | Winners and Losers | NSD Takeaways
CLASS OF '18 RANKINGS: Rivals250 | Team | State | Position | JUCO
Who it stings: LSU
Surtain had listed LSU as his leader for months and the Tigers had essentially counted him as a commit since the summer. But anytime LSU and Alabama are locked in a recruiting battle, you can never count out the Tide and after getting Surtain on campus, buzz began to surface that they had a real shot to steal him away from the Tigers.
As it would turn out, Surtain and his family didn't make a final decision until late Tuesday night, when Surtain informed LSU he wouldn't be taking his talents to Baton Rouge. Losing a five-star prospect like Surtain stings enough, but losing him to a division rival makes it that much worse.
Who it stings: Alabama
Coming into the class of 2018, just one time in the last 10 classes had the No. 1 player in the state of Alabama left to go out of state to play his college football. Well, it's now happened twice. Ross had nearly committed to Clemson several times throughout his recruitment and it wasn't until the past 10 days that Alabama started to really get momentum. By the time Signing Day rolled around, the majority of people thought Alabama was the safe pick, but Clemson pulled off the surprise and the effort they put into him over the past year paid off in his signature.
Who it stings: Florida
The Gators were considered the leader for Petit-Frere for long stretches of his recruitment and as late at last week felt like he was Gainesville bound. But a late official visit to Ohio State changed things as Urban Meyer and company did enough to jump right in the mix after the weekend visit.
Word broke late Tuesday night that it was indeed the Buckeyes that had surged to the lead and it became official when Petit-Frere announce for and signed with Ohio State on Wednesday. Meyer has been a constant thorn in the side of the Gators since he returned to coaching and once again he stole a top prospect out of the state of Florida.
Who it stings: Texas A&M
Waddle is a Texas native and he was also very high at Florida State during the fall, so most assumed that when Jimbo Fisher left the Noles to come to Texas A&M, it was the best of both worlds for Waddle. But as Wednesday revealed, that wasn't the case.
Waddle was Alabama's top wide receiver target throughout and the months of work the Tide put in paid off in landing his signature. Texas A&M did a nice job of closing with several commits, but after losing several top players from the Lone Star State to rival Texas, losing Waddle to a conference foe was a big blow.
Who it stings: Alabama
The Tide had Brown as one of the top players on their board, regardless of position, and had already stolen him away from Texas A&M in December. But heading into Signing Day there were rumblings that it wasn't a done deal and that the Aggies were still lurking. Alabama's fears became realized when Brown elected to stay in Texas and sign with the Aggies rather than the Tide. Losing a commitment on Signing Day is never fun and not something that Alabama fans are used to dealing with.
Who it stings: LSU
Coming into the day it seemed very unlikely that LSU would finish the day without Surtain or Goodrich, but things got off to an inauspicious start when Goodrich started the day by announcing his commitment to Clemson. Even though he didn't have the same type of buzz that Surtain did heading into the day, Goodrich still fit the mold of an ideal LSU cornerback. Instead, he's heading to Clemson, adding just another piece to the already loaded Tigers roster. By the time LSU found out he was headed elsewhere, it was too late to replace him in the class, making it sting even more.
Who it stings: Missouri
After getting overpowered in the trenches in its Rose Bowl loss to Georgia, Oklahoma knew that it had to get bigger and stronger, especially along the defensive line. So after the dead period ended, Thompson quickly became a priority for the Sooners once again. Missouri seemed to be in a great spot to land the in-state talent, but when he announced on Wednesday, it was that he was leaving to join fellow Missouri native Ronnie Perkins in Norman. Losing Thompson was a big blow, and part of a year that saw eight of the top nine players in the Show Me state leave for Power Five opportunities outside state borders.
Who it stings: Miami
This one is really a joint sting, as Miami missed out on both Campell and Surtain despite making a push and getting both players on campus late in the process. Obviously Miami's big season in 2017 opened the eyes of several recruits and the Canes already have a terrific class, but landing Campbell would have been another big sign that The U is back. Going forward, Miami is going to have to work even harder at locking down South Florida and making sure guys like Campbell and/or Surtain don't get away.
Who it stings: Alabama, Tennessee
Walker had been committed to Alabama since the summer but he always seemed to have Georgia in the back of his mind. But when Jeremy Pruitt left his post as Alabama's defensive coordinator to take the head coaching job at Tennessee, momentum shifted in favor the of the Vols.
Walker and close friend (and eventual Tennessee signee) J.J. Peterson talked about playing together in Knoxville and he raved about Pruitt and Rocky Top. However, just a few days before Signing Day, Walker took an official visit to Athens, where he was given the undivided attention of the Georgia staff. Ultimately that was enough to pull him away from both the Vols and the Tide and land his signature on Signing Day.
Making matters worse for Tennessee fans was the fact that Walker made national news when he used a Tennessee hat as a prop during his commitment reveal. Meanwhile, after missing on both Peterson and Walker, Alabama was forced to take a two-star prospect out of South Carolina to fill a hole in its class at linebacker.
Who it stings: Oregon
The Ducks had done a nice job recruiting Williams and were running in the top spot for him since the summer. Even coming into his Wednesday announcement, there was talk USC might not even have a spot for him. Yet there he was, on ESPN's Signing Day coverage, making his pledge to stay close to home and play for the Trojans. The versatile athlete was exactly the type of player Oregon was hoping to land in the class and missing out on him at the last minute hurts.