NSD Question of the Day: Which hire has been the most important?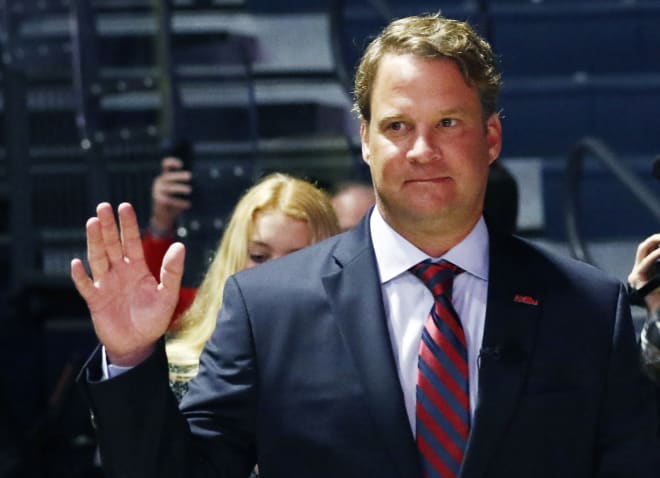 With National Signing Day less than two weeks away, the team of Rivals analysts answer a question each day. Today, they are asked which recent hire has been most important in their region and why.
ROB CASSIDY, Florida analyst
Lane Kiffin has really made waves in Florida since being hired at Ole Miss. Landing a commitment from Rivals250 running back Henry Parrish was huge and it served as a warning shot of sorts. Kiffin will likely sign Parish, and that's huge. It's also clear that the Rebels will be a player in the area going forward. Kiffin has a positive reputation in South Florida, which will pay off not just in this cycle but in the next one as well.
ADAM FRIEDMAN, Mid-Atlantic analyst
If I'm limiting my answer to just the Mid-Atlantic, the new hire that's been most important is Greg Schiano at Rutgers. The impact he's had on the program has been very evident. He's assembled a very good staff with plenty of connections to the state and that's paying dividends in the form of a number of commitments and transfers into the program. Since Schiano was hired, the Scarlet Knights have landed commitments from 10 high school or JUCO players, including flipping Tyreem Powell (Virginia Tech), Malachi Melton (Purdue), Robert Longerbeam (Temple) and Chris Long (Temple). Five important players have been brought in via transfer, highlighted by Aron Cruickshank (Wisconsin) and Michael Dwumfour (Michigan).
ADAM GORNEY, National and West analyst
The biggest hire this offseason was not a new hire but actually just the decision to keep Clay Helton as USC's coach by new athletics director Mike Bohn. It was important that Helton retained offensive coordinator Graham Harrell and the hiring of Todd Orlando as defensive coordinator could breathe new life into the Trojans.

Recruiting has still not seen an uptick and the commitments of 2021 No. 1 player Korey Foreman and four-star receiver Beaux Collins to Clemson over the weekend doesn't help much. There is a feeling that Helton's tenure at USC could still be very short, but for the time being he's in charge. Recruiting has been a struggle but more clarity on the coaching staff might help for the 2021 class.
JOSH HELMHOLDT, Midwest analyst
There are so few top 2020 prospects left in the Midwest, there really has not been an opportunity for new head coaches to make much of an impact on this class. I would have to cite Sam Pittman at Arkansas because of the work he has done with four-star offensive guard Jalen St. John, who officially visited earlier this month. Even that pick, though, comes with an asterisk because St. John was committed to Missouri until their coaching change. Pittman has since hired former Missouri head coach Barry Odom and former offensive line coach Brad Davis, so St. John's familiarity was already in place with a good portion of that new Arkansas staff.
CHAD SIMMONS, Southeast analyst
It has to be one of the new head coaches in the SEC that have schools in the state of Mississippi. If I had to pick one, it's probably Kiffin at Ole Miss. Mike Leach came into Mississippi State where around 90 percent of his class was already in place after the Early Signing Period. Kiffin took it slow in December, held offers back and encouraged players on his list to wait for February so relationships would have time to take shape. In January, Kiffin and the Ole Miss staff landed commitments from four-star defensive end Demon Clowney and Parrish. The Rebels are also in play for No. 1 running back Zachary Evans, four-star wide receiver Leonard Manuel and others top prospects that are not committed.

It doesn't stop there. Alabama commit Jayson Jones, Florida commit Marc Britt and Florida State commit Malachi Wideman are a few prospects committed to other programs that are set to visit Oxford next weekend. Kiffin has a chance to make a very big splash his first February Signing Day as Ole Miss' head coach Feb. 5.
SAM SPIEGELMAN, Texas and Louisiana analyst
Dave Aranda has turned away head coaching gigs for years to stay at LSU's defensive coordinator, but a national championship was enough for Aranda to finally give up and take over a Baylor program that was on the rise under Matt Rhule.

Aranda was not known as a recruiter while at LSU, but has shown an aggressive approach on the recruiting trail without hours of taking over in Waco. He's made visits to in-state four-star defensive ends Alfred Collins and Princely Umanmielen, and with a defensive mind at the helm, it would not be surprising if the Bears can land one or both of the talented Texas linemen.

Of course, throwing Aranda into the fire as a first-year head coach going toe-to-toe with Tom Herman and Lincoln Riley in the Lone Star State should make for an interesting start to this new era inside the Big 12 and inside Texas' recruiting grounds.
WOODY WOMMACK, Southeast analyst
It has to be the Mike Norvell hire. When it comes to college football, the Florida State program is among the select few that legitimately compete for a spot in the playoff on a yearly basis. It's crazy that the program has fallen off so quickly and that's why Norvell needs to succeed. There are a lot of unknowns with how things will pan out, but for the sake of college football, the Seminoles need to be back among the nation's elite and he is the man tasked with the job.