National Signing Day by position: Top QB classes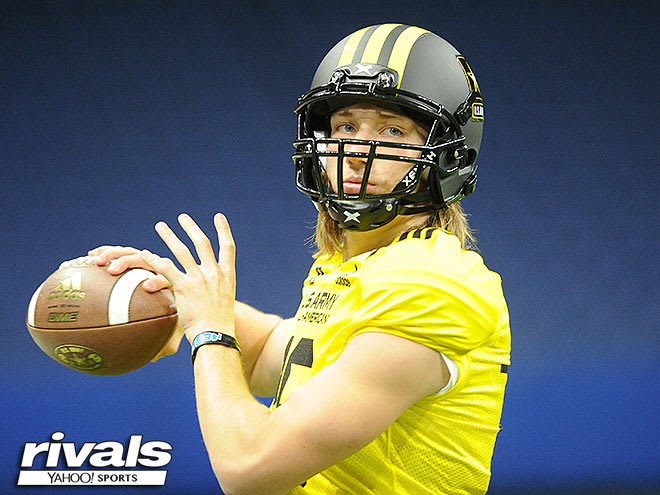 CLEMSON
Signed: Trevor Lawrence
Let's start at the top with Lawrence, who went wire-to-wire as the No. 1 prospect in this class and there was not a whole lot of debate about it. The five-star quarterback has all the skills to be special at Clemson and beyond and he's one of the best players at his position in the history of Rivals.com dating back to 2002.
Kelly Bryant, who led the Tigers back to the College Football Playoff, is expected to start next season and then Lawrence has the chance to step right in and win the starting job. Clemson needs more of a passing threat and Lawrence can offer that immediately as well.
Former five-star Hunter Johnson and four-star Chase Brice could also be competing for that role, so nothing is guaranteed. But Lawrence is special and could help lead the Tigers back to another national title run.

GEORGIA
Signed: Justin Fields
In one of the more loaded quarterback classes in Rivals.com history, Fields comes in at No. 2 nationally and he has unique skills that could be intriguing to Georgia's offense. Nothing is guaranteed in Athens, either, even with former five-star and starter Jake Fromm leading the Bulldogs to the national title game since he replaced former five-star and previous starter Jacob Eason.
That switch was handled well and the team bought in as Fromm had a phenomenal season and Georgia was inches from a national championship. But Fields brings a dual-threat capability to Athens that could intrigue the offensive staff. He probably won't be the full-time starter on Day 1, but Fields is too good to sit for too long.

USC
Signed: JT Daniels
Sam Darnold leaves for the NFL and Daniels has the opportunity to reclassify from the 2019 class to 2018 and get on campus this summer. He will miss spring football as the five-star finishes classes at Santa Ana (Calif.) Mater Dei, but there's no doubt he'll familiarize himself with the playbook and be ready to compete for the starting job.
Four-star Jack Sears and three-star Matt Fink are the only other quarterbacks on the roster, so Daniels has all the opportunity in the world to step in right away because he's a special talent that does not come along often. If he can beat out Sears and Fink, Daniels - ranked fourth nationally - could be the first quarterback in this class to lock down being a full-time starter.

WASHINGTON
Signed: Jacob Sirmon and Colson Yankoff
One more year for star quarterback Jake Browning and then the job will be open, and Washington did an excellent job landing two quarterbacks in this class who offer different skill sets. Sirmon is more of a pro-style passer with a rocket arm and Yankoff has more athletic ability who can also deliver passes all over the field. With that being said, the quarterback competition will be fierce after this season because Eason transferred back home, so the position room better have some extra chairs.

UCLA
Signed: Dorian Thompson-Robinson
A one-year varsity starter, Thompson-Robinson proved to everybody by playing a national schedule and excelling that he's a big-time quarterback who could be special in first-year coach Chip Kelly's offense. The high four-star threw for 3,275 yards with 38 touchdowns and three picks this season, so he's proven to be a great decision-maker. He also ran for more than 400 yards and seven scores. With Josh Rosen leaving for the NFL, with a new coaching staff and a new quarterbacks coach in Westwood, Thompson-Robinson has every opportunity to win the starting job as a freshman.

AUBURN
Signed: Joey Gatewood
This is Jarrett Stidham's offense for the time being and then Gatewood will have the opportunity to win the starting job. That could be perfect timing for the four-star prospect because it appears he's starting to develop even more as a passer. With his potential being off the charts and his physical ability being borderline special, Gatewood might just need more seasoning to become an elite passer and a high-level SEC quarterback. The four-star QB won't need to rush into a starting situation and it could be the best thing for him.

OLE MISS
Signed: Matt Corral
Through a wild recruitment that saw commitments to USC and Florida, Corral ended up pledging to Ole Miss late in the recruiting process and signing with the Rebels. It could end up being a wise move for the four-star quarterback because the quarterback competition after next season is wide open and Corral is arguably the most-skilled QB on the roster. If Corral stays focused and shows good decision-making, like he did at the U.S. Army All-American Bowl, then he could be special in Oxford, especially with an impressive receiving corps that just signed in this recruiting class.

STANFORD
Signed: Tanner McKee, Jack West
The Stanford quarterback situation is in great hands in the coming years with K.J. Costello and then former five-star Davis Mills. The Cardinal loaded up again in this class. McKee is headed on a two-year Mormon mission, so he won't be available immediately and three-star West is a work in progress. The good news is that neither will be needed immediately, even in the next couple years, so the Cardinal offense should be just fine. With his size, accuracy and arm strength, McKee has the ability to be special and he could be a perfect fit in Stanford's offense after his mission is over.

TCU
Signed: Justin Rogers
There could be a quarterback competition heading into next season between Shawn Robinson, the heir apparent to Kenny Hill, and highly-talented four-star quarterback Justin Rogers. But Rogers suffered a severe knee injury in the first quarter of his season opener and he might not be ready to run a Big 12 offense just yet. That should not be a downer at all, though, with Robinson probably taking the starting job and Rogers working toward being 100 percent prepared. When his time comes, Rogers has maybe the best arm talent in this entire class and his abilities should carve up Big 12 defenses.
TEXAS
Signed: Cameron Rising, Casey Thompson
Sam Ehlinger and Shane Buechele both played in nine games last season, neither of them putting up mind-blowing passing stats, but this does not seem like as open a quarterback competition as some other schools on this list. Rising is a phenomenal passer and playmaker with a big arm who could, in time, be something special in Austin. Thompson is also a four-star who threw for 37 touchdowns and ran for another eight scores this season so he's capable of putting up big numbers as well.