Notre Dame picks up a commitment from 2024 TE Jack Larsen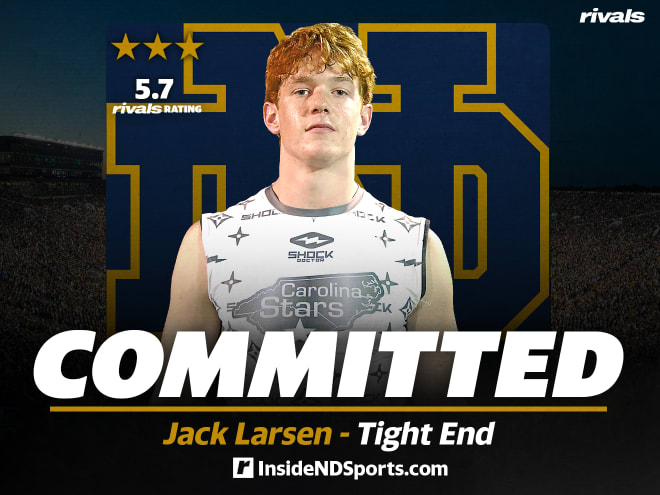 Notre Dame has been recruiting at an impressive clip in the 2023 class and in the 2024 class. The Fighting Irish just added another big piece to the puzzle in their 2024 class with the commitment of tight end Jack Larsen. The Charlotte (N.C.) Charlotte Catholic standout chose Notre Dame over Clemson, Michigan, North Carolina, and N.C. State. Larsen broke down his decision with Rivals.com.
IN HIS OWN WORDS...
"The education speaks for itself," Larsen said. "I want to study business and they have a great business school. The tight end success is great there. Coming from a catholic school and going to a school like Notre Dame is pretty special. Being up there, it's kind of a catholic atmosphere, it's a different feeling, and it's pretty special.
"They talked about their success at the tight end position and how they usually get dominant tight ends," he said. "They envision me fitting into their offense well and using me in a lot of different ways. I went to the Invasion camp and getting coached by coach Parker there was really beneficial. He was able to tell me some of the things I need to work on. His history, he's coached receivers and tight ends so I think he has a lot to offer. We have a great relationship.
"I feel like there is a ton of new energy coming in," said Larsen. "Coach Freeman is first class and seems like a great person, great coach, and great leader.
"CJ Carr is big on the recruiting stuff," he said. "He was in my ear a little bit. He's a great quarterback and it was cool working out with him up there."
RIVALS' REACTION...
Larsen is a solid addition for Notre Dame and he should be able to help the Fighting Irish on offense fairly quickly once he arrives on campus. He isn't the typical 6-foot-4+ tight end Notre Dame fans are used to seeing but Larsen can be a dynamic offensive weapon when used correctly and he can be a mismatch in certain situations. Larsen is the fourth member of Notre Dame's 2024 class, joining four-stars CJ Carr, Brandon Davis-Swain, and Owen Wafle.