Notre Dame is newest offer for fast-rising DE Mase Funa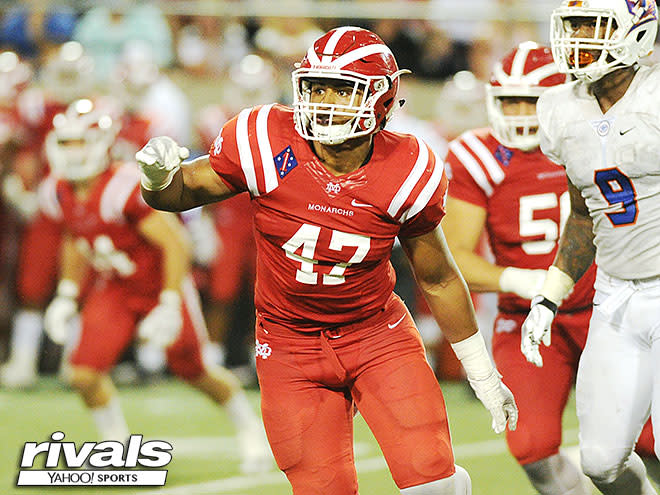 THE LATEST: Mase Funa has had a fantastic start to his junior season and now even more schools are taking notice.
Earlier this week, the 2019 four-star defensive end/outside linebacker from Santa Ana (Calif.) Mater Dei was in communication with Notre Dame assistant coach Brian Polian and the Irish became his latest offer.
So far, Funa has landed offers from Notre Dame, BYU, Cal, Illinois, Oklahoma, USC, Utah and Washington.
Last week, the four-star standout who shined earlier this season in Mater Dei's win over Las Vegas Bishop Gorman said Alabama has also been showing new interest as more schools are getting involved all the time.
IN HIS WORDS: "Coach (Brian) Polian texted me minutes before and asked if I had time to call so I did and we talked about Norte Dame and how it's part of the few schools along with the Ivy League (schools) that are high on grades and also sports to them has been a strength for years. He hit me up last week asking when I would be dropping a highlight mix and so I dropped the midseason one (Monday) and he watched and immediately liked it which followed with an offer to Notre Dame. As of now, all options are open until next year when visits come around and I could see which school will be best and me and my parents will be making the decision."
RIVALS' REACTION: In a recent interview, Funa said arguably the biggest factor when he chooses a school is a coaching staff that allows him to serve his Mormon mission after high school, a two-year experience.
That's why it's no surprise that this offseason the 2019 four-star said BYU was a major player in his recruitment especially since he's originally from the state of Utah.
However, since coaches already know Funa's situation after high school, it should not limit his options when looking at schools. The Mormon mission is happening so if coaching staffs really want him – and they should because he's an outstanding prospect – then that must go into considerations on both sides.