Notre Dame commits to visit USC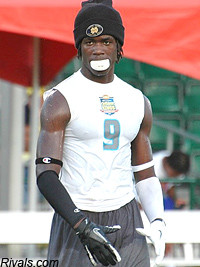 Greenberry, a four-star receiver, and his Fresno (Calif.) Washington Union team won its state championship bowl game Saturday afternoon and said afterward that he and Shepard, both Notre Dame commits, will head to USC for a visit.
"Tee said he is really interested in them so my boy wants me to go out there and check them out so that's what I'm going to do," Greenberry said.
Greenberry, who had a touchdown catch, a fumble recovery and an interception in Washington Union's victory, has said throughout his recruitment that he wanted to leave California for college but the Trojans - and many other teams - have continued to recruit him.
"Like I said at the beginning of my recruitment, I wanted to leave the state so that's where my mind is still," Greenberry said.
"It's not just Notre Dame. I just want to get away from home and experience some new things."
The top-rated receiver in California by Rivals.com committed to Notre Dame in late May. Shepard, a four-star defensive back who sat out this season after transferring from Fresno (Calif.) Central East to Washington Union, pledged to the Irish in early March. Numerous times he has called Notre Dame his dream school.
Shepard is an early enrollee but Greenberry said Shepard wanted to take one more visit, to consider things one more time, before his probable departure for South Bend.
"He graduated early and he has one more trip left so he was saying he wants to go out (to USC) and take it," Greenberry said. "No matter what, we're going to the same school."
Getting Greenberry and Shepard to switch would be a major recruiting coup since both are four-star prospects by Rivals.com. At wide receiver, Greenberry is No. 10 and No. 69 in the 2012 class. Shepard is the seventh-best cornerback and No. 82 overall.
Entering Saturday's contest, Greenberry had 105 receptions for 2,108 yards and 32 touchdowns. He finished with four catches for 57 yards and one score in the 21-16 victory over Campolindo and was also resourceful on defense.
"I wasn't even supposed to play defense today because I had a minor shoulder injury," Greenberry said. "The coach put me out there and I made some big plays."
[rl]