Notre Dame adds OL help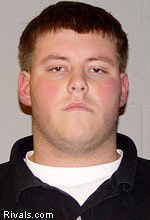 Notre Dame had a lot of key needs to fill heading into this recruiting year. They needed a couple of top quarterbacks -- check. They needed a premiere running back -- check. And they need a lot of offensive linemen, as many as five or six. With their latest commitment they're getting closer to putting a check next to that need as well.
"I just got off the phone with all the other coaches, I wanted to tell them first before I announced my commitment," said 6-foot-5, 300-pound offensive tackle
Eric Olsen
from Brooklyn (N.Y.) Poly Prep. "Now I can finally say I'm committed to Notre Dame."
Olsen has been interested in the Irish since day one of the recruiting process and when he finally got an offer in August, the battle for his services was all but over.
"That was pretty much it in my mind," he said. "I loved it out there on my visit and a former player at my school, Marcus Wilson, had great things to say about Notre Dame. He wasn't offered a fifth year there so I expected he'd have some not-so-good things to say, but it was just the opposite. He said if Notre Dame offers, commit. It's a great place to be."
Olsen came down to Notre Dame over Miami, Virginia, Boston College and Maryland.
"When I got the Miami offer, that was like a dream come true because I always followed them and I know they only offer top, top players," he said. "And Virginia and Boston College were special offers because they have offensive line tradition and I know people there, but when it came down to the full package, it was Notre Dame. I visited a bunch of schools this summer and I got a good feel for Notre Dame, the mystique is above every other school and with the success they're having, it's become such a hot commodity that I didn't want to miss my chance."
Notre Dame will take five offensive linemen according to Olsen. He and
Bartley Webb
are the first two commitments along the offensive line.