North Carolina shines in Shrine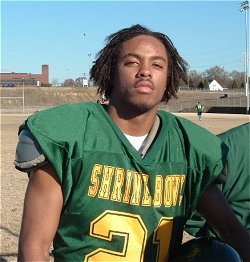 44 of the top senior football players from each of North ("Tar Heels") and South Carolina ("Sandlappers") arrived in Rock Hill, S.C. early the week of December 14 to participate in the tradition known as the North and South Carolina Shrine Bowl week. The week would culminate on Saturday, Dec. 20 with the playing of the 67th annual Shrine Bowl game at Rock Hill's District Three Stadium.
While several of the players came into the week already firmly committed to their college of choice, many are still unconfirmed or may still be seeking offers. Therefore, many players use this given week of practices, along with just the day-to-day living and communication, as a forum for showcasing their skills.
At the beginning of the week, many of the players knew of each other, but few had actually met. To further help each player acclimate to their new teammates, the Shrine Bowl sets up the early stages of the week to "check-in", get up-to-date physicals and allow time for meeting each other and prospective college coaches. After the initial paperwork had been completed, it was time to hit the field for four full days of practice.
North Carolina came into the week with a great determination; they were out to be the first NC team to win back-to-back Shrine Bowls since 1973-'74, and from day one this team looked special. Coming to Rock Hill with one of the best groups of running backs in a long time, led by the record-breaking quartet of 6-foot-0, 200-pound Florida State bound
Jamaal Edwards
; 6-foot-1, 215-pound
Andre Brown
(Virginia, Miami FL, NC State and West Virginia); 5-foot-11, 180-pound
Trimane Goddard
(Virginia, UNC, Florida Stare, Georgia and Tennessee); and 5-foot-11, 175-pound Virginia-bound
Andrew Pearman
. It was obvious from early on, that this group was not only a set of great individual playmakers, but they complimented each other very well.
From the bruising style of Andre Brown, to the great line of scrimmage vision of Jamaal Edwards, through the pure speed of Goddard and Pearman, this group had it all. But this 2003 NC team was not all about offense.
Throughout the week of practice, it was often hard to tell if North Carolina's defensive front seven was really as good as looked or if the NC offensive line was lacking a bit. (As a prelude to future articles in this set, I will let you know...they were that good).
Though it was apparent to everyone the great group of running backs North Carolina had brought to the 2003 game, the team practicing across town was determined to show why past teams from South Carolina have dominated this series. South Carolina was to be a team based on size and strength, a team who was looking to dominate up front on both sides of the ball.
Led by the highly-touted 6-foot-7, 310-pound offensive lineman
Corey Lambert
(recruited by every ACC and SEC school among others, leaning towards Clemson or South Carolina), the South Carolina group of big men has great potential. Lambert would be joined by 6-foot-4, 265-pound offensive lineman
Jeremy Burgess
(South Carolina commitment); 6-foot-4, 310-pound
James Thompson
(high interest in and offers from Clemson, FSU, UNC, South Carolina); 6-foot-5, 290-pound
Leon Hart
(Auburn, Georgia, South Carolina, Clemson and Virginia) and 6-foot-4, 285-pound
Terence Brown
(BYU commitment).
On the defensive side off the ball, the North Carolina running backs would have to deal with the great talent of 6-foot-3, 225-pound linebacker
Robert Ayers
(recruited by everyone, but down to (Florida, FSU, Georgia, South Carolina and Tennessee). Ayers would have plenty of support from the South Carolina secondary led by the highly recruited duo of 6-foot-2, 215-pound defensive back
C.J. Barber
(South Carolina lean) and 6-foot-1, 190-pound
Michael Hamlin
.
Now that some of the names were put with faces, email addresses and cell phone numbers swapped, it was time to hit the field to showcase the talent.
The 67th annual Shrine Bowl week started with nice weather and college recruiters out in large numbers. Early on it was obvious that the two teams would likely go to their strengths from an offensive standpoint. The "Tar Heels" would be a team that would look to utilize the talents of their nationally acclaimed running backs, complimented by the athletic abilities of quarterbacks's
Davon Drew
and
Antonio Miller
(East Carolina commitment).
Throughout the week, team Tar Heel designed a large percentage of their offensive plays through the running game, whether it be the straight-ahead off tackle running of Edwards and Brown or the quick trapping plays for Pearman and Goddard.
Defensively, North Carolina looked to it's front seven for quickness and speed for containment. The group proved to be very athletic in all aspects of the game, led by 6-foot-5, 285-pound defensive tackle
Marque Hall
(considered a lean to North Carolina); 6-foot-4, 270-pound defensive lineman
Gerard Miller
(NC State commitment); 6-foot-4, 275-pound
Dennis Marsh
(Maryland commitment); 6-foot-6, 225-pound defensive lineman
Brandon Drumgoole
(Wake Forest commitment) and 6-foot-3, 205-pound defensive end
Hilee Taylor
(UNC bound).
The defensive line was accompanied by an outstanding group of linebackers including highly-regarded 6-foot-3, 220-pound
Chase Bullock
(Maryland commitment); 6-foot-4, 210-pound
Quentin Cotton
(Duke, UNC, Wake and ECU offers) and 6-foot-2, 195-pound
Dannell Ellerbe
(offers from everyone). As the week progressed, these outstanding "individuals" became more and more a "team".
The "Tar Heel" defensive coaches understood each of his player's strengths and put them together very well. Utilizing three to four different defensive sets, North Carolina operated with great efficiency as players were allowed to shuffle in and out, depending upon the offensive situation. This proved to be a very effective plan for the North Carolina team.
Meanwhile, at camp "Sandlapper", the South Carolina team was looking to be a little more creative with their game plan. Not being as strong as the North Carolina team in some skill positions, South Carolina was looking to use their highly-touted offensive line to protect quarterbacks
William Richardson
(Clemson offer),
Trey Elder
and
Grayson Mullins
, and allow them to open up the team's offense with an efficient passing attack.
The South Carolina wideouts were certainly one of the team's strengths. Led by 6-foot-4, 185-pound
Sidney Rice
(onetime South Carolina commitment and a Gamecock lean), South Carolina had several weapons on the outside to work with in the passing game. It was these weapons that South Carolina focused on throughout the week, and made the focal point of their offensive strategy.
As the practice week began to wind down, Friday morning's practices were used to fine-tune some final plans for each team. South Carolina even went to the point of holding a "closed practice". Everyone was left to wonder, just what kind of secrets the "Sandlappers" might have up their sleeve come Saturday afternoon in order to continue their dominance within the series.
Friday afternoon was a time for the players to get a little more familiar with the media and young kids of the area as they participated in the Friday afternoon "Media Day". During this time, both team's players and Shriners from around the state were given the chance to thank each other for what they each contribute to the Shriner's cause. Also, local young kids from the area had the chance to use this time to meet some of their favorite players from the week and ask them the "tips for success".
The time had arrived, Saturday afternoon 1:00 PM, all the practice was complete and it was now time to see who would be the best in 2003 -- "Tar Heels" or "Sandlappers"??
Observations: North Carolina defense vs. South Carolina offense.
South Carolina, taking the opening kickoff, quickly had their initial drive halted as North Carolina's safety, 6-foot-3, 200-pounder
Jamar Adams
(soft Michigan commitment) stepped up to pick off a pass on the 3rd play of the game. Adams proved to be quite active during the game as South Carolina stressed the passing game keeping Adams and the entire North Carolina defensive backfield busy.
Adams is a big, strong, physical safety who can dictate who does and does not come over the middle as evidenced this Saturday as South Carolina looked to take the ball outside and stay away from Adams. This would prove to be just the beginning of a great defensive day for the entire North Carolina defensive unit.
North Carolina's defensive down-lineman were consistently in the South Carolina backfield. Marque Hall spearheaded the defensive line. Hall, who appears to have dropped 25-35 pounds since the beginning of his senior season, consistently beat the man across from him spending much of the afternoon wreaking havoc for the South Carolina offense. Very quick off the ball with nice footwork to accompany his strength, Marque recorded one full sack on the day and was in on another half sack. The list of possibilities for Marque's college commitment still include a large majority of ACC and SEC school (he'll begin his official visits soon after the New Year).
On this day however, Hall would not be a one man show. Gerard Miller, Dennis Marsh and Hilee Taylor alll played very well up front.
Taylor, much like the rest of North Carolina's defensive lineman, was in the South Carolina backfield all afternoon. With his outstanding speed and agility, Hilee was able to control his end of the line of scrimmage resulting in a sack and five total tackles, as well as being in on forced and recovered South Carolina fumbles. With his speed, Taylor cannot only contain the run on his side of the field, but also has the ability to read and cover screen passes.
Like many of the football quotes go, if you can beat your man up front it opens the game up for the guys behind you, and that's exactly what North Carolina's defensive line did for their linebackers. Dannell Ellerbe used this day to erase any doubt there may have been in anyone's mind about the potential he truly possess.
Dannell, who is still wide open on his college choices (favoring Clemson or Tennessee), used his outstanding speed and quickness to earn himself the 2003 Shrine Bowl Defensive MVP. Midway through the first half, Ellerbe used his great vision and playmaking ability to thwart a potential South Carolina drive with a beautiful read and react interception in the flat. Little did fans know, he was just getting started.
As the game progressed, Ellerbe continued to be all over the field. Having a hand in three sacks, nine total tackles, and a deflected two-point conversion late in the game, there was not any doubt on this day who would be the defensive MVP.
But Ellerbe was not alone. Also stepping up big for the "Tar Heels" was Chase Bullock. Quite an imposing force in the middle, Bullock and the rest of the North Carolina defensive held the "Sandlappers" of South Carolina to 25 yards total rushing on 32 attempts.
Unable to run the ball at all, South Carolina was forced to go to the passing game and for the most part the North Carolina defensive backfield was up to the challenge. Virginia Tech bound, 5-foot-11, 180-pound
Rod Council
, had his hands full most of the day with Sidney Rice. The "Sandlappers" did manage 163 yards through the air on 16 for 30 passing.
Rice, who some say has the tools of a Randy Moss, managed to pull in five catches for 48 yards, highlighted by a corner of the end zone "jumpball" touchdown. With a nice height advantage and speed, Rice has the ability to make quarterbacks look very good. A sure-handed receiver who helped lead his high school team to a state championship, he will make a very nice receiver at the next level.
Observations: North Carolina offense vs. South Carolina defense.
As noted earlier, coming in it was known that the North Carolina offensive game plan would revolve around a potentially strong running game. While it took the great running backs from North Carolina a few series to get going, when they did get their game rolling they put on a very nice show.
The "Tar Heels" used a very balanced running attack led by Andre Brown. North Carolina, as a team, pounded the ball at South Carolina for 216 yards on 47 rushing attempts. While South Carolina did a nice job at times in containing the highly-touted quartet of running backs, they could not keep them in check during crucial points of the game (i.e. Brown picking up eight yards on a 4th-and-3 deep in South Carolina territory). And just like all the great running backs, when you think you have them down, they will break one for 15-20 yards. This running back group did this time and time again on Saturday afternoon.
Brown, who scored North Carolina's second touchdown of the game, took a handoff midway through the third quarter, broke the line of scrimmage, cut left and scored from 26 yards out.
Brown, who in his senior season broke the North Carolina state single season rushing yardage record and scored 47 touchdowns, is as pure a back as one will find in the high school ranks. Great power and strength allows him to get through the line and his speed carries him the rest of the way. Finishing with 122 rushing yards on 16 carries, Andre Brown was named the 2003 Shrine Bowl Offensive MVP.
A perfect compliment to Brown on this day was Florida State-bound Jamaal Edwards. Edward's possess great vision and lateral movement. Not an overly punishing runner, Edwards never finds himself in a bad position with his quick feet. Great vision and footwork allows him to be a very complete running back with nice hands coming out of the backfield. If Edwards gets the corner, very little can stop him -- except himself.
It was midway through the fourth quarter when Edwards took the first play after a change of possession, found the corner and raced 54 yards downfield, only to be "tripped up" by the 30-yard line in South Carolina territory. Florida State coaches who were on hand jokingly told Jamaal after the game they would make sure the grass at FSU would be mowed short next year and that the yard-line paint would not be too thick, so that it would not trip him up.
Highly touted Andrew Pearman and Trimane Goddard were not to be left out of the offensive game plan. Goddard used his breakaway speed and all-around athletic ability to find the end zone twice on this Saturday afternoon. Used as a wingback or slot receiver most of the day, Goddard showed great footwork to haul in the day's first score -- an 11-yard pass as he just got his feet inbounds for the score. Later, Goddard used his great speed to get the corner and beat both the safety and corner to the goalline on a four-yard run. With the running game being so successful, the "Tar Heels" found little need to throw the ball, but did complete 4 of 7 passes for 45 yards.
The South Carolina team, having their hands full trying to stop the North Carolina running game, did have some individuals step up to the cause on the defensive side. 6-foot-3, 225-pound linebacker
Lawrence Timmons
(official visits coming in January to FSU, Maryland, UNC and Tennessee) led a front seven that did have some bright moments on Saturday afternoon. Timmons showed great speed to stop the run and rush the passer, while also possessing the strength to shed blockers and make plays. These all-around skills helped lead Lawrence to a team high nine tackles on Saturday afternoon.
Stepping up big in the defensive backfield for South Carolina was physical cornerback Michael Hamlin (official visits in January to South Carolina, Clemson and Duke). One of the top safeties in the country, Hamlin was switched to corner for the 2003 Shrine Bowl, showing his great versatility. With great speed and instincts, Hamlin showcased his ability to make open-field tackles on a variety of running backs, whether it be the power type runner or slashing,quick tailback.
In the end, there was no doubt who had the better all-around team on this day as the North Carolina team took home a 21-12 win that was not as close as the score indicates. A strong running game and an overwhelmingly powerful/quick defense proved to be a winning formula for the "Tar Heels" of North Carolina, bringing them their first back-to-back wins in the series since 1973-74.
Congratulations to all the players who participated in the past week, the staff at Rivals.com looks forward to following you for years to come.
Special thanks to Andy Crouch for contributing to this report.