No wavering for 2013 Auburn commit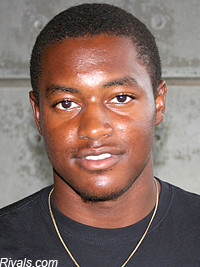 Because he knew Auburn had lost several key players from the previous year, junior inside linebacker
Trey Johnson
of Central Gwinnett (Ga.) wasn't surprised when the Tigers defense got off to a slow start in 2011. But the Auburn commit has been pleasantly surprised by what the unit has shown him.
"They told me it might be a little bit of a down season," Johnson said. "But I think they've stepped it up a lot since the beginning of the year."
The 6-feet-1, 212-pound Johnson committed to the Tigers in August over offers from many notable programs. Before pledging to Auburn, he not only visited that school, but Alabama, Clemson, Florida, Georgia, South Carolina. At one time, in fact, the Gators were thought to be the team to beat.
Since pledging, Johnson has been back to Auburn twice this season.
"I was there for the Florida game and another one," Johnson said. "It was good. Everyone could see how the town is. The fans were really into the game. Everybody there loves Auburn. It was just a real good atmosphere. Everybody seemed to be enjoying themselves. "
Admittedly, "it's a little different" going there as a commit, Johnson said. But, he added, "when I first came and was uncommitted they still treated me good. That was the main reason I committed."
Johnson, who completed his junior season last week with 150-plus tackles (including 26 in the finale), has not visited any other schools this fall.
"I'm 100 percent committed, but I'm still hoping to talk to other schools," Johnson said. "I may take an official somewhere else just to see it. I haven't talked to too many schools [this fall], seeing how they can't really call me and they're in their season. But I get mail. I see lots of letters from Miami. I get them from Miami, N.C. State, Penn State, Ohio State. I probably get the most from Miami and Florida State. I haven't really opened too many of them, though."