NFL factories: Top schools for producing pros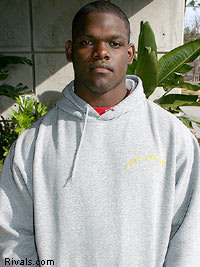 It's getting to be a yearly tradition at Fort Lauderdale (Fla.) St. Thomas Aquinas.
Contend for a state championship in the fall. Watch a couple of former players get drafted in the spring.
The growing fraternity of St. Thomas Aquinas alumni in the pro ranks added a couple of members last week when the Baltimore Ravens selected South Carolina State safety Christian Thompson in the fourth round and the Green Bay Packers picked Florida State offensive tackle Andrew Datko in the seventh round.
A total of eight St. Thomas Aquinas players have been drafted over the last five years. No other high school in the country had more than five players selected during that same stretch.
They've succeeded at the next level by following a St. Thomas Aquinas motto: You go, we go. The idea behind the slogan is that if each person does his part and works his tail off, the entire team will operate with the efficiency of a well-oiled machine.
"I think some of those guys have carried on some of that stuff to college," said St. Thomas Aquinas athletic director George Smith, who ended his 34-year tenure as the school's football coach in Feburary 2011. "I know some of these kids have turned out to be great leaders."
They've also turned developed into great winners.
St. Thomas Aquinas captured state championships in 1992, 1997, 1999, 2007, 2008 and 2010. The 2008 team finished atop the RivalsHigh national rankings. That makes St. Thomas Aquinas arguably the best football program in perhaps the best state for producing future pros.
Although this wasn't a good draft for Florida's major college powers, a look at the high school backgrounds of every player drafted over the last five years reveals that the Sunshine State remains a hotbed for pro football talent.
But the top Florida high school programs - particularly in the southern part of the state - remain as productive as ever.
Nine high schools have collected at least four draft picks over the last five years. Five of them are from Florida: St. Thomas Aquinas (7), Miami Northwestern (5), Lakeland (4), Pahokee (4) and Pompano Beach Ely (4). Charlotte (N.C.) Independence, Chino (Calif.) High, Cleveland (Ohio) Glenville and Stone Mountain (Ga.) Stephenson also each had four players drafted over the last five years.
The fact that St. Thomas Aquinas and Miami Northwestern top the chart shouldn't come as much of a surprise.
St. Thomas Aquinas topped the RivalsHigh national rankings in 2008 and finished second in the 2010 RivalsHigh poll. Miami Northwestern was named Rivals' 2007 national title with a team that featured four players who were drafted last week.
"Those really were two teams with star-studded players that won national championships almost hands down," RivalsHigh national analyst Dallas Jackson said of the 2007 Northwestern team and the 2008 St. Thomas Aquinas squad. "Miami Northwestern [in 2007] was one of the better high school football teams I've seen in the last five or six years. They had talent galore."
While four of Northwestern's five draftees over the last five years came from one class, St. Thomas Aquinas' talent has been more spread out.
All those guys had helped make St. Thomas Aquinas one of the nation's most consistently successful high school programs. Smith retired as the school's football coach in February 2011 after posting a 361-66 record in 34 seasons.
"It's the consistency with the coaching staff," said Rocco Casullo, who replaced Smith as the Raiders' head coach after working as an assistant on his staff. "The coaches have stressed fundamentals and technique. We're really big on teaching at the younger level. Those kids [who were drafted] then obviously went to good schools, and those coaches have taught them well also."
That consistency in the coaching staff continues to this day.
St. Thomas Aquinas' staff has featured occasional star power. Cris Carter, an eight-time Pro Bowl receiver who played in the NFL from 1987-2002, is a former St. Thomas Aquinas assistant. Casullo's staff this season will include two-time Pro Bowl cornerback Al Harris and former Pro Bowl safety Darryl Williams as well as former Minnesota Vikings safety Darrell Fullington.
"The Al Harrises and those guys offer so much about what life is if you're trying to be successful," Smith said.
But the most obvious example of the continuity at St. Thomas Aquinas comes from offensive line coach Jay Connolly, who has been on the coaching staff for over 35 years. Connolly helped develop Young, Gilbert and Datko into pro prospects.
"He's a technician," Casullo said. "He's fundamentally sound. When he teaches, the kids understand it. He simplifies everything. And he's got a mean streak in him like all offensive line coaches need to have. There are some days I can hear his voice in my head at 9 o'clock at night. When it's one of those days, it's tough for those guys. But he has such a passion. He cares so much about the kids. He's also an English teacher here, so he does have a soft side, believe it or not.
"The kids really love him. He has a great way of teaching, not only on the football field, but in the classroom."
Connolly isn't the only veteran on the coaching staff. Defensive line coach Jim Gazzillo and special teams coach Dave Shepherd have been at St. Thomas Aquinas for about two decades. Many of the younger assistant coaches are former St. Thomas Aquinas players.
"It's not about all the pro guys who are with us and helping us," Smith said. "It's about our other guys, too, who have been here forever and are regular high school coaches."
Those guys should help St. Thomas Aquinas send even more players to the NFL in short order.
North Carolina running back Giovani Bernard and Florida State safety Lamarcus Joyner are two St. Thomas Aquinas alums who earned all-ACC honors last season, with Bernard making the first team and Joyner appearing on the second team. Wisconsin running back James White was the Big Ten freshman of the year in 2010.
Florida cornerback Marcus Roberson, Florida State wide receiver Rashad Greene and Florida State offensive tackle Bobby Hart all made big contributions last season as true freshmen after starring for the Raiders.
Here's a rundown of high school programs across the nation that have produced at least three draft picks over the last five years. For the purpose of this project, we only took into account the last high school where a prospect played. For instance, if a player spent his freshman and sophomore seasons at one school before transferring to another school, we considered the second school his alma mater.
PIPELINES TO THE NFL
Fort Lauderdale St. Thomas Aquinas (8)
Miami LB Tavares Gooden (2008, 3rd round, Baltimore Ravens, 71st overall pick), Florida S Major Wright (2010, 3rd, Chicago Bears, 75th), Georgia DT Geno Atkins (2010, 4th, Cincinnati Bengals, 120th), Notre Dame OT Sam Young (2010, 6th, Dallas Cowboys, 179th), Florida OT Marcus Gilbert (2011, 2nd, Pittsburgh Steelers, 63rd), Miami WR Leonard Hankerson (2011, 3rd, Washington Redskins, 79th), South Carolina State FS Christian Thompson (2012, 4th, Baltimore Ravens, 130th), Florida State OT Andrew Datko (2012, 7th, Green Bay Packers, 241st)
Miami Northwestern (5)
Florida International CB Anthony Gaitor (2011, 7th round, Tampa Bay Buccaneers, 222nd overall pick), *Nebraska LB Lavonte David (2012, 2nd, Tampa Bay Buccaneers, 58th), Miami LB Sean Spence (2012, 3rd, Pittsburgh Steelers, 86th), Miami WR Tommy Streeter (2012, 6th, Baltimore Ravens, 198th), Miami OG Brandon Washington (2012, 6th, Philadelphia Eagles, 200th). (David went from high school to Fort Scott (Kan.) Community College before ending up at Nebraska.)
Charlotte (N.C.) Independence (4)
Maryland DT Dre Moore (2008, 4th round, Tampa Bay Buccaneers, 115th overall pick), North Carolina WR Hakeem Nicks (2009, 1st, New York Giants, 29th), Georgia WR Mohamed Massaquoi (2009, 2nd, Cleveland Browns, 50th), Appalachian State OLB D.J. Smith (2011, 6th, Green Bay Packers, 186th)
Chino (Calif.) (4)
USC DT Sedrick Ellis (2008, 1st round, New Orleans Saints, 7th overall pick), San Jose State DT Jarron Gilbert (2009, 3rd, Chicago Bears, 68th), Utah CB R.J. Stanford (2010, 7th, Carolina, 223rd), Hawaii WR Greg Salas (2011, 4th, St. Louis Rams, 112th)
Cleveland (Ohio) Glenville (4)
Eastern Kentucky CB Antwaun Molden (2008, 3rd round, Houston Texans, 79th overall pick), Cincinnati DE Angelo Craig (2008, 7th, Cincinnati Bengals, 244th), Indiana CB Ray Fisher (2010, 7th, 246th), Ohio State S Jermale Hines (2011, 5th, St. Louis Rams, 158th)
Lakeland (Fla.) (4)
Florida C Maurkice Pouncey (2010, 1st round, Pittsburgh Steelers, 18th overall pick), Florida C Mike Pouncey (2011, 1st, Miami Dolphins, 15th), Florida S Ahmad Black (2011, 5th, Tampa Bay Buccaneers, 151st), Florida RB Chris Rainey (2012, 5th, Pittsburgh Steelers, 159th)
Pahokee (Fla.) (4)
Wake Forest CB Alphonso Smith (2009, 2nd round, Denver Broncos, 37th overall pick), *Mississippi State DE Pernell McPhee (2011, 5th, Baltimore Ravens, 165th), North Alabama CB Janoris Jenkins (2012, 2nd, St. Louis Rams 39th, Louisiana-Lafayette CB Dwight Bentley (2012, 3rd, Detroit Lions, 85th). (McPhee went from Pahokee to Itawamba (Miss.) Community College before ending up at Mississippi State; Bentley went from Pahokee to Dodge City (Kan.) Community College before ending up at Louisiana-Lafayette.)
Pompano Beach (Fla.) Ely (4)
Auburn CB Walter McFadden (2010, 5th round, Oakland Raiders, 138th overall pick), Kansas State CB Joshua Moore (2010, 5th, 141st) *LSU CB Patrick Peterson (2011, 1st, Arizona Cardinals, 5th overall pick), West Virginia LB J.T. Thomas (2011, 6th, Chicago Bears, 195th). (Peterson was known as Patrick Johnson while in high school.)
Stone Mountain (Ga.) Stephenson (4)
Florida DE Jermaine Cunningham (2010, 2nd round, New England Patriots, 53rd), LSU LB Perry Riley (2010, 4th, Washington Redskins, 103rd), LSU LB Kelvin Sheppard (2011, 3rd, Buffalo Bills, 68th), *West Virginia DE Bruce Irvin (2012, 1st, Seattle Seahawks, 15th). (Irvin actually signed with West Virginia out of Walnut (Calif.) Mt. San Antonio College.)
BEST OF THE REST (Three players drafted over the last five years)
Batesville (Miss.) South Panola
*Ole Miss DT Peria Jerry (2009, 1st round, Atlanta Falcons, 24th overall pick), Ole Miss S Jamarca Sanford (2009, 7th, Minnesota Vikings, 231st), *Ole Miss OT/OG John Jerry (2010, 3rd, Miami Dolphins, 73rd). (Peria Jerry and John Jerry went from high school to Chatham (Va.) Hargrave Military Academy before ending up at Ole Miss.)
Brandywine (Md.) Gwynn Park
New Mexico CB DeAndre Wright (2009, 6th round, New York Giants, 200th overall pick), Baylor DT Phil Taylor (2011, 1st, Cleveland Browns, 21st), Virginia Tech CB Rashad Carmichael (2011, 4th, Houston Texans, 127th)
Chantilly (Va.) Westfield
Virginia Tech WR Eddie Royal (2008, 2nd round, Denver Broncos, 42nd overall pick), Virginia Tech P Brent Bowden (2010, 6th, Tampa Bay Buccaneers, 172nd), Penn State RB Evan Royster (2011, 6th, Washington Redskins, 177th)
Colton (Calif.)
Colorado CB Jimmy Smith (2011, 1st round, Baltimore Ravens, 27th overall pick), USC CB Shareece Wright (2011, 3rd, San Diego Chargers), USC RB Allen Bradford (2011, 6th, 187th, Tampa Bay Buccaneers)
Delray Beach (Fla.) Atlantic
Virginia Tech CB Brandon Flowers (2008, 2nd round, 35th overall pick), Miami OT Orlando Franklin (2011, 2nd, Denver Broncos, 46th), Virginia Tech CB Jayron Hosley (2012, 3rd, New York Giants, 94th). (Flowers went from high school to Chatham (Hargrave) Military Academy before ending up at Virginia Tech.)
DeSoto (Texas)
Arizona WR Mike Thomas (2009, 4th round, Jacksonville Jaguars, 107th overall pick), Texas A&M Von Miller (2011, 1st, Denver Broncos, 2nd), Texas A&M RB Cyrus Gray (2012, 6th, Kansas City Chiefs, 182nd)
Fontana (Calif.) Kaiser
Fresno State DT Jason Shirley (2008, 5th round, Cincinnati Bengals, 145th overall pick), Fresno State LB Chris Carter (2011, 5th, Pittsburgh Steelers, 162nd), UCLA DT David Carter (2011, 6th, Arizona Cardinals, 184th)
Granite Bay (Calif.)
Oregon State WR Sammie Stroughter (2009, 7th round, Tampa Bay Buccaneers, 233rd overall pick), Fresno State WR Devon Wylie (2012, 4th, Kansas City Chiefs, 107th), San Diego State OLB Miles Burris (2012, 4th, Oakland Raiders, 129th)
Greenacres (Fla.) John I. Leonard
Mount Union WR Pierre Garcon (2008, 6th round, Indianapolis Colts, 205th overall pick), Hampton DT Kenrick Ellis (2011, 3rd, New York Jets, 94th), *Florida State DE/OLB Markus White (2011, 7th, Washington Redskins, 224th). (*-White went from high school to Butler (Kan.) Community College before going to Florida State.)
Greenbelt (Md.) Eleanor Roosevelt
Florida DE Derrick Harvey (2008, 1st round, Jacksonville Jaguars, 8th overall pick), Penn State WR Derrick Williams (2009, 3rd, Detroit Lions, 82nd), Illinois OLB/DE Will Davis (2009, 6th, Arizona Cardinals, 204th)
Huber Heights (Ohio) Wayne
Ohio State LB Marcus Freeman (2009, 5th round, Chicago Bears, 154th overall pick), Cincinnati CB Mike Mickens (2009, 7th, Dallas Cowboys, 227th), Michigan State DT Jerel Worthy (2012, 2nd, Green Bay Packers, 51st)
Katy (Texas)
Hawaii CB Ryan Mouton (2009, 3rd round, Tennessee Titans, 94th overall pick), TCU QB Andy Dalton (2011, 2nd, Cincinnati Bengals, 35th), Texas A&M CB Terrence Frederick (2012, 7th, Pittsburgh Steelers, 246th)
Laurinburg (N.C.) Scotland County
North Carolina DE Hilee Taylor (2008, 7th round, Carolina Panthers, 221st overall pick), North Carolina State OLB Terrell Manning (2012, 5th, Green Bay Packers, 163rd), South Carolina DT Travian Robertson (2012, 7th, Atlanta Falcons, 249th)
Long Beach (Calif.) Poly
California WR DeSean Jackson (2008, 2nd round, Philadelphia Eagles, 49th overall pick), UCLA WR Terrence Austin (2010, 7th, Washington Redskins, 219th), USC DT Jurrell Casey (2011, 3rd, Tennessee Titans, 77th)
Longview (Texas)
Oklahoma WR Malcolm Kelly (2008, 2nd round, Washington Redskins, 51st overall pick), TCU LB Robert Henson (2009, 6th, Washington Redskins, 186th), Oklahoma OT Trent Williams (2010, 1st, Washington Redskins, 4th)
Los Angeles (Calif.) Dorsey
San Jose State CB Chris Owens (2009, 3rd round, Atlanta Falcons, 90th overall pick), Baylor WR David Gettis (2010, 6th, Carolina Panthers, 198th), UCLA S Rahim Moore (2011, 2nd, Denver Broncos, 45th)
Miami (Fla.) Carol City
Miami S Kenny Phillips (2008, 1st round, New York Giants, 31st overall pick), LSU DT Ricky Jean-Francois (2009, 7th, San Francisco 49ers, 244th), West Virginia S Robert Sands (2011, 5th, Cincinnati Bengals, 134th)
New Orleans (La.) Perry Walker
Ole Miss WR Mike Wallace (2009, 3rd round, Pittsburgh Steelers, 84th overall pick), Oregon State DB Keenan Lewis (2009, 3rd, Pittsburgh Steelers, 96th), Ole Miss FS Kendrick Lewis (2010, 5th, Kansas City Chiefs, 136th)
North Charleston (S.C.) Fort Dorchester
Florida DE Carlos Dunlap (2010, 2nd round, Cincinnati Bengals, 54th overall pick), North Carolina DE Robert Quinn (2011, 1st, St. Louis Rams, 14th), Clemson CB Byron Maxwell (2011, 6th, Seattle Seahawks, 173rd)
Pensacola (Fla.) Pine Forest
Alabama OG Mike Johnson (2010, 3rd round, Atlanta Falcons, 98th overall pick), USF DE George Selvie (2010, 7th round, St. Louis Rams, 226th), Florida Atlantic RB Alfred Morris (2012, 6th, Washington Redskins, 173rd)
Piscataway (N.J.)
Ohio State DB Malcolm Jenkins (2009, 1st round, New Orleans Saints, 14th overall pick), Rutgers OT Anthony Davis (2010, 1st, San Francisco 49ers, 11th), Boise State CB Kyle Wilson (2010, 1st, New York Jets, 29th)
Rancho Cucamonga (Calif.)
USC CB Terrell Thomas (2008, 2nd round, New York Giants, 63rd overall pick), Oregon S Patrick Chung (2009, 2nd, New England Patriots, 34th), San Diego State WR Vincent Brown (2011, 3rd, San Diego Chargers, 82nd)
Tucker (Ga.)
Georgia RB Thomas Brown (2008, 6th round, Atlanta Falcons, 172nd overall pick), Georgia CB Asher Allen (2009, 3rd, Minnesota Vikings, 86th), East Carolina WR Dwayne Harris (2011, 6th, Dallas Cowboys, 176th)
Warren (Ohio) Warren G. Harding
Michigan WR Mario Manningham (2008, 3rd round, New York Giants, 95th overall pick), Michigan State CB Chris L. Rucker (2011, 6th, Indianapolis Colts, 188th), Ohio State RB Daniel Herron (2012, 6th, Cincinnati Bengals, 191st)
Washington (D.C.) Dunbar
Illinois CB Vontae Davis (2009, 1st round, Miami Dolphins, 25th overall pick), Illinois WR Arrelious Benn (2010, 2nd, Tampa Bay Buccaneers, 39th) Illinois LB Nate Bussey (2011, 7th, New Orleans Saints, 243rd)

[rl]