NFL Draft stock report: OL

The college football season is close to finished so there's no better time to
look at the NFL Draft Watch as players move up and down the board. The final
item in our offense series is an in-depth look at the offensive linemen.
receiver |
OL
The skinny: Murphy was a five-star prospect out of San Clemente, Calif., who was
rated as the third-best offensive tackle and No. 19 overall in the 2012 class.
finalists.
Season overview: Murphy is a key blocker for Heisman contender
points and 228 rushing yards per game.
Farrell's take: Murphy had it all coming out of high school except the bulk and
power he now has. He had a great frame to fill out, exceptional feet and was
part of an amazing Stanford offensive line class in 2012 where he and
Honorable Mention
OL
Farrell's take: Kirkland always had size and power out of high school, but now he
the ball while Johnstone also had a great frame and has grown into it. Johnstone
was 260 pounds coming out of high school with great arm extension but lacked
lower body strength and pop. He has that now. Both were four-stars out of
high school, so we saw the potential.
STOCK STEADY
OL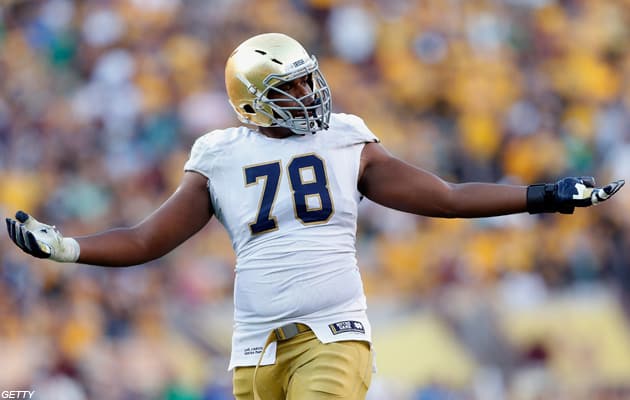 The skinny: Stanley was a four-star prospect from Las Vegas (Nev.) Bishop Gorman
who was rated No. 15 at his position and No. 176 in the 2012 class. He was the
top-rated prospect in the Nevada state rankings. He picked Notre Dame over
Season overview: Notre Dame averages nearly 35 points and 208 rushing yards per
game and the Irish remain in College Football Playoff contention. Stanley has
Farrell's take: Stanley has moved ahead of Tunsil in our opinion based on his
solid play this season and the fact that Tunsil missed a lot of the year. It
will be interesting to see who the scouts love when it comes down to draft day.
He was well-coached in high school and a four-star who was not overly physical,
but that has changed.
OL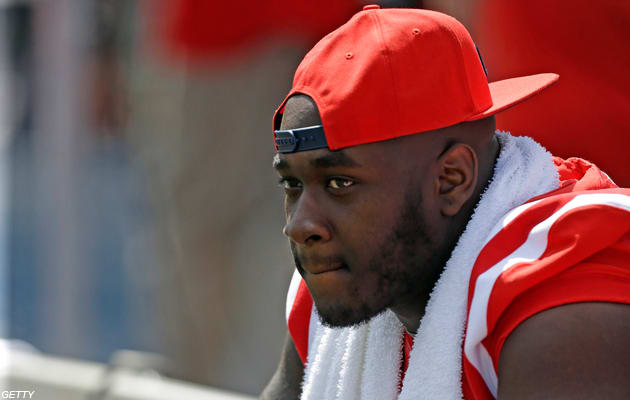 The skinny: The five-star from Lake City (Fla.) Columbia was the top-rated
frontrunners in his recruitment but Tunsil picked Ole Miss along with fellow
Season overview: Tunsil served a seven-game suspension as the NCAA investigated
whether he received improper benefits. The Rebels average more than 40 points
and 175 rushing yards game.
Farrell's take: Tunsil was a five-star with a high ceiling who projected as a
future star in college and he has lived up to that despite a few on- and
off-field setbacks. His ceiling is higher than Stanley but Stanley could be the
safer pick. His footwork and agility were off the charts out of high school and
he was an outstanding athlete.
Honorable Mention
OL
Farrell's take: Decker hasn't had as good a year as he did last year but he's
still a key cog with impressive upside that is key to the impressive running
game at Ohio State while Conklin has overcome injury to maintain his draft
status as a physical mauler who has pretty good feet. Decker was heavily
recruited at all and was a walk-on at Michigan State -- two different paths to
success.
STOCK DOWN
OL
The skinny: Rated as a four-star prospect out of Buford, Ga., Alexander was No.
11 at offensive guard and No. 234 in the 2012 class. A New Orleans native who
Season overview: Blocking for Heisman contender
nearly six yards per rush but the Tigers were stuffed against Alabama and
Arkansas earlier this season.
Farrell's take: Alexander was a big disappointment against Alabama and Arkansas where he and his linemen were exposed badly. He was a big, raw kid out of high school with nice feet who could hit the second level against teams like Florida with a very good defense, but he was dominated by the interior linemen at Alabama and surprisingly Arkansas was able to get a consistent push.
OL
The skinny: Tuerk was a four-star prospect who was rated as the seventh-best
offensive tackle and No. 46 overall in the 2012 class out of Rancho Santa
Margarita (Calif.) Santa Margarita Catholic. Alabama had recently offered and
Tuerk said he was going to take official visits, but once USC offered, the
four-star committed to the Trojans shortly after.
Season overview: Tuerk injured his knee in October and has been sidelined for
the rest of the season. USC averages 35.6 points per game and has rushed for 21
touchdowns this season.
Farrell's take: Tuerk's injury essentially hurt his draft status. A versatile kid who was playing center at USC but projected to guard as well, his stock simply falls because a season-ending knee injury for any lineman will raise a lot of question marks.
Honorable Mention
OL
Farrell's Take: Hawkins was rising and then fell once again because scouts will
focus more on the Alabama film than anything else as he and his linemen were
facing three potential first-rounders and were dominated while Whitehair is big
and physical but hasn't shown the agility and flexibility we hoped would
improve. Oddly, Whitehair can also be rocked by bull rushes. Hawkins and
Whitehair were three-stars out of high school with good size but had to answer
different questions and each has struggled at times to do so.
Mike Farrell
National Recruiting Director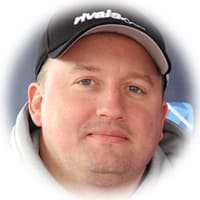 Adam Gorney
National Recruiting Analyst