NFL Draft: Five players who were underranked out of high school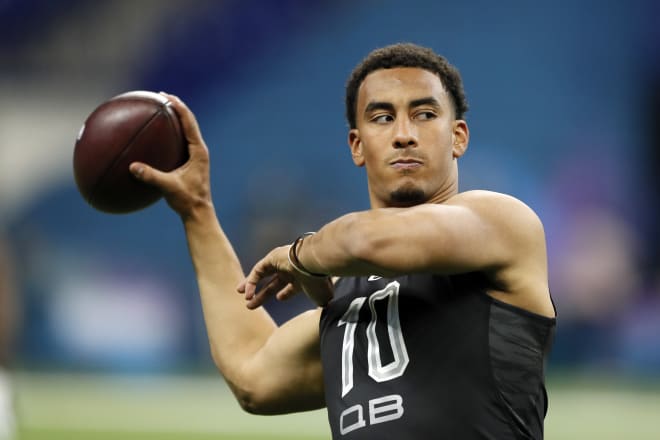 The NFL Scouting Combine wrapped up over the weekend, so there is no better time to review high school rankings of some first-round projections. Here are five misses that we wish we could have back.
JOE BURROW, LSU QB
Recruiting: In the spring before his senior season, Burrow committed to Ohio State over West Virginia, Boston College, Iowa State and others. Burrow did not win the starting job for the Buckeyes and transferred to LSU, where he won the Heisman Trophy this season and led the Tigers to the national title.
Ranking: A mid-level three-star prospect, Burrow was rated as the No. 24 dual-threat quarterback in the 2015 class and No. 29 in the Ohio state rankings that recruiting cycle.
The latest: Burrow is expected to be the No. 1 overall pick by the Cincinnati Bengals even though he did not work out at the combine. According to reports, one Bengals official said the interview with Burrow in Indianapolis was the best he ever attended.
Farrell's take: Burrow was a mid-range three-star who took years to develop and find his groove but, let's be honest, he's the No 1 pick in the NFL Draft so he has to be considered a miss. But believe me, the Burrow you saw last season was nothing like the one we saw in high school. He was solid, but Heisman potential? Nah.
JUSTIN JEFFERSON, LSU WR
Recruiting: A 2017 prospect, Jefferson committed to LSU in the summer after National Signing Day. His only other offer came from Nicholls State.
Ranking: Jefferson was listed as a 5.2 two-star, the lowest designation possible by Rivals.
The latest: Jefferson could up huge numbers at LSU especially this past season where he helped lead the Tigers to the national title. When he got to the combine and was timed at 4.43 seconds in the 40-yard dash, NFL Network's Daniel Jeremiah said it was the most important time of the day.
Farrell's take: Jefferson was good coming out of high school, so a two-star ranking was more about academics and being passed on more than his talent. However, he also ran in the 4.8 range coming out of high school and didn't separate well. Now he's a possible first-rounder.
JAVON KINLAW, South Carolina DE
Recruiting: Kinlaw committed to South Carolina out of high school but then went to junior college and eventually backed off his Gamecocks' pledge. Alabama, USC and South Carolina emerged as the favorites and after taking some visits he picked the Gamecocks again.
Ranking: Out of Goose Creek, S.C., Kinlaw was a mid-level three-star prospect who was ranked at strong-side defensive end and who was No. 11 in the South Carolina state rankings. He moved up slightly in the junior college rankings but was still a three-star prospect.
The latest: Auburn's Derrick Brown is considered the top defensive tackle in this draft, but Kinlaw is expected to be a first-round selection and he could be picked in the top half, too.
Farrell's take: Kinlaw was raw and sometimes it's hard to project ends to move to tackle but in this case his physical skills alone should have garnered a four-star ranking. He added weight the right way and showed a great motor.
JORDAN LOVE, Utah State QB
Recruiting: Love committed to Utah State in the summer before his senior season over Eastern Washington, Northern Arizona, Sacramento State and Northern Colorado, his only other offers.
Ranking: Despite attending a Rivals Camp Series event and looking the part, Love was ranked as a high two-star prospect coming out of Bakersfield (Calif.) Liberty.
The latest: Despite having head-scratching numbers this past season, it seems NFL decision-makers are looking past that and relying on the eye test at the combine, where Love impressed with his physical makeup and on-field performance. He could be moving much higher in the first round after Indianapolis.
Farrell's take: Love was a two-star for a reason — he had a live arm but he was a high-risk high-reward kid and that's why many passed on him. He's still the same way but his big plays jump off the tape and some NFL teams are infatuated with him being possibly the next Patrick Mahomes.
ISAIAH SIMMONS, Clemson DB
Recruiting: When Clemson had a bunch of departures at defensive backs, Simmons became a priority for the Tigers, they offered and he committed there. Arkansas was a dream school but the Razorbacks never offered. Michigan and Nebraska had also been involved at different points in his recruitment.
Ranking: Simmons ended up as a high three-star safety, ranked No. 32 at that position and third in the Kansas state rankings behind defensive ends Amani Bledsoe and Xavier Kelly.
The latest: He was amazing during testing at the combine, leading all linebackers with a 4.39 40-yard dash. According to NFL Research, Simmons is the first player at 230-plus pounds to record at least a 38-inch vertical, broad jump of 11 feet or more and a sub 4.4 40 since at least 2003.
Farrell's take: Simmons was a kid who could have been a big safety or an undersized linebacker out of high school but he simply grew into a monster. Looking back at how athletic he was out of high school, he's a clear miss.