NFL Draft: Five former two-stars who could go early in 2017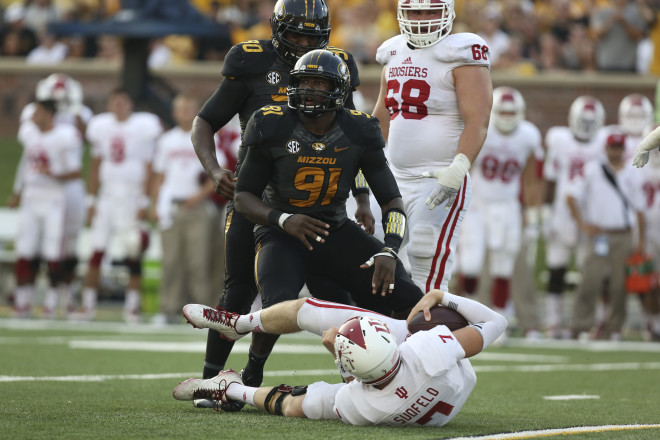 The 2016 NFL Draft is in the books, but it's never too early to look ahead to next year's draft crop. Here's a very early look at five former Rivals.com two-star or unranked prospects, in order, who could end up being early-round picks in the 2017 draft.
The skinny: Harris was a virtual unknown when he committed to Missouri a couple of days before National Signing Day. Focused on basketball until his junior season in high school, Harris definitely slid under the radar of most college coaches. After a redshirt season in 2013, Harris showed gradual progress in 2014. That progress quickly sped up during the 2015 season, when he finished with 56 tackles, 18.5 tackles for a loss and seven sacks.
Farrell's take: This was a kid we didn't get to evaluate much at all because he emerged for Missouri so late and didn't have film prior to his senior year. He's a great example of a prospect who just started to get really elite after he left high school and great scouting by the Mizzou staff.
The skinny: Davis had an interesting recruiting story that saw an early Notre Dame offer come and go, leaving only an Illinois State offer weeks before National Signing Day. After Western Michigan swooped in with a January offer, Davis quickly committed to the Broncos. In his three seasons with the program, Davis has been one of the more productive receivers in the country, totaling 234 receptions, 3,778 yards and 33 touchdowns.
Farrell's take: I'm not sure how committable the Notre Dame offer really was, but he apparently did earn it out of a 7-on-7 passing tournament in South Bend. I doubt the Irish would have taken him had he wanted to commit and it appears academics were an issue, but regardless, he has taken advantage of an opportunity at a level closer to his skill level and really blossomed. He was a tall, rangy and raw prospect out of high school who might have been more heavily recruited had his academics been in order.
The skinny: Falk was originally committed to Cornell when coach Mike Leach gave him a late opportunity to walk-on at Washington State. He accepted and after redshirting in 2013 has become one of the better college football stories. He played in five games in 2014 and then became the full-time starter in 2015, finishing with 4,561 yards and 38 touchdowns while playing in the Cougars open offense.
Farrell's take: Ivy League schools don't sign prospects, they offer grants, but in all essence Falk was committed and essentially signed with Cornell before Leach gave him his shot. Falk had good size, but hailed from a very remote area. He tried his luck at a big high school program in California, which didn't work out and went back to Utah. He was not a standout kid in any way so the development Leach has done with him is impressive.
The skinny: Kazee originally committed to Washington, but with his brother, Walter Kazee, playing at San Diego State, the Aztecs were always a major player. After a December official visit to San Diego State, Kazee finally decided to follow his brother to the Aztec program. After redshirting in 2012, Kazee has been a steady contributor. He's coming off his best season, during which he finished with 75 tackles, eight interceptions, 5.5 tackles for a loss and two forced fumbles.
Farrell's take: Kazee played numerous positions in high school and was a very good athlete but he wasn't very strong or very big and there were concerns about filling out his frame. Now he's been developed into an elite cornerback who still doesn't have great size but certainly has improved his physical play and technique.
The skinny: Carraway had a number of non-Power Five offers from schools like Colorado State, New Mexico, Texas State and Louisiana-Monroe, but he decided to accept a greyshirt option given to him by TCU. He didn't enroll with the Horned Frogs until January, 2013. Carraway didn't really begin to hit his stride until the 2014 season and then flourished in 2015 with 46 tackles, 10.5 tackles for a loss, eight sacks and three fumble recoveries.
Farrell's take: Carraway was always a good pass rusher, but he was a skinny kid who needed time to fill out and was a question mark against the run, thus the greyshirt offer from the only Power Five school to recruit him. He still has that knack for getting into the offensive backfield and is emerging as an excellent pass rusher who has filled out to 250 pounds.