NFL Draft: Five former four-stars who could go early in 2017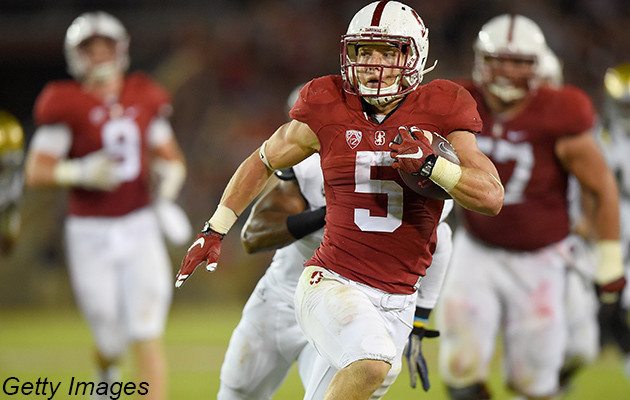 The 2016 NFL Draft is in the books but it's never too early to look ahead to next year's draft crop. Here's a very early look at five former Rivals.com four-stars, in order, who could end up being early picks in the 2017 Draft.
RELATED: Five former five-stars who could go No. 1 in 2017 NFL Draft

The skinny: With his father, Ed McCaffrey, considered a legend at Stanford, the Cardinal were always seen as a heavy favorite. With this, it came as no surprise that his son committed to Stanford during the spring after his junior season. In his two seasons at Stanford, McCaffrey has become the top all-purpose player in the country. This season, he rushed for 2,019 yards and eight touchdowns, had 645 yards receiving and five touchdowns, plus 1,200 return yards. His 3,864 all-purpose yards broke Barry Sanders' previous record of 3,250, which was set during his 1988 Heisman Trophy-winning season.
Farrell's take: McCaffrey is an amazing talent and was a Rivals100 prospect out of high school, but I never expected him to take off like this. Would it stun the world if he were to be selected ahead of Leonard Fournette in the 2017 NFL Draft? Yes, but it wouldn't stun me. McCaffrey is a pure running back at the NFL level and can also be a threat in the passing game. My worry? Some NFL team will try to make him a gadget guy and waste a ton of talent.
The skinny: Williams had an interesting recruiting process that saw him commit to Alabama after a January official visit but still take additional visits to both Florida State and Miami. However, the extra visits weren't enough as he decided to stick with the Crimson Tide. At Alabama, Williams saw limited playing time during his first two seasons, but began to flourish last fall with 18 tackles, 11.5 tackles for a loss and 9.5 sacks while mainly being used as a situational pass rusher.
Farrell's take: Situational pass rushers are all the rage in the NFL Draft lately, or at least uber-talented ones like Aldon Smith, Dion Jordan, Vic Beasley or Leonard Floyd. Williams fits that role perfectly and is so disruptive off the edge that if he has another big season, he will surely be off the board high, possibly as a top 10 or 15 pick.
The skinny: Kaaya committed to Miami during the spring leading up to his senior season after also picking up offers from in-state powers USC and UCLA. There were rumors of a possible flip to UCLA, and he took an official visit to Boise State in late December, but Kaaya honored his commitment and signed with the Hurricanes. At Miami, Kaaya became the starter from day one. In his two seasons, he is 13-12 and has passed for 6,436 yards, 42 touchdowns and 17 interceptions. Now everyone will be eager to see how he performs in Mark Richt's offense this fall.
Farrell's take: This is the year Kaaya takes the next step under Richt's coaching. I love quarterbacks who are starters from freshman year because they go through the necessary growing pains needed and take their lumps and Kaaya has held up well. As a pocket passer, he still needs to fill out his frame and he needs to make better decisions at times downfield, but he's clearly one of the few elite quarterbacks in the 2017 draft mix. Kaaya was a national top 200 prospect in 2014, but I never saw this emergence coming so quickly.
The skinny: Despite having offers from several of the SEC superpowers, Williams committed to Clemson during the summer leading up to his senior season. Williams played as a true freshman at Clemson, but really made an impact as a sophomore when he finished with 57 receptions for 1,030 yards and six touchdowns. A great deal was expected out of Williams in 2015 until a neck injury cut his season down to only one game. Returning from his injury this fall, plenty of eyes, both from fans and NFL scouts, will be on him as he looks to prove that he is 100 percent.
Farrell's take: Williams is similar to Laquon Treadwell in that he's a super-talented receiver who has injury questions to overcome. While Treadwell landed in round one, he wasn't the top receiver because of his 40 time. Williams is a big longer and has better body control, but he's not as physical, so it will be interesting to see how he projects. He was a raw, skinny wideout with amazing upside out of high school in 2013.
The skinny: Adams took his five official visits to LSU, Florida, Ole Miss, Texas and Texas A&M, before trimming his list down to the Tigers and Gators and ultimately committing to the Tigers. It is not often that a true freshman makes an immediate impact on LSU's defense, but Adams slid right into the safety position as if he was a veteran. Coming off of a season when he totaled 63 tackles, 5.5 tackles for a loss, four interceptions, one forced fumble and one fumble recovery, Adams will go into his junior season as one of the top returning defensive players in the SEC.
Farrell's take: The safety position is becoming more and more important in the NFL and Adams is a whirling dervish at the position. He's not that long, but he is filled out, an aggressive tackler and he's always around the football. This kid is always high energy and has great leadership skills. He has excellent anticipation in the run game, which will also make him highly coveted.