NFL Draft 2019: Midseason look at top RBs
About midway through the college football season is a great time to take stock of running backs who will be eligible for the NFL Draft. Here are two players whose stock is up, steady and down:
STOCK UP
Recruiting: Snell committed to Kentucky in February of his junior year over Cincinnati, Toledo, Miami-Ohio and others. About a week before Snell's pledge to the Wildcats, Iowa became his first Big Ten offer.
Stats: Snell is second in the SEC with 699 rushing yards and he's tied for the conference lead with eight rushing scores. He averages 116.5 yards per outing. Snell was held to 60 yards on 13 carries in a 20-14 loss at Texas A&M this past weekend.
Farrell's take: Snell was a low three-star prospect who had good size, but we questioned his speed and footwork as did many other programs that passed. But Kentucky saw something many didn't and it has turned out to be a home run evaluation for them so far. He's added explosion, has shown great vision and runs with power consistently and is on a mission this season. He's clearly one of the best backs in the SEC and has emerged as a potential round two back.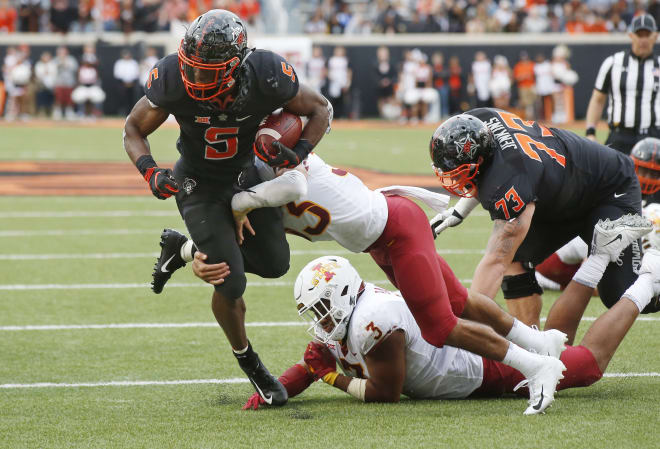 Recruiting: Hill was the first commitment in Oklahoma State's 2016 class and grew up a fan of the Cowboys. He made his pledge to coach Mike Gundy's club in February 2015. Houston, Kansas and Louisville were his three other offers.
Stats: Hill leads the Big 12 in rushing yards (643) and seven rushing touchdowns averaging 107.2 yards per outing. In a 48-42 loss to Iowa State this past weekend, Hill ran for 66 yards and a touchdown on 24 carries.
Farrell's take: Hill was a mid-level three-star coming out of high school who was elusive, could catch the ball and ran hard. He lacked great size which was an issue and there was a question about whether he's an every down back. He has certainly proven he can carry the load, he's hard to tackle and is a guy who has proven reliable and is shooting up the boards on NFL lists.

STOCK STEADY
Recruiting: Shortly before National Signing Day, Love picked Stanford over North Carolina, NC State, Tennessee, Virginia Tech and East Carolina.
Stats: Playing in only four games so far this season, Love still leads the team in rushing with 327 yards and three touchdowns on 76 carries. He was sidelined against Utah this past weekend with an ankle injury and he missed the UC Davis game a few weeks ago with an unspecified injury.
Farrell's take: Steady? Love showed serious flashes of talent two seasons ago filling in for Christian McCaffrey at times, but he clearly took it to the next level last season. However, this year has been a bit of a disaster. Love was a four-star out of high school known for his ability in space as well as his receiving ability, so he fits in greatly as a replacement for McCaffrey. I'm keeping him at steady because he's still a first round grade for me.

Recruiting: One of the top prospects in the state, Gaskin committed to Washington in the spring before his senior season. The only other offers for Gaskin came from Arizona State and Washington State.
Stats: In a 31-24 win over UCLA this past weekend, Gaskin rushed 27 times for 116 yards and two touchdowns. On the season, he has posted 554 yards and five scores on 124 touches averaging 92.3 yards per outing.
Farrell's take: Gaskin was a high three-star recruit but he didn't get a ton of evaluation out of the state of Washington and slid under the radar a bit. He's shown flashes of playing like a high four-star at this stage, although this season has been up and down. We liked Gaskin's film a lot coming out of high school. He was a prolific stat-stuffer with excellent lateral quickness. It's possible that we would have had him ranked higher had we saw more of him in person. Clearly, that's our loss and he's a guy NFL scouts like quite a bit and hasn't hurt his stock.

STOCK DOWN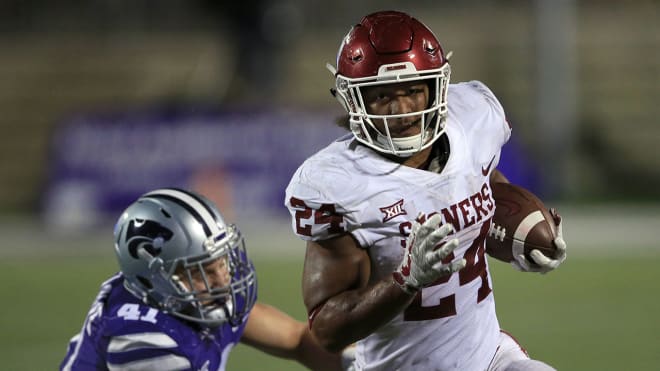 Recruiting: Oklahoma was considered the frontrunner in Anderson's recruitment and he committed to the Sooners during summer camp. He had previously been pledged to Texas A&M.
Stats: Anderson suffered a right knee injury in Oklahoma's win over UCLA earlier this season. He also broke his left fibula in 2014 as a freshman and fractured a vertebrae in 2015.
Farrell's take: Anderson was a four-star prospect and well thought-of coming out of high school. He had a very good senior season and was a leader on a winning team, although we questioned his quickness and burst, which led to a drop late in the rankings. We liked the way he could catch the ball and he had good vision and was elusive, but that lack of speed kept him out of our Rivals100. After overcoming a few different injuries, he broke out last season despite a crowded backfield. His season-ending injury, another in a long line, drops his stock quite a bit as he will have to answer questions about durability.

Recruiting: In January of his senior year, the five-star running back committed to Alabama over a serious push from Kentucky and Ohio State. Harris had been committed to Michigan earlier in his recruitment.
Stats: Harris is second on the Crimson Tide in carries, rushing yards and rushing touchdowns with 51 rushes for 361 yards and three touchdowns so far this season. He was Alabama's main running back in its 65-31 win over Arkansas this past weekend with 111 yards and two scores on 15 attempts.
Farrell's take: I liked Harris on film quite a bit, but the level of competition worried me until I saw him at the Under Armour All-America Game. He was thicker and stronger than I expected, his jump cut was awesome and he had vision and power. He not only held his own against the best in the country, but was dominant at times. A thick, powerful back with the speed to bounce it outside, Harris was our No. 1 running back when all was said and done for 2015. Last season he dropped weight and was much more explosive but with the focus on the passing game now at Alabama he's been a bit of a forgotten man and it has hurt his stock.